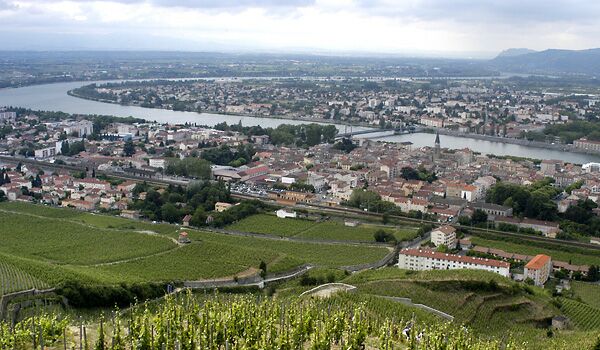 The Rhone's sweeping bend past Tain l'Hermitage, seen from the top of the Hermitage hill at La Chappelle.
Photos by Robin Garr
Tour and tasting reports
Photos and articles coming soon.

"A river runs through it"
Like so many great world wine regions, the Rhone Valley is defined - both literally in its name and geologically - by the course of a great river.
From the historic city of Lyon, where the river already is large enough to support one of France's major inland ports, down past the villages of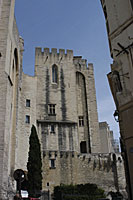 Avignon's landmark Palais des Papes, the 14th century home of the papacy.
Vienne, Ampuis, Condrieu and Tain l'Hermitage, where it bends majestically around the storied Hermitage hill, where one of the world's greatest and most long-lived red wines is made; on it runs, past the low mountains of Montélimar, where things start to change: The mountains drop back to flat and rolling bottomland, the soil turns from granite to limestone; a Mediterranean aspect begins to appear, the weather grows warmer, and suddenly we're approaching Provence, where you'll find the historic city of Avignon on the Rhone, the sprawling Cotes-du-Rhone wine regions, their many named villages, and, best of all, the noble wines of Chateauneuf-du-Pape.
In the Northern Rhone, Syrah is the dominant red grape and Marsanne and Viognier lead the white-varietal parade. In the South, it's a symphony of grapes, with Grenache taking the fore in the reds and Marsanne, Roussanne and a broad cast of characters in the relatively less common whites.
I've recently spent a week in the Northern and Southern Rhone, touring the region's top wineries and dining in a selection of its fine restaurants. In the near future, I'll publish my full wine-travel diary and photo gallery of that trip in these pages. Check in periodically!
As in our past tours, our friends and associates with French Wine Explorers, sommeliers-conseils Lauriann Greene-Sollin and Jean-Pierre Sollin, organized a flawless itinerary filled with excellent food and wine, first-rate winery visits and luxury accommodations.
We'll very likely take another wine tour in France with French Wine Explorers in 2005. If you'd like me to send you a personal note with more information when we have it, please let me know by E-mail to wine@wineloverspage.com, and I'll put you on the list.
For more information about French Wine Explorers and their tours, click to http://www.wine-tours-france.com/, where you may also sign up for their E-mail list, a periodic bulletin that features information about their tours and wine appreciation in general.

<!- Page Contents End Here ->