GETTING STARTED | WINE NOTES | SEARCH SITE | DISCUSSION FORUMS | 30 SECOND WINE ADVISOR | CONTACT US
<!TODAY'S TEXT STARTS HERE!>
View of the Pyrenees from Warrenmang.



Pyrenees and Great Western (Nov. 25) Saturday dawned early - very early - as Murray called on us to be up and waiting at 7 a.m. for the longish drive to the Pyrenees and Great Western regions, a bit farther northwest of Melbourne than the previous day's Macedon Ranges tour.
Finally taking mercy on Ric and me, Murray finally let us stop at a motorway rest stop for coffee and rolls, and we eventually reached our first destination winery about an hour before the cellar door opened at 10. So much for non-procrastination! We recovered quickly, though, checking our books for wineries in the region that opened at 9 and ending up at Redbank.
Redbank

Redbank 2000 Sunday Morning King Valley Pinot Gris - Pale color, ripe pear and mango aromas. Crisp, fruity and long. $17.60
Redbank 1998 Fighting Flat Shiraz - Perfumed, minty, juicy and full. $17.60
Redbank 1998 Hundred Tree Hill Shiraz - Minty fruit and spicy oak, ripe and fresh; whiffs of pepper and anise. $17.60
Redbank 1998 Percydale Cabernet Merlot - Herbaceous red fruit, lean and a bit green. $17.60
Redbank 1997 Hundred Tree Hill Cabernet - Spice and anise, herbal fruit. $17.60
Redbank 1998 Sally's Paddock - Perfume, stewed cherries and chocolate. Full and ripe, tannic but accessible. $41.70
Summerfield

Summerfield 1999 Cabernet Sauvignon - Cassis and caramel; fruity and nicely structured. $23
Summerfield 1999 Shiraz - Spicy black fruit and oak; exceptionally fragrant black pepper and tart fruit. $23
Summerfield non-vintage Shiraz Cabernet (blend of '97 and '98) - Funky, barnyard and saddle leather. Sweet black fruit, not as earthy as the nose. $25
Summerfield 1999 Reserve Shiraz - Pepper and mint; quite full-bodied and peppery with a load of fruit. $31
Summerfield 1999 Reserve Cabernet - Minty black fruit; full, ripe and balanced, mint and snappy lemon in the finish.
Warrenmang
Much like yesterday, we left the first two wineries feeling that we had enjoyed acceptable but not inspiring wines. Then we came to Warrenmang (http://www.bazzani.com.au/warrenmang) and felt much more inspired.
Warrenmang 1999 Sauvignon Blanc - Amazing ripe passionfruit, very nice. Delicious fruit framed by snappy acid; outstanding Sauvignon Blanc. $25
Warrenmang 1997 Victoria Estate Chardonnay - Butter and oak. $25
Warrenmang 1998 Victoria Estate Chardonnay - Subtle apples, tart fruit. $25
Warrenmang 1999 Bazzani Cabernet Shiraz Dolcetto - Dried cherries and lemons, fruity and tart. $13
Warrenmang 1999 Estate Shiraz - Black pepper, subtle anise, ripe black fruit. $35
Warrenmang 1998 Grand Pyrenees - Eucalyptus and black fruit; good fruit and balance. 40 cs, 30 m, 15 cf, 15 sh; $35
Warrenmang 1999 Estate Cabernet Sauvignon - Ripe cassis and a whiff of dill. Mouth-filling Cabernet fruit, balanced and elegant. $30
Warrenmang 1998 "Black Puma" 100% Avoca Shiraz - Inky blackish-purple. Menthol and deep black fruit; very full and intense. $50
Dalwhinnie Wines
Another winery of particularly good quality.
Dalwhinnie 1999 Chardonnay - Bright straw. Fresh pineapple and spicy oak; good body and structure, clean and dry. $26
Dalwhinnie 1998 Pinot Noir - Light rosy color; pleasant floral spice. Ripe raspberry, herbal and spicy flavor, lean and tart. $29
Dalwhinnie 1999 Moonambel Shiraz - Very ripe fruit, peppery and floral. Soft and juicy fruit, but with pleasant underlying acidity to give it structure. Very fine. $45
Dalwhinnie 1999 Moonambel Cabernet - Cassis, tarragon, balanced and refined. Fresh and clean, youthful tannins and acid carry the fruit. $40
Blue Pyrenees Estate
Although Blue Pyrenees is known for making some of Australia's best sparkling wines, I found them vaguely disappointing. This may have been due to an unfortunate environmental issue: The cellar-door room had been recently varnished and was filled with strong petroleum aromatics. We dutifully carried our glasses out to the porch to get away from the smell, but the overall effect was seriously offputting.
Blue Pyrenees non-vintage Midnight Cuvee Methode Traditionelle Chardonnay - Apples and yeasty bread dough, fizzy and dry. $25.50
Blue Pyrenees 1998 Estate Vintage Brut - Crisp, yeasty apple fruit, frothy and tart. $19.50
Blue Pyrenees non-vintage Estate Reserve Brut - Simple and fresh, green apples and fizz. $18.50
Blue Pyrenees 1996 Estate Chardonnay - Pineapple and a whiff of brown butter; toasty oak dominant.
Blue Pyrenees 1998 Estate Chardonnay - Figs, tropical fruit and spicy oak; woody. $18.50
Blue Pyrenees 1998 Victoria Estate Red - Very dark reddish-purple. Floral and plummy, soft and ripe. Cabernet Sauvignon, Merlot and Shiraz. $25.50
Mount Avoca
Another well-reputed winery where I found the wines interesting but not as exciting as I had hoped.
2000 Sauvignon Blanc - Very pale. Big and herbal passionfruit and green-olive. Soft and fresh, just enough accd for balance. $15
1996 Reserve Cabernet Franc - Herbal and full, red fruit and leather. Good berry fruit, fresh acidity. $28
1997 Reserve Shiraz - Meaty black fruit, a hint of fennel. Round and full, very approachable fruit. $28
1998 Reserve Merlot - Herbs and dried cherries, a bit green. More fruit on the palate, berrylike and crisp. $28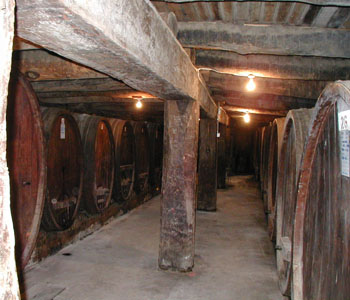 Best's Great Western
A particularly interesting winery, with a history going back to the 19th century and the facilities to prove it; a walk through its cellars (pictured) is like a trip in a time machine. The wines were good, too.
Best's Great Western 1997 Pinot Meunier - Bright ruby; bright dried-cherry aroma. Light and tart, candied fruit. A bit light, but an interesting wine from a variety rarely seen except as an element in the Champagne blend. $32
Best's Great Western 1997 Cabernet Sauvignon - Perfumed, leathery, delicate fruit. Ripe but gentle, red fruit, cocoa and spice and lemony acidity. $25
1998 Bin No. 0 Shiraz - Very dark reddish-purple; pepper and mint and deep black fruit in balance with cleansing acidity. $32
St. Andrew's non-vintage Liqueur Muscat - Clear amber; toffee and caramel and stone fruit. Sweet and rich flavors follow the nose, long and nicely structured.
Seppelt
Another major producer with an "industrial-refinery" aspect, Seppelt earns respect, nonetheless, for a broad range of wines and styles. Our tasting gave a sense of that variety, ranging from Sherry-style fortifieds to sparkling to dry reds to delightful dessert wines.
Seppelt D.P.117 Seppeltsfield Barossa Valley Show Fino - Pale brass. Fresh and nutty, toasted pecans. Full and soft, lacking the delicacy and grip of a true Sherry fino, but a pleasant aperitif nonetheless. $19.90/375
Seppelt D.P.111 Seppeltsfield Barossa Valley Show Amontillado - Bright gold color. Perfumed walnuts and caramel; full-bodied, warm and gently sweet, with a lemony acidic "grip." $19.90/375
Seppelt D.P.38 Seppeltsfield Barossa Valley Show Oloroso - Bright amber. Pecans and a vinous floral scent. Full and sweet. Luscious, with good acid balance, perhaps the best of three decent Sherry-type efforts. $19.90/375
Seppelt 1995 "The Drives" 1995 Chardonnay Pinot Noir Methode Champenoise - Fruit and cocoa, dry and tart, a very credible sparkling wine. $17.50
Seppelt 1991 Hans Irvine Methode Champenoise - Crisp apples, earthy and rich. Nice. (Made from the unusual Ondenc variety, a good sparkler to go with food.) $19.50
Seppelt 1998 Drumborg Vineyard Pinot Grigio - Shy nose. Tart, citric, pleasant lemon-lime. $16.90
Seppelt 1998 Harpers Range Victoria Cabernet Sauvignon - Very dark. Mint, spice and leather; ripe, minty fruit, plummy and tart. $18.50
Seppelt 1998 Chalambar Victoria Shiraz - Plum and chocolate nose, tart plummy flavor. Not bad. $18.50
Seppelt 1996 Great Western Vineyard Shiraz - Inky, almost black; grilled meat and pepper, hints of menthol and prickly volatile acidity. Full flavor, plummy and ripe. $35.50
Seppelt 1996 Original Sparkling Shiraz - Earthy red fruit, dry and tart. Decent Shiraz ... with bubbles. $16.90
Seppelt 1985 Seppeltsfield G.R.55/41 Show Vintage Shiraz "fortified with fine brandy spirits" - Good Shiraz aromas, pepper, plums and mint; full, fruity, sweet and structured. $18.50
Seppelt D.P.57 Rutherglen Show Tokay - Clear dark amber; walnuts and apricots, brown sugar and molasses, ripe and full, with plenty of acid to keep it from cloying. $24.50/375
Seppelt D.P.63 Rutherglen Show Muscat - Reddish amber. Raisins and candied fruit, heady as a freshly baked fruitcake. Sweet, smooth and very long, so much so that I was still tasting it as we browsed the winery gift shop moments later. $24.50/375
Mount Langi Ghiran
Ending a long wine-touring day on a high note, we finished up near closing time at Mount Langi Ghiran, another highly respected Australian winery that proves Oz reds don't have to be hulking or unbalanced. A fine way to end the day!
Mount Langi Ghiran 2000 Riesling - Limey and fresh. $17
Mount Langi Ghiran 1998 Chardonnay (unwooded) - Shy apples, crisp and tart. $16
Mount Langi Ghiran 1998 Billi Billi Creek Shiraz Cabernet Franc Grenache - Pepper and plums, juicy and very soft. $16
Mount Langi Ghiran 1997 Joanna Cabernet Sauvignon - Very dark. Minty, eucalyptus; black fruit and leather, consistent with the nose. Soft at first, good acidic finish. $28
Mount Langi Ghiran 1997 Langi Cabernet Merlot - Opaque. Brooding cassis, subtle chocolate mint. Very fruity, again seems soft at first and in the mid-palate but firms up with acid and tannins in the finish. $38
Mount Langi Ghiran 1998 Langi Shiraz - Very dark purple. Meaty, minty, ripe black fruit. Very big and ripe, but nicely balanced. $45
<!TODAY'S TEXT ENDS HERE!>
All my wine-tasting reports are consumer-oriented. In order to maintain objectivity and avoid conflicts of interest, I accept no free samples from wineries or distributors, purchasing all the wines I rate at my own expense in retail stores.

Have you tasted these wines?
E-mail me your tasting notes, and I'll consider adding them to this page.