Douro Valley and Porto (Thursday, Dec. 15)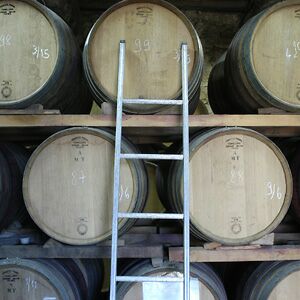 Barriques hold Niepoort's fine dry Douro wines as they age in its hilltop barrel room.
Bright and early on another brilliant but chilly Douro morning cold enough to frost our windshield with a light coat of ice (but not sufficiently severe to threaten the orange trees, apparently), we make a longish drive upriver to the quaint city of Pinhão, the nearest river crossing, in order to drive back down past Quinta Nova on the other bank to find the property where wine maker Luis Seabra is making startling dry wines at a separate property of one of the greatest producers of traditional Port, Niepoort.
Seabra piles us into his 4-wheel-drive Land Rover for what felt like a near-vertical roller-coaster ride to the property's aging facility at the top of the hill, where he used a glass "wine thief" to draw us tastes of five 2004 barrel samples destined for eventual blending into the firm's high-quality new dry wines.
Sample One, a mix of three field-blend vineyards fermented in an open vat and intended for Vertente, Niepoort's basic, and least expensive, dry wine. It's showing well, juicy raspberries and lots of gentle spice.
Sample Two, also for Vertente, a batch fermented in a stainless "conical vat," a newish concept that's larger in diameter than at the top, facilitating the floating "cap" breaking up when the wine is drained out from beneath. The effects of the barrel are showing strongly at this point in its development, cloaking abundant black fruit with attractive toast and smoke; tannins are marked but smooth, a characteristic that Seabra says is typical of the conical fermenter.
Sample Three was a blend treaded by human feet in a traditional lagar; a blend of two vineyards, one from south-facing old vines low on the hillside, a situation made for structure and depth in the wine; the other from newer vines facing north at altitude, a situation that's said to foster fruit and freshness. It's certainly elegant and pretty even at this early point, showing attractive notes of violets and black pepper. My notes aren't clear, but I believe this barrel will be used in Redoma, the second Niepoort dry wine.
Sample Four, this one to be used in Batuto, Niepoort's top dry wine, a blend of three wines aging together in barrel, one that was left to ferment on the grape skins for 30 days, another from a conical vat and a third from a lagar. It's elegant and intense, with fruit and acid in good balance, seasoned with oaky spice. For my tastes, they could pull me a bottle right now and I'd gladly take it home, but Seabra doesn't offer.
Sample Five, also to be used in the Batuto, is a sample that spent a full two months fermenting on its skins. Violets and perfume are appealing; it's austere in style, but its intensity goes on and on. "Minerality is important to us in the wine," Seabra says.
Back down the hill to the winery complex, we follow up with a little more tasting in Seabra's small but trim white laboratory.
Redoma 2004 Douro Branco Reserva is a truly impressive white wine, a field blend of Port white varieties from very old vineyards. Aromatic and rich, chestnuts and spice and ripe apples are borne on a sturdy but elegant structure; oak is present but nicely integrated in a rich, young wine that Seabra concurs could fairly be likened to a very good white Burgundy.
Then a sample of Charme, the top dry red ... My notes say it's the 2004 but I don't believe that's correct as it's already blended and in bottle. Made in the lager with all the stems included in the crush, it's barrel-fermented, then stays in the same barrel for malolactic fermentation.
Charme Douro Reserve is deep, dark and rich, velvet and steel, full and balanced with a finish that goes on and on and on.
Finally, just because we're at Niepoort and it doesn't really seem right to let us go without a little Port, we're treated to a taste of its second (but still imposing) bottling ...
Niepoort 2003 Secundum.
This hot vintage has produced a ripe, rich beauty, full of jam and berries. "You need a knife and fork to eat it," says my travel partner Joana Mesquita of Amorim, and she's right. It's very, very tannic, of course, but showing remarkably well for a Port so young.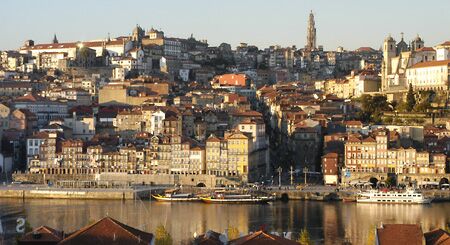 The historic Douro waterfront in Porto, where Port lodges have transhipped Port barrels for export since the 1700s.
Lunch with the Symington family in Porto
Our all-too-fast time with the Douro Boys over, we hurried back down the Douro toward a much more traditional destination, the group of historic Porto houses owned by the Symington family of Britain and Portugal. It was my great good fortune to visit on a day when most of the family was gathered for a board meeting, allowing the special pleasure of meeting and chatting with six of the Symingtons over a simple but elegant lunch of soup, pork and vegetabled, a Douro red (Altano 2001 Douro Reserva) and a special treat, a mature and delicious Dow 1980 Vintage Port.
Chatting with the Symingtons, I enjoyed the wine with casual indulgence, not lab-style analysis, but the joy of sipping a 25-year-old Port from a great vintage, in the company of its makers in their dining room in a historic Port house in Porto - well, how could you put that into mere tasting notes?
We did, however, move on to the Symington labaratory and tasting room for an extended but quick tasting that covered much of the family's current portfolio. Frankly, it would have been better if I hadn't had to come back to dry red wines and simpler Ruby and Tawny Ports with the '80 Dow still playing the xylophone on my taste buds, but I called on plenty of water and a reasonable amount of discipline and felt I treated them fairly, if briefly.
First, two dry Douro reds:
Prazo de Roriz 2004 Douro
Wram and plummy, dry and acidic. Ample fruit.
Quinta de Roriz 2001 Douro Reserva
Raspberries and chocolate, big, deep and full; spicy oak is well integrated.
Then a trio of entry-level Ruby Ports from three Symington houses:
Warre's Warrior Special Reserve Port
Stone fruit, sweet and tart, good "starter Port."
Graham's "Six Grapes" Reserve Porto
Similar to Warre's, a bit more earthy and complex, a hint of dark chocolate around the plums.
Dow's Trademark Finest Reserve Porto
Dark fruit, anise, licorice; sweet but not quite as sugary as its two predecessors.
Moving up the price scale to Late Bottled Vintage Ports:
Graham's 2000 Late Bottled Vintage Port
Sweet, good balance; distinctly tannic backbone.
Dow's 2000 Late Bottled Vintage Port
Seems more closed and tight than the Graham's at this point. Good fruit, good "grip," but needs lots of swirling and sniffing to coax out the aromas.
Warre's 1998 Late Bottled Vintage Port
Unfiltered, bottled in 1999. Complex, stone fruit and chosolate, textured; very sweet, nicely balanced by "grippy" acidity.
Then came the Tawnies, aged in wood until they lose their red color.
Warre's Otima 10 Year Old Tawny
Offered in striking new packaging, a clear bottle with a simple, dignified label that appears to have been designed for bar display alongside the single-malts and small-batch liquors. Bronze in color. Stone fruit and caramel, easy drinking, classic young tawny.
Dow's 20 Year Old Aged Tawny Port
Caramel adds a pleasant medicinal note. Smooth and rich, sweet bfrown sugar and lemony acidity.
Graham's Aged 30 Years Tawny Port
Caramel and brown sugar add earthy notes of oak; sweet, "grippy," very smooth.
Dow's Aged 40 Years Tawny Port
As we move down the line in this non-"blind" tasting, perhaps I'm simply impressed by the knowledge that these tawnies are getting older and older (and correspondingly more pricey), but it certainly seems that each decade of barrel agge confers additional smoothness and earthy complexity, while the core presence of caramel/brown-sugar and singing, lemon-squirt acidity persists. This one's certainly smooth, inviting textural analogies like silk or, better, velvet.
At the end of the line, a very fine Vintage Port:
Dow's 1996 Quinta do Bonfim Vintage Port
Deep and rich, plums and black cherries and a hint of licorice; sweet and smooth, wire-taut acidity and smooth but firm tannins; showing well but will surely benefit from years or even decades of cellar time.
Then came a trio of intriguing barrel samples, intended to demonstrate the surprising differences among similar wines depending on how they were vinified; All three of these samples from the 2004 vintage came from the same fruit, but each was handled differently.
Traditional Lagar (foot treaded)
Smooth and spicy, a trifle harsh.
"Robotic lagar"
Surprisingly different, seems fresher and more balanced.
"Plunger"
Another mechanical technique intended to replace foot-treading, but with metal fork-like devices, this one seems both more sweet and more acidic than its predecessors. Disbelieving, I go back and forth among the three, but there's no question. They're different.
Dinner with friends in Porto
Finally, Thursday night, back to Porto and winding down at trip's end, Joana, her fiance Miguel and I get together for one last Portuguese dinner ... seafood, of course ... and we head down to the commercial seaport section of Porto where there's any number of popular eateries. They settle on Os Rapazes ("The Boys") Marisqueria, where we make a substantial dent in a platter of oversize prawns and tiny shrimp (they bring a big mound, you eat what you like, then they weigh what's left to determine your charge), then select a big, black, ugly but delicious turbot from the fresh items on display and enjoy it grilled with simple vegetables and roast potatoes.
We settle on a high-end Vinho Verde for the shellfish and end up rather wishing we hadn't ...
Palacio da Brejoeira 2002 Alvarinho Velhes Vinhos (40.50€ restaurant price)
Barrique aged, bottled in 2004, and why would anyone ever do that to a Vinho Verde? Bright brass color, full-bodied and rich, spicy oak dominates white fruit. An OK wine in the full-on oaky style, but not what we had in mind for shellfish.
With the turbot, much better luck at a fraction of the price:
Quinta da Pacheca 2004 Douro Branco (8€)
Clear straw color. Simple, refreshing, citric scents of lemon enhanced with a very subtle hint of almonds. Crisp white-fruit flavors are nicely balanced by fresh acidity in a straightforward wine that's just fine with ocean-fresh fish, an appropriate farewell to Portugal and good new friends.
After dinner, the server offered us complimentary glasses of a soft, sweet and simple homemade Ruby Port. We didn't have the heart to tell him what we had for lunch.
Portugal Diary 2005 Index
Previous day's report
<!- Page Contents End Here ->