The Douro Valley (Wednesday, Dec. 14)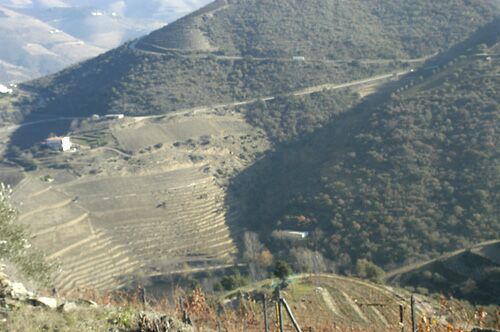 Are the terraced vineyards of the Douro as steep as any world vineyard site? They certainly give Hermitage, the Mosel and Priorat strong competition in the steepness sweepstakes.
We drive up from Porto, a fairly quick, extremely scenic two-hour run up the autoroute, roughly paralleling the Douro, up and over a range of coastal mountains, then at the small city of Vila Real veering onto smaller, winding roads that soon offer startling vistas down into the deeply carved Douro Valley with its improbably steep, terraced vineyards tumbling down to the river below.
We eventually wind up at the Burmester Rural hotel, an Amorim property that incorporates both a nicely renovated hotel in the old Burmester family dwelling and the single-quinta producer on the property, Quinta Nova de Nossa Senhora do Carmo.
Resident wine maker Anna Mota took us on a wild ride up and down the property's hilly vineyards, from the old chapel by the river where barrels were blessed before their risky ride down the Douro, up past several ancient citrus orchards and an olive-oil press, all being renovated as part of Amorim's plan to turn the property into a luxury hotel.
Tasted at the winery:
2003 Douro
Ripe, forward fruit, raspberry and juicy black cherry; big 2003 but plenty of acidic structure. No oak, only fruit.
2003 Douro Reserva
Dark garnet. Oaky, spicy perfume. A little more complex, tannic, needs time.
2000 LBV Porto
Bottled in 2004. Delicious - black fruit, fennel, dark chocolate. Full body, textured, fiery acidity balanced by luscious sweetness.
1995 Vintage Port
Stone fruit, appealing. Beautiful balance, needs time of course but showing very well.
1997 Vintage Port
Plum, menthol, a haunting back note of licorice. Big and structured, very young but again, capable of drinking with enjoyment even if it's immature.
2000 Vintage Port
Closed. Balanced, an austere beauty but needs time.
The Douro Boys
The real wine news here isn't about old, historic Port but the exciting new wine developments taking place in Port's traditional home in the Douro River Valley and beyond.
The "ferment" going on in Portugal, if you'll pardon the expression, reminds me of nothing I've seen in the world of wine since the early 1980s, when in parallel fashion, a growing group of young wine makers challenged the Chianti tradition with creative new wine-making efforts that would yield the wines that came to be known as "Super Tuscans."
Super Tuscans, though, didn't so much abandon the Chianti tradition as modernize it, creating similar but more modern wines by adding French wine-grape varieties, tweaking vinification, and replacing old barrels with fancy French-oak barriques.
In Northern Portugal, a brash crowd of producers - "The Douro Boys" from Port country, and the more widely spread Independent Winegrowers' Association, who we met last night - are shifting their sights entirely. No longer wedded to traditional sweet Port, they're making world-class dry table wines from the Port wine grape varieties, indigenous Portuguese red grapes that heretofore have rarely been bottled as varietal wines: Touriga Nacional, Touriga Francesa, Tinto Roriz (the Spanish Tempranillo) and more.
Like the Super Tuscan producers, they're growing quality grapes under low-yield conditions, making the wines in high-tech equipment like conical stainless steel fermenters, holding them in pricey small French barrels, and in some cases, diverting the best grapes once reserved for Port to use in the dry Douro reds instead.
Their efforts are gaining attention from outside Portugal, with such French luminaries as Bruno Prats of Chateau Cos d'Estournel and Jean-Michel Cazes of Chateau Lynch-Bages coming in to team with Portuguese producers to make new wines.
And the good news for wine consumers outside Portugal is that these outstanding wines are starting to move into the world market. The informal group calling themselves "The Douro Boys" are:
Quinta do Vale Dona Maria, Douro
Quinta do Crasto, Douro
Quinta do Vale Meão, Douro
Niepoort, Douro
Quinta do Vallado, Douro
Quinta do Crasto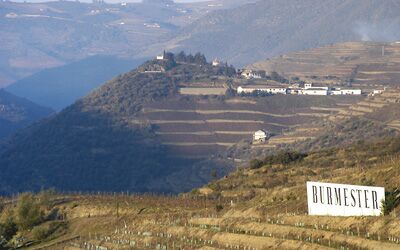 Quinta do Crasto is situated on a conical hill within the Douro valley, once site of a Roman military encampment.
That evening, Joana and I made a quick drive over to
Quinta do Crasto
, one of the first single quintas to break out as a producer in its own right, and one of the five "Douro Boys" who now are reinventing the Douro by focusing their efforts on producing dry table wines that, rather than meriting casual dismissal as insignificant oddities made from the Port grapes, will earn similar respect in their own right as world-class wines made from noble varieties.
Wine maker Miguel Roquette hosts us for a tour, tasting, and dinner of this pretty property, which is situated on a strange, volcanic cone that rises to a small peak within the valley, a defensible situation that the ancient Romans used as a fort, hence the name "Crastro," which derives from the Roman "castrum" or "military camp."
First, a tasting of several of Crasto's dry wines and a few from other Douro Boys.
Quinta do Crasto 2003 Douro
This is 50 percent Tinta Roriz, the rest a blend of other Port varieties. Raspberry and black cherry, fruit-forward, tannic. Anticipated U.S. price, $18
Quinta do Crasto 2003 Douro Reserva Vinhas Velhas
Inky. A lot of spicy oaky vanilla over plummy fruit. Big, powerful, impressive but needs time. $35
Quinta do Crasto 2003 Tinta Roriz
Ripe cherry and spicy oak. Roquette calls it "Zin style" and I can see that. I like it. $60+
Quinta do Crasto 2003 Touriga Nacional
Blackish-purple. Incredible. Fruit and earth, toast, floral violets. Brilliant. $60+
Quinta do Crasto 2003 Vinha da Ponte
Deep, dark and brooding. Intense. Needs much time. $100+
Quinta do Crasto 2003 Vinha Maria Teresa
Huge, complex. Blackberry, chocolate, toast and earth. Big and bold but nicely built; needs time. $100+
Roquette e Cazes 2003 Xisto ("Schist")
Very dark, opaque. Bold but refined, silken. A great Douro wine with a French accent, made in partnership between Roquette and Jean-Michel Cazes of Chateau Lynch-Bages. A blend of 60 percent Touriga Nacional, 25 percent Touriga Franca plus other varieties, it will be distributed in the U.S. by Palm Bay Imports of Boca Raton, Fla., and will sell for around $60.
Other Douro Boys
Quinta de Vallado 2003 Douro
Menthol, anise, licorice. Ripe, earthy, acidic, quite tannic.
Quinta de Vallado 2003 Douro Reserva
Inky, black, oaky; big and tannic, needs time.
Quinta de Vallado 2003 Douro Sousão
Floral, roses. Soft, earthy, good acidity in the finish.
Quinta de Vallado 2003 Douro Tinta Roriz
Berries, big and bold, Zin-like.
Meandro 2003 Douro
Mixed berries, big and bold. Good, typical Douro red, 30 percent each Touriga Nacional and Tinta Roriz, 20 percent Touriga Francesa and 15 percent Tinta Barroca.
Quinta do Vale Meão 2003 Douro
Inky. Black fruit and earth, licorice note. A big and tannic blend of 60 percent Touriga Nacional, 20 percent Touriga Francesa, 15 Tinta Roriz and 5 percent Tinta Barroca.
We brought several of our favorites, including the Quinta do Castro Douro, the Maria Teresa and Da Ponte bottlings and the Xisto, up to the old house to enjoy with dinner, where Luisa Amorim joins us, too, for a simple but hearty Portuguese meal of carrot soup, very rare roast beef, roasted new potatoes and rice, a starch-heavy concept that seemed odd at first but that grows on me, and simple turnip greens.
Aperitif:
Quinta do Crasto 2004 Porto Branco
Clear straw. White fruit and almonds, rich and strong.
After the meal
Roquette presents a pretty, heavy cut-glass decanter containing a bronze-tawny fluid and invites our comments. Mmmmmm! It's the rich caramel and stone fruit of a Tawny or Colheita, and its complexity and luscious smoothness suggest an old one. Guesses go back to the '50s, even the '40s, but, perhaps surprisingly, it turns out to be a 1970 Colheita produced at Quinta do Crasto by his grandfather. It's a beauty, but has never been sold and never will be, as the law in those days did not permit single quintas to label and sell their own wines - it was all done through the Port houses - and now Roquette declines all requests to sell the small remaining supply, preferring to keep it for family and guests.
Portugal Diary 2005 Index

Previous day's report | Next day's report

<!- Page Contents End Here ->