Porto (Tuesday, Dec. 13)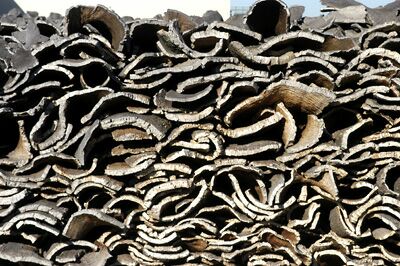 Neatly stacked cork bark awaits processing at Amorim's facility in Coruche.
This was a working day, spent around Amorim's head offices, cork production facility and laboratories in Santa Maria de Lamas, a suburb of Oporto. I spent the entire day in briefings and tours with Carlos and Amorim executives (all of which will be covered in my separate cork-industry report), breaking briefly for a simple but elegant lunch with Victor Ribeiro, CEO of Amorim & Irmãos, in the historic old house on the Amorim property. The meal featured light Portuguese fare - carrot soup, simple beef filet and vegetables - with an Alvarinho white, Douro red and a Port, but the company and the conversation, focusing heavily on cork-related issues and the competition with alternative closures, didn't lend themselves to note-taking, so I have no specific record of the dishes or the wines.
Later that evening, I rejoined Joana Mesquita, who with Isabel Ribiero of the Independent Winegrowers' Association had arranged a dinner and tasting with the wine producers of this small industry group.
To the inveterate wine traveler, the agenda item looked as if it might turn out to be one of those formal, dry occasions that must be endured for propriety's sake. Stuffy old guys in suits? Probably. Nor did the venue for the evening's dinner sound inspiring: The Bull and Bear? An English-pub name for an eatery in Oporto? It's got to be a tourist trap, doesn't it?
Well, no.
I donned my best yellow power tie and geared up for a dutiful evening, and soon arrived to find all those illusions shattered. The members of this tiny trade group - five of the six of them, a band of small producers scattered across the north of Portugal, represent some of the country's best estate-grown, estate-produced wines, and they brought plenty of bottles to share. And better still, they were the most friendly, funny, down-to-earth guys I could hope to meet. Within minutes we were old friends. By the second course we were gossiping, joking and laughing until wine came out our noses. Nor did the Bull and Bear disappoint. The restaurant's name doesn't reflect a casual corporate-chain mentality but its location close to the historic Porto stock exchange; in fact, it's the venue where chef Miguel Castro e Silva, one of Portugal's top chefs, produces innovative dishes based on fresh, natural Portuguese ingredients and produce. London's Financial Times has declared it one of Europe's top 25 places to dine.
The association represents the following growers, all of whom were present but Luis Pato, who was traveling out of the country.
Casa de Cello, João Pedro d'Araujo, Entre-Douro e Minho/Dão
Alves de Sousa, Domingos Alves de Sousa, Douro
Adega Luis Pato, Luis Pato, Regional Beiras (Bairrada)
Quinta do Ameal, Pedro Araujo, Vinho Verde
Quinta de Covela, Nuno Araujo, Entre-Douro e Minho
Quinta dos Roques and Quinta das Maias, Luis Lourenço, Dão
Before the meal, I talked briefly with each wine maker while sampling two of his wines. All are imported in at least some parts of the U.S. by various importers including Europvin (Christopher Cannan), Eric Solomon and Ideal.
Quinta do Amiel 2004 Loureiro Ponte de Lima Vinho Verde
Lovely floral-herbal, crisp and citric.
Quinta do Amiel 2003 Escolha Vinho Regional Minho
Floral perfume, nicely integrated oak. Rich mouthfeel, tart finish.
Casa de Cello Quinta de San Joahne 2004 Vinho Verde
Averso and Loureiro grapes. Minty white fruit, tart and clean.
Casa de Cello Porta Fronha 2004 Dão
No oak treatment, unusual for Dão. Light, bright, red fruit and roses, fresh and forward. Touriga Nacional and Tinto Roriz.
Quinta de Covela 2003 Colheita Seleccionada Vinho Regional Minho
Aveso and Chardonnay blend. Smoky apples and pears. Lovely granitic minerality, excellent balance and length.
Quinta de Covela 2003 Vinho Regional Minho.Tinto Escolina
Billed as Touriga Nacional, also includes some undercover Cabernet Franc, Merlot and Syrah. It's no way an "international-style" wine, though, with distinctly Portuguese character. Red berries, herbs, complex. Very fine.
Quinta dos Roques 2004 Encruzado Dão
White fruit and nicely integrated, spicy oak. Good mouthfeel, acid, length.
Quinta das Maias 2003 Jaen Dão
Pretty bright ruby. Perfume and spice add complexity to fresh red fruit.
Luis Pato 2004 Vinho Formal Vinho Regional Beiras
Bical variety. Almond, hazelnut, honey, complex and aromatic. Rich and full.
Luis Pato Quinta do Ribeirinho 2003 Primeira Escolina
Touriga Nacional and the indegenous Baga grape. Red berries, cranberries, crisp and tart, tannic.
Quinta do Vale da Raposa 2003 Douro
Touriga Nacional. Ripe cherry-berry and floral aromas, spice, impressive. Same on palate, a burst of violets. 14%
Quinta da Gaivosa 2003 Vinha de Lordelo Douro
Luscious bowl of cherries, tar and smoke. Balance hides its 15% alcohol. Great. A field blend of 40 Portuguese grapes from 100-year-old vines.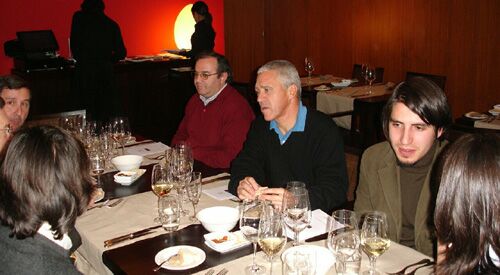 The Independent Winegrowers' Association at dinner at the Bull and Bear in Porto.
Many of the wines were served with a six-course dinner of Castro y Silva's dishes, all of which were fine: marinated sardines with tomato salad, sea bass on endives, gorgonzola risotto with a pear poached in Port, chickpea cream with bacalhau (salt cod), guinea fowl leg with mushrooms, and a death-by-chocolate trio of dense, brownie-like cake, silken mousse and rich ice cream. The latter was served with a glass of sweet, grippy Quinta da Gaivosa 1999 LBV Port.
Espresso and a few last laughs and we were out of there by midnight, not bad for a six-course dinner in a Latin country. Tomorrow it's off to the Douro.
Portugal Diary 2005 Index

Previous day's report | Next day's report

<!- Page Contents End Here ->