Coruche and Espinho (Monday, Dec. 12)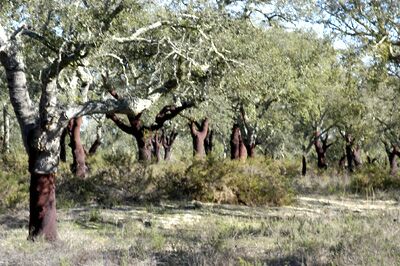 Cork trees in the Alentego forest near Coruche show purplish inner bark where the spongy cork bark has been peeled away. Cork bark may be harvested every nine years after the tree matures at 25 years.
An early morning start took us to Coruche in Alentejo, where Carlos de Jesus and I visited one of Amorim's huge and high-tech cork factories. I'll be writing more about that in a separate cork-industry report. After an extensive factory tour, we went on to Monte dos Arneiros, a very attractive hotel, restaurant and resort in the cork-oak plantation country.
With a thick country soup of fresh spinach in a thick garbanzo and potato puree (a dish that I replicated for the Dec. 22 Wine Advisor FoodLetter; fresh dogfish shark in a garlicky parsley sauce, and long-cooked, tender chunks of lamb (shoulder?) on the bone with small new potatoes, the house wine ...
Monte dos Arneiros 2002 Vinho Regional Alentejano
Dark purple. Plummy, earthy, some bretty barnyard, but who cares? Rustic, fine with food.
Then, after a three-hour drive north to Porto, António Rios de Amorim, president of the family firm, joined Carlos and me for a remarkable seafood dinner at the Restaurante Marisqueira Cabana on the beach at Espinho, a suburb to the south of Porto.
Amid conversation that ranged from cork technology to trends in the international wine business and Mondovino, we enjoyed bizarre-looking but delicately delicious percebes (sea barnacles), caterpillar-like creatures with strange, stony claws at one end, ugly but seductive with a fresh, oyster-like scent of the sea; then a bowl of sweet, thumbnail-size clams in a bowl of garlicky broth with pimientoes, and finally a huge mound of mixed shellfish, shrimps and prawns and langoustines, stone crab and lobster claws ....
Quinta da Pedra 2004 Alvarinho Vino Verde
White fruit, doesn't look fizzy but tastes fizzy, clean, outstanding with the seafood.
Quinta do Carmo 2003 Vinho Branco Vinho Regional Alentejano
Crisp, musky, melony, long and tart and fresh.
And, with espresso after dinner ...
Noval 20 Year Old Tawny Port
Reddish-bronze, red for a tawny. Smooth and rich, excellent.
Portugal Diary 2005 Index

Previous day's report | Next day's report

<!- Page Contents End Here ->