Síntra and Lisbon (Sunday, Dec. 11)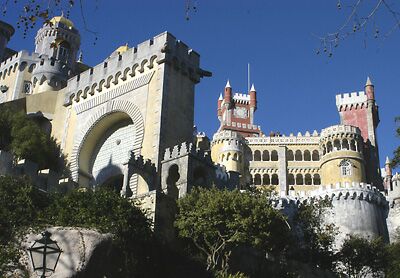 The spectacular mountaintop Palacio Nacional de Pena in Síntra, built by King Ferdinand II in 1840.
Say "Portugal" to just about any wine lover around the world, and he's likely to respond (if at all), "Port." Ask for a second Portuguese wine association, and you may get "Madeira," if your target really knows his stuff. Ask for a
third
Portuguese wine reference, and only the most ardent wine "geek" or well-trained sommelier will easily come up with another.
I've only been over here for a long weekend so far, and let me tell you, I'm quickly learning that there's a lot more to the Portuguese wine scene than just Port and Madeira. Not, needless to say, that these are not good things. But just as Portugal's splendid cuisine extends far beyond bacalhau (salt cod), so does its wine culture go far beyond those historic fortified wines.
I'm looking forward to getting my feet on the ground in a number of those regions this week, from Alentejo in the South to the Douro River valley in the north. But if ever you find yourself in the lovely and historic Portuguese capital, Lisbon, without enough time on your hands to venture farther out, here's a wine lovers's tip to tuck safely into your pocket:
If all else fails (or even if it doesn't), find a way to get yourself out to Síntra, a scenic mountain village that hangs high above the Atlantic about 20 kilometers west of Lisbon. Take an hour or two to explore the region's historic delights, particularly the spectacular mountaintop Palacio Nacional de Pena, built by King Ferdinand II in 1840. And when you're finally museumed out, do not consider leaving Síntra without a stop for a snack and a glass of wine - or several - at the tiny but amiable Binhoteca wine bar, 16 Rua des Padarias, on a narrow cobblestone street in the old village.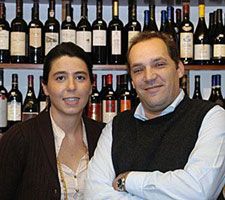 Binhoteca wine-bar manager Nuno Santos (right) and Amorim & Irmãos cork-producer spokeswoman Joana Mesquita at Binhoteca wine bar in Sintra, Portugal.
Along with an intriguing assortment of Portuguese sausages and cheeses, you'll find an imposing array of more than 200 representative Portuguese wines presented by wine bar manager Nuno Santos, a man whose knowledge of and passion for the wines and food of Portugal - and his fluency in English, French and Spanish as well as his native Portuguese - makes him a remarkable ambassador for his country's good things to eat and drink.
Here's the collection of wines he poured for us, accompanied by mounds of regional sausages and cheeses, during an amiable two-hour Sunday afternoon visit. (Prices shown are the wine bar's retail tag for a full bottle.)
Valle Pradinhos 2004 Tras-os-Montes Branco - This is an offbeat and highly non-traditional wine from Northern Portugal's "across the mountain" region, which includes the Douro Valley of Port fame. It's an aromatic blend of Gewurztraminer, Malvasia and Riesling. Transparent and golden, it breathes appealing peachy-pine and mango aromas and offers a rich-textured, nicely balanced flavor that finishes dry and tart.
Esperão 2004 "Private Selection" Alentajo (Reguengos) Reserva (30€) - Made from a blend of typical white Port grapes and vinified by a Burgundian "battonage" technique that involves frequently stirring the yeast lees after fermentation to develop complexity, it's a clear light gold color with a distinctly oaky aroma; full-bodied, nicely balanced, there's plenty of fruit, but oaky vanilla and spice dominate in an "international style" wine that I'd be hard pressed to distinguish from an oaky Chardonnay. A good oaky Chardonnay, but still ... this could be an Australian or California or Portuguese white, in my opinion, and I'm here to explore Portugal. For what it's worth, a few bites of a mild-tangy, creamy sheep's milk cheese banish a good bit of the oak and render the wine much more appealing.
Now, on to some reds.
J. Portugal Ramos 2003 "Quinta da Viçosa" Single Vineyard T.M. (35€) - From the Alentejo region of Southern Portugal, the section also known for cork-oak plantations, this wine is a blend, as the monogram hints, of the Touriga Nacional variety of Porto with the more international Merlot. Inky garnet in color with a violet edge, its aromas offer ripe black fruit, cherries and berries and a spicy dash of nicely integrated oak; smooth tannins and acidity build a structure further bulked out by 14.5 percent alcohol. Another wine in a markedly "international" style but likable and good with these robust afternoon snacks.
Dolium 2003 "Selectio" Touriga Nacional Vinho Regional Alentejano (35€) - Another Touriga from Alentejo, this one's not quite so "Parker-ized" and thus a bit more refined (and frankly more to my liking). Inky blackish-purple in color, its aromas focus on blackcurrant with hints of black olive and discreet green bell pepper, an herbaceous quality that I enjoy and liken to Cabernet Sauvignon. Nuno reacts with some shock, declaring that it's cloves and carnations, not olives and capsicums. Maybe. It's complex, that's for sure, with mouth-filling black-fruit flavors and spicy oak, well built on a structure of crisp acidity and smooth tannins. It's particularly good with a rustic sausage dish of morcela, a black pork blood sausage served with applesauce.
Moving upscale, we finished the reds with a "cultish" label that lives up to its reputation: Chryseia 2003 Douro P+S (75€) is a joint venture of the Symington family of Porto and Bruno Prats of Chateau Cos d'Estournel in Bordeaux. A blend of the Port varieties Tinto Franca, Tinto Roriz and Tinto Cão, it's black in color, with beautiful aromas of black plums and an earthy but clean red-clay minerality; flavors follow the nose, mouth-filling fruit and grippy acidity, tannic and unyielding. Almost like a "dry Port," it's appealing but clearly will benefit from extended aging.
Next another white, a dry wine but so big and rich that Nuno intentionally saved it until after the reds.
Quinta do Monte d'Oiro 2003 "Vindima de 7 de Outobro" Viognier Vinho Regional Estremaduro (50€) - The first Portuguese Viognier I've ever seen or heard of, this rarity from Southeastern Portugal is an impressive entry in the world sweepstakes for this once-obscure French variety that's gaining international attention. An exceptionally pretty bright bronze color with greenish glints, it breathes a classic Viognier aroma profile, peaches and heady flowers. Very rich and full but dry, it seems to expand in your mouth to fill your head with luscious floral Viognier. (Website: http://www.quintadomontedoiro.com
It went very nicely with two traditional Portuguese desserts: encharcada, a pudding-like cake that Nuno described as "eggs, eggs, eggs, sugar, sugar, sugar, and then a little more eggs;" and pão de rala ("crumb bread"), made from a bizarre-sounding but delicious combination of marzipan, spaghetti squash ("chila" in Portuguese) and eggs.
Finally, with espresso, Nuno couldn't bear for us to leave without a little taste of Port, and he poured a very good Tawny indeed:
Krohn 30 Anos Porto - Thirty years in the wooden barrel has evolved this clear, pale-bronze potion into pure essence of dried apricots and pecans; nectar-sweet and silken-smooth, powerful and properly acidic and long enough to last until sundown.
It's hard to imagine a better place to sit and learn about Portuguese wine in the space of an afternoon. "I came to Portugal to have a Port experience," said Peter Van Niman, a Canadian gent from British Columbia who we met in the wine bar. "I've had it right here."
Even if an afternoon in a wine bar doesn't quite add up to a week on the wine road, if you're ever within hailing distance of Síntra, I urge you to find a way to spend little time in Binhoteca with Nuno and his crew, soaking up Portuguese hospitality, Portuguese wine knowledge and, of course, Portuguese wine.
Later, after a quick drive back to the city and a short rest, I join Carlos de Jesus of Amorim at Cafe In on the Lisbon riverfront near Belem. This waterfront restaurant is one of Carlos's favorites. A modern, glass-walled building, it might look to American eyes like a casual seafood eatery, but it's definitely more: Upscale and stylish, with attentive service and fresh seafood, simply prepared, it offers the evening's finny bill of fare in a table display near the entrance. Point to the fish or shellfish that suits your fancy, direct whether you wish it grilled, broiled or otherwise prepared, and sit back, watching the Tagus river roll by, sipping Alvarinho as you wait for your meal.
With starters of Azeitão cheese, a runny, tangy sheep cheese that's 60 percent cream, and pata negre ham, a cousin of Spanish Iberico, made from pigs fed on acorns from the cork oak ...
Baron de B 2003 Alentejo Vinho Branco
Antão Vaz grapes. Peaches and almonds, aromatic; dry, acidic.
With grilled prawns and grilled fresh sea bass ...
Quinta dos Carvalhais 2004 Dão Encruzado
Clear straw. Fresh and clean, lemon peel and a hint of almond. Crisp and dry, lemon without the tang, cleansing and long.
With Portuguese traditional desserts of Trouxa de Ovos ("Bundle of eggs"), a paper-thin omelet sweet covered with syrup and rolled into a cone; and Toucinho do Céu ("Heaven's ham"), a thin, eggy cake, almost like a Spanish tortilla made sweet.
Forrester 30 Anos Porto
Caramel, stone fruit, sweet and acidic.
Portugal Diary 2005 Index

Previous day's report | Next day's report

<!- Page Contents End Here ->