You know you're in Europe when the scene out your hotel window features an ancient Roman viaduct like this one in Lisbon.
Lisbon (Saturday, Dec. 10, 2005)
Just to keep things efficient, I'll report my wine and food experiences from Portugal in this "Diary" series of posts, and save my cork-industry travels and interviews for separate discussion.
After a forgettable airline dinner with an anonymous Alentejo red (simple, slightly sweet) and a more interesting Noval 1999 LBV Porto afterward, I arrived in Lisbon on a mild, brilliantly sunny December morning. Because the Newark-to-Lisbon flight is one of the shortest trans-Atlantic crossings - only a few minutes over six hours - I had only had time for a couple of hours' sleep en route, so the first order of business was a quick nap. A couple of hours had me in fighting trim, and I woke up to discover with delight that the view out my hotel window frames a Roman aqueduct in excellent repair (above). I initially thought we were on the outskirts of the city, but it turns out we're adjacent to a huge park, the Parque Florestal de Monsanto.
Anyway, the nap and a quick shower put me on Portugal time (one hour behind the rest of Western Europe), and I went down to the lobby to meet my guide for the weekend, Joana Mesquita, a public-relations exec with Amorim & Irmãos, the leading cork producer that's my host for the week. Joana, who speaks American English with almost native fluency, is a great guide, chatty and informative, and we quickly made a driving and walking tour of Lisbon's old downtown and the historic Belem seaport area (pronounced "Beh-LAING"), where we sampled Pastéis de Belém, a local tradition, a short pastry stuffed with custard, made by an ancient secret recipe that's said to have been handed down from the nuns at the Convento dos Jerónimos and that's traditionally served with a wood-aged Port, yum.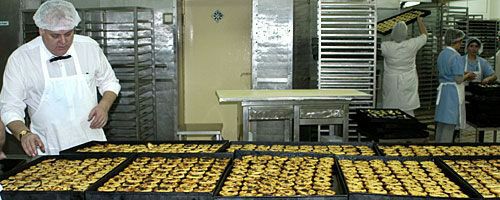 Chefs at work in the kitchen at Pastéis de Belém
We paid homage to the tradition with small glasses of a Ruby Port, Ferreira non-vintage Dona Antonia Reserva, which was a decent glass, sweet and strong and acidic with the expected sweet stone fruit flavors.
Then, sometime after dark, we ended up in the Bairro Alta ("Upper Neighborhood" section, an old neighborhood with narrow stone streets (cars are forbidden), that's giving way in modern times to a trendy array of boutiques, galleries and bistros, including a local favorite, O Barrigas ("The Belly," Joana translated), a tiny eatery that struggles to squeeze in a dozen small tables. We shared a series of traditional dishes with wines to match.
With a local sheep's cheese and black olives, an anonymous White Port, this one in the dry style, slightly oxidative white fruits, strong and warming, not bad.
A decent Vinho Verde, Deu la Deu 2004 Alvarinho Vinho Verde from the Monção sub-region, went nicely with Patanisca de Bacalhau, a sort of onion-laced fritter made with the Portuguese specialty, salt cod, and Arroz de Polvo, a paella-like dish of chewy fresh octopus slices in a tomato-sauced, saffron-scented rice. The wine was a good example of fresh Vinho Verde, not bubbly but lightly fizzy with a crisp petillance on the tongue, light-bodied white fruit and crisp, tart acidity.
With the main course, Lombo do Porco Assado, sliced roast pork with a thick, slightly sweet brown sauce and roasted fingerling potatoes, a robust Portuguese table red from a large cooperative in the Port region, Vinhos Sogrape 2000 Reserva Douro. Probably a mix of the Port grapes including a good ration of Tinto Roriz (Tempranillo), it seemed aggressively oaky at first, but lots of swirling brought up full-bodied, bright, plummy red fruit with distinct notes of vanilla and spice. It was pretty good, and pairing with the pork made it even better.
A quick bite of a chocolate mousse for dessert was accompanied by an on-the-house shot of aguardente, a fiery, earthy watery-clear liquor that stood about halfway between grappa and a homemade sugar-cane liquor I tasted in the Upper Amazon. The second sip was definitely better than the first.
And so to bed ... tomorrow we tour Lisbon some more and make a quick visit to the historic town Síntra, dinner at a famous seafood spot on the wharf, and then it will be off to Alentejo and the cork oak plantations.
Portugal Diary 2005 Index
Next day's report
<!- Page Contents End Here ->