GETTING STARTED | WINE NOTES | SEARCH SITE | DISCUSSION FORUMS | 30 SECOND WINE ADVISOR | CONTACT US
<!TODAY'S TEXT STARTS HERE!>
Revelers at the Minetta include (from left) Andrew Scott, Brad Kane, Bob Ross and Berndt Eschgfaller; (on right) Lisa-Erin Allen, with a shadowy Chris Coad showing above her head; and (foreground) the back of Jeff Connell's head.

A crowd of some 25 New York-area participants in the Wine Lovers' Discussion Group turned out Monday for a dinner marking my visit to the city. The Minetta Tavern, a decent and friendly neighborhood Italian spot in Greenwich Village (and a traditional venue for these "offline" gatherings) was host to the event, where we socialized and enjoyed all the following wines (plus a few more that I somehow missed in the frenzy).

Nigl 1997 Urgestein-Riesling. Clear straw color, citric, full and tart.

Chateau du Hureau 1997 Saumur. Pale gold, mineral and melon. Very full, tart, earthy.

Huet 1990 Le Haut Lieu Vouvray Sec. Pale straw. Honeyed fruit, not as sweet as the nose suggests. Good flavor and balance.

Groom 1999 Adelaide Hills Sauvignon Blanc. Intense lime aroma and "cat spray." Juicy fruit, clean and long.

Müller-Catoir 1996er Haardter Mandelring Scheurebe Kabinett. Pale. Peaches and petrol, "gasoline" quality blows off to reveal ripe papaya, soft and sweet.

Chateau de Chamboureau 1990 Savennieres Moelleux. Minerals and butterscotch and very ripe fruit.

Dehesa del Carrizal Vina de Mesa de Castilla 1995 Cabernet Sauvignon. Soft and ripe, good fruit, approachable.
.sasha has achieved a mellow, zen-like state, but Andrew seems worried. The contents of the dump bucket appear to be green.

Deiss 1999 Altenburg de Bergheim Gewürztraminer Vendange Tardive. Pale gold, rich grapefruit and litchee. Very big and rich, an edge of sweetness held in balance by piercing acidity; slight bitterness in a very long finish.

Maximin Grüunhäuser Herrenberg Spätlese. Musky, yeasty white fruit. Sweet, well-balanced.

Remelluri 1997 Rioja (white). Floral. Crisp, aromatic, oak and something akin to Viognier.

Delas 1983 Crozes-Hermitage and Delas 1983 Chateauneuf-du-Pape. Croze is gone. Chateauneuf-du-Pape is old, funky, gamey, about as you'd expect of a 17-year-old.

Laurel Glen 1999 Sonoma Mountain Cabernet Sauvignon. Big, ripe, tannic. Great promise but still very young.

Hacienda Monasterio 1996 Ribera del Duero. Perfumed plummy fruit. Big oak, big fruit, tannin.

Clos des Truffieres 1997 Coteaux de Languedoc "Hommage a Max." Ripe black fruit and garrigues. Very big and full. Fruit punches through a wall of tannin.

Chateau Pradeaux 1991 Bandol. Ripe red fruit, fragrant pepper and light "barnyard."

Chateau de Fonsalette 1989 Cotes du Rhone Reserve. Peppery and ripe, going strong with lots of fruit.
The photographer photographed. Behind the lens: Chris Coad, resplendent in Hawai'ian shirt.

Chateau St. Jean 1996 Sonoma Cabernet Sauvignon Cinq Cepages. Inky. Oak and black fruit. Generous, easy to drink, one-dimensional fruit bomb. Candied cherries; "wine candy," cracks Chris Coad. "Wine of the year? Gimme a break. Fat and soft, it's more like a crowd-pleasing Merlot than Cabernet, and fails to justify a "cult" price.

Breton 1997 Les Picasses Chinon. delicate cherry-berry, very full and ripe, yet elegant and balanced.

Breton 1997 Les Perrieres Bourgueil. Full, acidic, good herbaceous fruit.

Best's Great Western 1997 Thomson Family Shiraz. Deep black-cherry and chocolate, a huge but approachable wine.

Schuetz Oles 1996 Napa Valley Korte Ranch Zinfandel. Shy berry nose. Much more open on the palate, but still, surprisingly elegant and balanced. Fine Zin.

Quinta dos Carvalhais 1996 Touriga Nacional. Black fruit and licorice. A bit on the acid side. A "controversial" wine. Quite a few like it very much. I'm in the group that's less impressed.

Chateau Bourgneuf 1995 Pomerol. Black fruit, silky, tannic.

Domaine Sainte-Anne 1998 Saint-Gervais Cotes du Rhone Villages. Black fruit and fragrant pepper. Big and "chewy." One of the most enjoyable wines of the evening.

Francois Pinon 1996 Premiere Trie Vouvray. Apples and honey. Not really a dessert wine but refreshingly crisp and lightly sweet.

Quinta do Infantado 1997 Vintage Port. Black coffee and deep fruit. Full but hard. Hot and tannic.

Gould Campbell 1980 Vintage Porto. Smooth warm fruit, tannins somewhat resolved, perhaps not as firmly structured as some Vintage Ports; I wonder if it's not surprisingly mature for a Port "only" 20 years old, but this seems to be characteristic of 1980.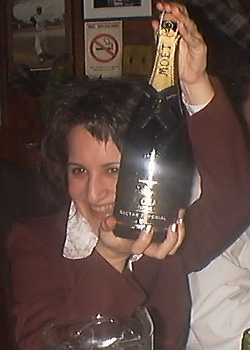 And, to wrap up the evening, a bit of an inside joke. This sweet Champagne has been the topic of a series of spoofs on the Wine Lovers' Discussion Group, so I brought along a bottle, partly for laughs but also to give it a reasonably serious analysis. After Eden Blum (pictured) did the honors, ejecting the cork with an appropriately festive pop, we eagerly filled our glasses, curious about what for many of us would be our first taste of Moët's sweet bubbly.
Moët et Chandon Champagne Nectar Imperiale. Fat lazy bubbles rise slowly to the surface, prompting Joe Dougherty to crack, "Like catfish after the dynamite." Candied fruit aromas; frothy and crisp-sweet flavor, simple and a bit cloying. Yes, it's "real" Champagne, but it's in an odd niche. For its $30 price point I would rather have a drier Champagne; if you're looking for a sweet bubbly, Asti Spumante is just as pleasing at one-third the price.

Have you tasted these wines?
E-mail me your tasting notes,
and I'll consider adding them to this page.
All my wine-tasting reports are consumer-oriented. In order to maintain objectivity and avoid conflicts of interest, I purchase all the wines I rate at my own expense in retail stores.
Back to Current Tasting Notes Index