GETTING STARTED | WINE NOTES | SEARCH SITE | DISCUSSION FORUMS | 30 SECOND WINE ADVISOR | CONTACT US
<!TODAY'S TEXT STARTS HERE!>
MoCool Saturday picnic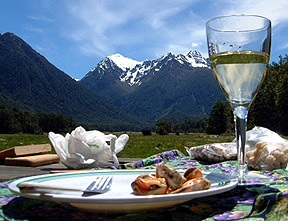 The Saturday picnic at Joel and Sally Goldberg's house in suburban Ann Arbor is the traditional centerpiece of MoCool weekend, and this year's deliberations were no exception. With more than 130 participants on hand, the crowd filled the Goldbergs' house and yard, focusing on the large white tent set up to shade the wine-tasting tables (and, when thunderstorms moved in around twilight, to provide protection from a brief spell of heavy wind and rain).

Celebrants brought more than 200 wines, mostly adhering to the "Below the Belt" (Southern Hemisphere) theme of this year's event, and generosity was evident, with a number of truly rare and expensive wines on hand for sharing including several vintages of Penfolds Grange (which I managed to miss, unfortunately, being involved with the South African table when they were opened).

In fact, I managed to sample and take notes on about 65 wines, approximately one-third of those available; and after making a serious effort at the Australian table in the early going, found myself tiring of the big, fruity and oaky style that so many of Australia's wineries are affecting nowadays, and fled to the Chilean and, in particular, South African departments in search of wines with more European-style balance and elegance.

Australia

Longleat 1986 Goulburn Valley Cabernet Sauvignon - Hazy dark ruby, some sediment. Plummy, slightly oxidized. Still drinking well.

The Hattrick 1998 McLaren Vale Shiraz-Grenache-Cabernet - Sweet oak and ripe, plummy fruit.

Fox Creek 1998 McLaren Vale Reserve Shiraz - Inky purple. Sweet oak dominates, fruit lurking behind it.

Riddoch Estate 1991 Coonawarra Shiraz - Dark ruby. Plummy, acidic; balanced and accessible.

Wild Duck Creek Estate 1998 Heathcote Alan's Estates Vat 1 - Perfumed, meaty, Odd.

Penfolds 1996 South Australia Bin 707 Cabernet Sauvignon - Inky dark purple. Heavy dill over delicious black fruit.

Barossa Estate 1997 E&E Black Pepper Barossa Valley Shiraz - Plummy fruit, sweet oak and fragrant pepper. Better balanced than most.

Yalumba 1997 Barossa Bush Vine Grenache - Dark ruby with ripe, jammy raspberries.

Rockford 1994 Dry Country Barossa Valley Grenache - Hazy light ruby. Fruity, faint walnuts. Oxidized?

Ashton Hills 1998 Adelaide Hills Pinot Noir - Ruby. Jammy and soft.

Yarra Yering Vineyard 1995 Pinot Noir - Hazy light ruby. Herbaceous, tomato and acid.

Yarra Yering Vineyard 1996 Pinot Noir - Dark ruby, good Pinot character.

Yarra Yering Vineyard 1997 Pinot Noir - Earthy, barnyard, complex.

Yarra Yering Vineyard 1996 Dry Red Wine No. 1 - Very dark garnet. Toasty, dusty, ripe black fruit. Earthy fruit, good balance.
Manuel Camblor, Mike Conner and Bob Henrick (from left) get their mitts on a bottle of Chateau Tahbilk.

Henschke 1992 Mount Edelstone Keyneton Vineyard Shiraz - Ripe, jammy black fruit and saddle leather.

Grant Burge 1994 Meshach Barossa Valley Shiraz - Deep and textured, plummy black fruit. Excellent.

Lashmar 1999 Kangaroo Island Cabernet Sauvignon - deep and brooding, young and tight. Much potential. (Barrel sample provided by Matt Cooper.)

Lashmar 3 Valleys Shiraz - big and ripe, minty eucalyptus and black fruit; a healthy dose of black pepper, "a wine you can chew." (Barrel sample provided by Matt Cooper.)

Viking wines 1997 Barossa Grand Shiraz - Black fruit and pepper, well balanced.

Mount Horrocks 1999 Clare Valley Cordon Cut - Clear gold. Beautiful peach-apricot aroma and flavoa. Intense, lasting sweetness.

New Zealand

Fairhall Downs 1999 Marlborough Brancott Valley Pinot Gris - Pale gold. Melon and mint, rich and dry.

Huia Marlborough 1999 Pinot Noir - Dark ruby, excellent plummy fruit, good balance and structure.

Highfield Estate 1998 Elstree Pinot Noir - Lean red fruit, balanced and long. Very fine.
In an unofficial annual tradition, thirsty revelers cram into Joel's cellar for a ritual "cellar stuffing."

South Africa
Rozendal Farm 1989 Stellenbosch Rozendal - Ruby-amber. Some warm and nutty age notes but plenty of sweet, delicate old fruit.
Rozendal Farm 1990 Stellenbosch Rozendal - Dark ruby, earthy plums and sour cherries, nice.
Rust en Vrede 1994 Stellenbosch Estate Wine - Dark garnet. Plummy, warm and structured. Very appealing.
Nederburg 1982 Private Bin R163 Paarl Cabernet Sauvignon Auction Selection - Blackcurrant and leather, Bordeaux-like. Delicious.
La Motte 1987 Franschhoek Valley Cabernet Sauvignon - Black, plummy fruit, beautiful balance and structure.
Landgoedwin 1994 La Maison du Roi Franschhoek Valley l'Ormarins Optima - Light, pleasant red fruit.
Libertas 1996 Coastal Region Pinotage - Earthy, red fruit, juicy and tart.
Meerlust 1996 Stellenbosch Pinot Noir - Pale ruby. Earthy and pleasant.
Sinnya 1998 Robertson Merlot-Cabernet Sauvignon - Ripe and fresh, chocolate-covered cherries, good easy quaff.
Klein Constantia 1996 Marlbrook Constantia Cabernet Sauvignon-Merlot - leather, barnyard and black fruit.
Stellenzicht 1995 Stellenbosch Cabernet Sauvignon - Black fruit, leather and cedar; full, balanced and stylish.
Klein Constantia 1996 Constantia Cabernet Sauvignon Estate Wine - Earthy black fruit over a firm acidic structure, balanced and elegant.
Hidden Valley 1997 Stellenbosch Pinotage - Very dark ruby. Ripe black fruit, smoky and earthy. Good blend of Pinotage character and fruit.
Africa (Other)
Mateppe Estate 1988 Bin 16 Zimbabwe Crisp Dry White - pale gold, light nuts - oxidized.
Juja Winery 1992 Kenya Negro Amaro - Dark ruby. Funky green aromas, minty and chocolate, tastes better than it smells.
Chile
Concha y Toro 1971 Cabernet Sauvignon - Ruby, slightly hazy, a bit earthy and leathery but plenty of good, sweet old-Cabernet fruit.
Concha y Toro Terrunyo 1998 Peumo Valley Carmenere - Inky reddish-purple. Spicy oak and black fruit. Delicious black-cherry fruit punches through the oak.
Concha y Toro 1988 Don Melchor Maipo Cabernet Sauvignon - Leather and ripe, fresh fruit. Tannic, youthful, good potential but still needs time.
Cousino-Macul 1995 Antiguas Reservas Cabernet Sauvignon - balanced and structured, softly tannic; ageworthy.
Cousino-Macul 1996 Antiguas Reservas Cabernet Sauvignon - Similar to the 1995, more immediately approachable.
Cousino-Macul 1995 Finis Terrae - Earthy, oaky, international in style.
Cousino-Macul 1996 Finis Terrae - Big black fruit and oak, another "international-style" wine.
Argentina
Catena Zapata 1995 Mendoza Cabernet Sauvignon - Blackcurrant and cigar box, Bordeaux-like.
Uruguay
Pisano 1998 Progreso Coastal Region of Origin Tannat RPF (Reserva Personal de la Familia) - Dark ruby. Warm, plummy fruit, earth and leather. Interesting.
H. Stagnari 1996 Tannat Viejo - Inky ruby. Leather and sour cherries, tannic and tart.
Catamayor 1998 San Jose Cabernet Franc - Clear ruby, jammy berry fruit and sweet oak.
Varela Zarranz 1999 Canelones Sauvignon Blanc - Pale. Grassy and citric,crisp and fresh.
Brazil
Almadén 1986 Palomas Zinfandel - Prunes, almonds and caramel, red-fruit and acid.
Casa Valduga 1997 Cabernet Franc Vinho Fino Tinto de Mesa Seco - Grapey, raw meat elements, fruity and tart,
Valduga 1997 Merlot - simple, grapey fruit.
Walnut Crest 1995 Rapel Valley Merlot - Fat, fresh cherries and dark chocolate. Simple, but balanced and a good under-$5 value.
United States
VIRGINIA
Barboursville Vineyards Ivy Creek Vineyard Monticello Traminer Aromatico - Very pale gold. Delicate litchee and grapefruit, crisp and fresh.
White Hall Vineyards 1997 Virginia Gewurztraminer - Pale gold. Litchees, light and off-dry.
MICHIGAN
Chateau Grand Traverse 1998 Old Mission Peninsula Select Harvest Dry Johannisberg Riesling - Pale straw. Delicate melons and apples, crisp and fresh.
Chateau Grand Traverse 1998 Old Mission Peninsula Whole Cluster Johannisberg Riesling - Pale brass color, delicate but intense pure Riesling, apples, mango and a hint of "petrol."
Chateau Grand Traverse 1996 Late Harvest Michigan Johannisberg Riesling - Good Riesling character, slightly sweet, a bit soft.
Canada
Pelee Island Winery 1998 Ontario Baco Noir - Typical Baco at first, odd "bacon fat" and rather one-dimensional dark fruit character. Wakes up with time in the open bottle, though, developing open and appealing juicy raspberry fruit.
Pelee Island Winery 1997 Pelee Island "The Vinedressers" Cabernet Sauvignon - Dark in color and in flavor, ripe, structured black fruit with chocolate overtones. Very fine Canadian red.
Henry of Pelham 1998 Niagara Peninsula Cabernet-Merlot - Good, full but tart cherry-berry aromas and flavors, excellent wine; consistent with my tasting at the winery earlier in the week.
Have you tasted these wines?
E-mail me your tasting notes,
and I'll consider adding them to this page.
All my wine-tasting reports are consumer-oriented. In order to maintain objectivity and avoid conflicts of interest, I purchase all the wines I rate at my own expense in retail stores.
Back to Current Tasting Notes Index