GETTING STARTED | WINE NOTES | SEARCH SITE | DISCUSSION FORUMS | 30 SECOND WINE ADVISOR | CONTACT US

<!TODAY'S TEXT STARTS HERE!>

Martinborough, New Zealand (Nov. 9, 2000)

My three weeks Down Under began with stark notice that wine writers aren't so important in the overall scheme of things: My hoped-for upgrade to business class failed to materialize at Air New Zealand's Los Angeles terminal, consigning me not merely to coach class for the 12-plus-hour flight over to New Zealand, but to a cramped seat in the middle of a row of three.

Like everyone else in similar status on the packed airplane, though, I survived the flight and even slept fitfully despite the claustrophobic conditions; so when I arrived at Auckland at the crack of dawn on Thursday (Wednesday having magically disappeared as we crossed the International Date Line), I didn't feel much more groggy than my hosts, Sue and Neil Courtney, who had gotten up before 5 a.m. to come out to the airport and greet me.

Sue, who is publisher of the excellent Wine of the Week Website, New Zealand's top independent wine site (http://www.wineoftheweek.com), would be my guide during my short stay in the country. To get in as much wine touring as possible, she had planned a schedule that began immediately. After a quick cup of coffee in the airport, we jumped on an hourlong flight to Wellington, the nation's capitol, located at the south end of the North Island. There, we got a car and headed over the Rimatuka Hill (which looked a lot like a mountain to me) toward Martinborough, our first wine-country destination.

Palliser Estate
Allan Johnson is the winemaker and Richard Riddiford managing director at this well-known and respected Martinborough property (http://www.palliser.co.nz), where we tasted through much of their range of wines.
Palliser Estate 2000 Martinborough Pinot Gris - Very pale. Delicious pear scent, crisp and ripe, with such cleansing acidity that its 7 grams per liter of residual sugar hardly shows. $26
Palliser Estate 2000 Martinborough Riesling - Very pale. Orange blossom and apple, zingy acidity cloaks gentle fresh-fruit sweetness. $18
Palliser Estate 2000 Martinborough Sauvignon Blanc - Pale brass, ripe tropical fruit, rich and full. Citrus and boxwood, Big and brash, yet finesseful. $20
Palliser Estate 1999 Martinborough Chardonnay - Light gold. Rich tropical fruit, big and round. "New World" but balanced. $24.50
Palliser Estate 1999 Martinborough Pinot Noir - Clear ruby. Full dried cherry aromas and flavors, Layered and complex, faint and pleasant bitterness in the finish. Very fine. $34
Palliser Estate 1997 Methode Champenoise - pale gold. Delicious bready and complex chocolate-nut aromas and flavors. Frothy, fresh, clean and lasting. $32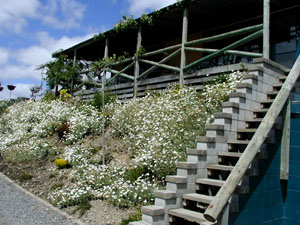 Margrain Vineyard
Strat Canning, the amiable and keenly knowledgeable winemaker at Margrain, hosted our visit at this tiny property, one that's little-known outside New Zealand but deservedly sought-after within.
Margrain 1999 Martinborough Riesling - Citrus and minerals, crisp and tart; cleansing and fresh.
Margrain 2000 Martinborough Pinot Gris (tank sample) - fizzy from the tank; clear straw. Lime and melon, tart and crisp, pleasant spice.
Margrain 2000 Martinborough Chenin Blanc - Pale straw, tasty melon and apple aromas. Sweet, sippable, with snappy acidity for balance.
Margrain 2000 Martinborough Gewürztraminer - Pale gold. Good fresh grapefruit aroma, leads into a complex flavor of litchees, citrus and pleasant bitter almond, fresh-fruit sweetness structured with firm acidity.
Margrain 1999 Martinborough Chardonnay - Clear pale gold, apples, chestnuts and spice. Full, rich and round, tasty Chardonnay flavors follow the nose. Excellent.
Margrain 1999 Martinborough Pinot Noir - Dark garnet, perfumed cherry fruit. Good tart-cherry flavor, pleasantly herbal; slight bitter finish.
Stratford 2000 Martinborough Pinot Noir (barrel sample) - (Canning's own label.) Clear, light rosy red. Perfumed and herbal, like the '99, but seems to show more intensity and potential.
Margrain 2000 Martinborough Merlot (barrel sample) - Dark garnet. Raw beef, herbal, juicy.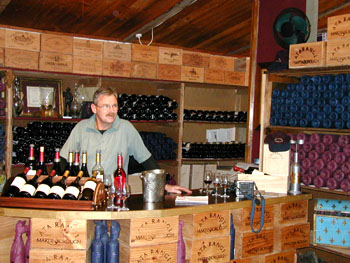 Ata Rangi
Next stop was Ata Rangi (http://www.atarangi.co.nz), an attractive winery where friendly wine maker Clive Paton (pictured in his "cellar door," as the Aussies and Kiwis call tasting rooms) showed us through his wines.
Ata Rangi 2000 Martinborough Sauvignon Blanc - Very pale straw. Good, fresh chile-pepper aromas. Full and fresh, full-bore NZ Sauvignon Blanc. $18
Ata Rangi 1999 Martinborough Craighall Chardonnay - Lovely tropical fruit, balanced and full. $35
Ata Rangi 2000 Wairapara Young Vines Pinot Noir - Light garnet. Ripe wild-cherry, fruit and spice. "Pinot Nouveau," but fun. $24
Ata Rangi 1999 Martinborough Pinot Noir - Black cherry and tomato skin, very appealing aromas. Ripe and tart, fresh fruit flavors follow the nose. $45
Ata Rangi 1998 Martinborough Célèbre (Cabernet Sauvignon, Merlot, Syrah) - Inky blackish-purple, peppery black fruit, herbs and hay. Big, full and deep, flavors follow the nose; very sharp acidic finish. $32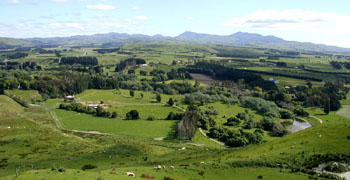 We finished our day with a visit to Larry McKenna, longtime winemaker at Martinborough Vineyards, who is now working on his own new project, Escarpment Vineyard. Larry took us for a ride to the top of a hill overlooking his vineyard and much of Martinborough; I've added a large copy of a panoramic photo from there to our online collection of Wine Country 'Wallpaper'.

<!TODAY'S TEXT ENDS HERE!>
All my wine-tasting reports are consumer-oriented. In order to maintain objectivity and avoid conflicts of interest, I accept no free samples from wineries or distributors, purchasing all the wines I rate at my own expense in retail stores.

Have you tasted these wines?
E-mail me your tasting notes, and I'll consider adding them to this page.