GETTING STARTED | WINE NOTES | SEARCH SITE | DISCUSSION FORUMS | 30 SECOND WINE ADVISOR | CONTACT US
<!TODAY'S TEXT STARTS HERE!>
Marlborough, New Zealand (Nov. 10, 2000)
A good night's sleep and the prospect of visiting Marlborough, perhaps New Zealand's most famous wine region, found me bouncing back quickly with no real signs of "jet lag," and I was present for duty early Friday as Sue Courtney, Jenise Stone and I boarded a tiny commuter prop-jet from Wellington across the strait to the village of Blenheim on the north edge of New Zealand's South Island. Catching glimpses of New Zealand's spectacular Southern Alps with their snow-capped peaks shimmering in the bright sunlight made the short, bouncy trip even more interesting, and we were soon on our way to the wineries, in a handily concentrated wine region just a few minutes from the Blenheim airport.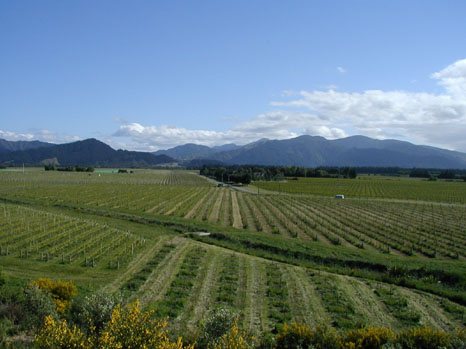 Seresin Estate
Another New Zealand name that was previously unfamiliar to me, Seresin proved impressive, offering a consistently fine range of wines including some really excellent reds that continued the process, begun yesterday, of purging my old and erroneous belief that New Zealand does well only with white wines.
Seresin Estate 2000 Marlborough Pinot Gris - Very pale greenish-gold, Green pea and vinous white fruit. Crisp and fresh, good floral perfume. Oak noticeably present. $23.90
Seresin Estate 2000 Marlborough Sauvignon Blanc - Fresh citric grapefruit, full and bright. Very ripe and fresh. $21.90
Seresin Estate 1999 Marlborough Estate Chardonnay - Pale straw. Tasty spicy apple aromas and flavor, Fresh and full, slight sweetness well balanced by fresh-fruit acidity. $21.90
Seresin Estate 1998 Marlborough Reserve Chardonnay - Clear straw. Apple, pineapple and toasty oak. Rich and appealing flavors follow the nose. $28.90
Seresin Estate 1999 Marlborough Pinot Noir - Dark rosy-purple. Pleasant herbal notes, smoke and spice add interest to full, balanced black-cherry fruit. Outstanding. $33.90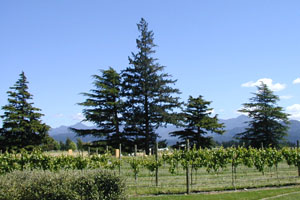 Grove Mill
I had met Grove Mill's friendly wine maker Dave Pearce during his visit to my home town, Louisville, a while back, and promised him that we'd drop in if I ever got down his way. We did so, unannounced, and happily caught him in and quite willing to give us a tour. His wines were just as good as I remembered. (Website: http://webnz.com/grovemill/.)
Grove Mill 2000 Marlborough Sauvignon Blanc - Green chilies, grapefruit and a hint of olive. Full and bright; this is consistently one of my favorite NZ Sauvignon Blancs.
Grove Mill 2000 Marlborough Pinot Gris - Intense, pear and melon. Crisp and just off-dry.
Sanctuary 1999 Pinotage/Pinot Noir - Grove Mill's "second label." Dark garnet. Intriguing aroma , plums and licorice and an odd pleasant quality like fine leather and shoe polish; flavor consistent, with a pleasant raspberry note.
Grove Mill 1999 Marlborough Pinot Noir - Dark garnet. Lovely dried-cherry aromas with earth and gamey notes. Flavors follow the nose, balanced and complex. A delight.
Grove Mill 2000 Marlborough Pinot Noir - Barrel sample, recently racked and reductive. Very gamey with intense fruit behind it. Second sample from barrel-fermented batch adds delicious chocolate and coconut - a Mounds bar in a glass. Showing vast potential.
Mystery glass - "What's this," asks Dave, offering a barrel sample. Clean, juicy currant and berry fruit, pleasant menthol, nicely balanced with fresh-fruit acidity. Merlot seems like a safe guess, and sure enough, it's Grove Mill 1999 Marlborough Merlot.
Isabel Estate Vineyard
Another visit to a winery with personal ties: Our good friend Jason Brandt Lewis, who's associated with Isabel's U.S. importer, had recommended a visit here. Proprietor Michael Tiller (pictured at left in his vineyards, with Jenise Stone (left) and Sue Courtney) and wine maker Jeff Sinnott made us feel right at home with a tour and tasting.
Isabel Estate 2000 Marlborough Sauvignon Blanc - Marked green-chile aroma. Full white fruit, minerally and intense. Big yet lean, almost austere; a style that stands out among its neighbors.
Isabel Estate 2000 Marlborough Riesling - Very pale straw. Lovely mangoes, lime and pine. Lean, crisp and tart, minerally and fresh. A delight.
Isabel Estate 2000 Marlborough Chardonnay - Figs, apples and spice, perfumed and floral. Fresh and full, structured and intense, minerals and big but not blowsy fruit. Idiosyncratic but wonderfully appealing Chardonnay.
Isabel Estate 2000 Marlborough Pinot Gris - Pears and a distinct touch of lanolin. Remarkably full-bodied and rich, an interesting and appealing approach to Pinot Gris.
Isabel Estate 1999 Marlborough Pinot Noir - Black cherry, subtle herbs, tobacco leaf. Fruit forward on the palate, more "New World" than the other Marlborough Pinot Noirs we've tasted today.
Villa Maria Estate
11/10/00 2:06 pm
2000 Reserve Wairau Valley Sauvignon Blanc - Passionfruit and chile peppers. Full and rich, balanced and round.
2000 Reserve Clifford Bay Sauvignon Blanc - Intense green chiles. Very full, vinous, a bit warm.
2000 Cellar Selection Marlborough Sauvignon Blanc - Marked jalapeño aroma. Citric and snappy.
2000 Private Bin Marlborough/Hawke's Bay Sauvignon Blanc - Grapefruit and green chile. Fresh and quaffable.
Stoneleigh
We visited this winery at a bittersweet time, as the staff had just been informed that the new owners, Montana, would close the winery and its large and quite commercial "cellar door" and, it seemed, abandon the brand. Most of the staff were outside having a wake, and the tasting room was staffed by temporaries. Perhaps it was the emotional impact of the circumstances, but I honestly didn't find the wines very pleasing.
2000 Marlborough Sauvignon Blanc - Light chile pepper and citrus, crisp and slightly sweet.
1999 Marlborough Riesling - Slight aroma. Tart, sweet.
1999 Marlborough Pinot Noir - Cherries and vegetal notes. Dried cherries, somewhat bitter.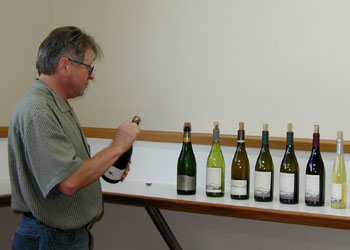 Cloudy Bay
Cloudy Bay may be the most well-known and sought-after New Zealand wine in the U.S., Canada and the U.K., and I was keen for a visit. Wine maker James Healy (pictured, left) made us feel very much at home, setting up an extensive tasting of Cloudy Bay's range and its Pelorus sparkling wine, offering us a very quick winery tour ("see one barrel, seen 'em all," he joked) and a ride to the top of a nearby hill for a panoramic view of the vineyards.
It's view country, all right: The stylized Cloudy Bay label, showing rows of craggy mountains, is drawn from life; on gentle days when the peak of Mount Riley is visible but softened to a misty monochrome, folks at the winery call it a "label day." I've posted a very large (1600 x 1200 pixel) photo of the mountains on a bright but partly cloudy day at http://www.wineloverspage.com/wallpaper/cloudy.shtml. A smaller photo is below.
Pelorus Marlborough non-vintage Sparkling Wine - Fresh, yeasty. Crisp, full and tart.
Pelorus 1996 Marlborough Sparkling Wine - Apples and rising bread dough. Full and creamy.
Cloudy Bay 2000 Marlborough Sauvignon Blanc - Green chilies seem restrained in the aroma. Fresh and juicy, slightly sweet.
Cloudy Bay 1997 Marlborough Te Koko (Sauvignon Blanc) - Adds subtle French oak and malolactic fermentation to the familiar Cloudy Bay Sauvignon Blanc. Tropical fruit and toast.
Cloudy Bay 1998 Marlborough Chardonnay - Light apples and bready notes, fresh and clean.
Cloudy Bay 1996 Marlborough Chardonnay - Oaky spice over tropical fruit. Full-bodied and rich.
Cloudy Bay 1999 Marlborough Pinot Noir - Dark garnet. Herbal black fruit aromas. Appealing flavor, cherry fruit and tarragon.
Cloudy Bay 1999 Marlborough Late Harvest Riesling - Clear greenish-gold. Apricots and honey. Very sweet, with sufficient acidity for structure.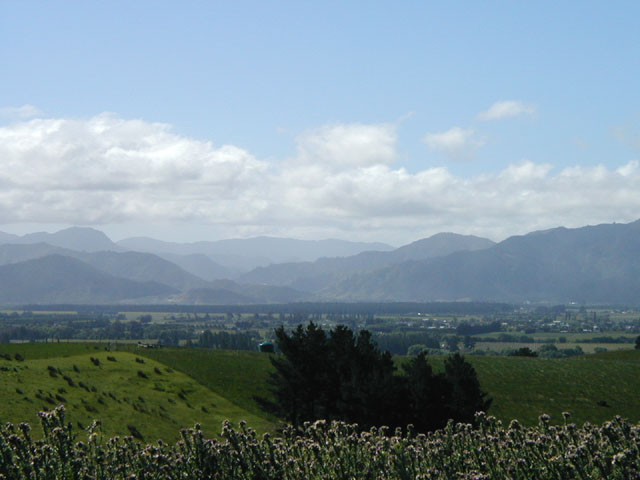 At the end of the day, after the short flight back to Wellington highlighted by great late-evening views of the beautiful hilly city that looks a bit like a tiny San Francisco), we collected Bob Stone and headed for Serrano, a cozy and very good Wellington restaurant that seems to have turned a bit international in style from its Spanish origins. We enjoyed a few good wines. We neglected to take notes.

<!TODAY'S TEXT ENDS HERE!>
All my wine-tasting reports are consumer-oriented. In order to maintain objectivity and avoid conflicts of interest, I accept no free samples from wineries or distributors, purchasing all the wines I rate at my own expense in retail stores.

Have you tasted these wines?
E-mail me your tasting notes, and I'll consider adding them to this page.