GETTING STARTED | WINE NOTES | SEARCH SITE | DISCUSSION FORUMS | 30 SECOND WINE ADVISOR | CONTACT US
<!TODAY'S TEXT STARTS HERE!>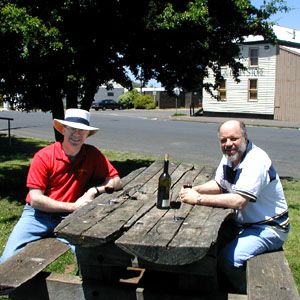 Macedon Ranges (Nov. 24)

Friday found me packing again for the relatively short (one-hour) Qantas flight from Adelaide over to Melbourne, where my online friends Murray Almond and Ric Einstein were waiting at the airport to meet me. Thanks to our frequent conversations on our Wine Lovers' Discussion Groups, I felt like these guys were old friends ... as in fact we are, even though we hadn't previously met in person. Carrying out an old joke, Murray had a jar of Vegemite ready to present me as a welcome-to-Melbourne gift; and as another, we would shortly seek out a village pub and buy me my first Australian hamburger "with the lot." That's Murray in the hat and Ric baretopped under the Australian sun in the picture at right, waiting impatiently at a rustic picnic table in the village of Lancefield for our hamburgers to be delivered.

Goona Warra
First, though, Murray drove us to the Macedon Ranges an hour or so northwest of Melbourne, in what would be the first of a long series of winery visits.

We began at Goona Warra, a smallish winery whose name is Aboriginal for "Resting place of the black swan." Yes, the name resembles the wine region Coonawarra, the cellar-door manager said, insisting that Goona Warra used it first. "They pinched it from us," he said with a laugh. (I didn't make Coonawarra on this trip. With neighboring Padthaway, it's about halfway between Adelaide and Melbourne, a bit too far to make a comfortable day trip from either city.)

I found Goona Warra's wines straightforward and pleasant.

Goona Warra 1999 South Eastern Australian Black Cygnet Chardonnay (unwooded) - pleasant cooking apples. Appley and aromatic. $15

Goona Warra 1999 Chardonnay - Faint, perfumed tropical fruit. Pineapple, crisp and fresh. $22

Goona Warra 1997 Cabernets - Bright ruby. Cassis and good herbs, lean and tart. Good Euro-style Cab. Predominantly Cabernet Franc. $25

Goona Warra 1998 Cabernets - Dark garnet. Oaky black fruit, fresh, a bit more blowsy than the '97. Mostly Cabernet Sauvignon with Merlot. $25

Cope-Williams
This winery's attractive, modern tasting room is associated with a new resort and conference center. The wines were decent but, like Goona Warra's, not really exciting enough to stand out from the crowd.

Cope-Williams Romsey non-vintage Macedon Ranges Brut - Apples, a bit nutty. Foamy, creamy and crisp. $26

Cope-Williams 1995 Pinot Noir - Light ruby; tart cherry, herbaceous, a bit of oxidation (it had been left open for 24 hours in the tasting room). $24

Cope-Williams 1997 Cabernets & Merlot - Perfumed cherry-berry fruit and flowers. Lean and green. $20

Cope-Williams 1993 Cabernets & Merlot - dark ruby. Odd beef bouillon aroma and flavor. $11/half

Cope-Williams 1998 Yarra Valley Shiraz - Dark garnet. Peppery and plummy, nice structure. $15

Cope-Williams non-vintage Romsey Willow - A very unusual dessert wine fortified with brandy. Bright gold. Ripe golden raisins, full and aromatic. Sweet, brandied dried fruit. It's idiosyncratic, but I liked it enough to buy a bottle to take down the road to a dinner in Melbourne later in the week. $14/half bottle.
Opened up to show the succulent traditional slab of beet, this burger "with the lot" is ready for eating.

Burgers "with the lot" with Murray and Ric
Murray and I had been joking for months about his treating me to a "burger with the lot," an Australian speciality that features a slice of cooked beet (which locals call "beetroot") and a fried egg and bacon along with the traditional all-beef patty. While some of our peers in the U.S. found this combination vaguely worrisome, I like beets and had been looking forward to trying the real thing ... passing, however, on the optional slice of pineapple.

In the little village of Lancefield we finally found our chance, ordering this confection from a local pub and enjoying it on a picnic table in a greensward along the main village street, where we opened a Coonawarra red and found it made a delightful match with the burgers.

S. Kidman Wines 1998 Coonawarra Cabernet Sauvignon - Inky garnet. Aromatic licorice, eucalyptus and floral aromas. Black fruit, licorice, structured and long.

Cleveland Winery
After interesting but vaguely ho-hum experiences at our first two stops in the Macedon Ranges, I wasn't expecting too much, but our next visit jerked me back to attention. Cleveland winery, with winemaker-owner Keith Brien at the helm, is making remarkable wines. I'm sorry I haven't seen them in the U.S.

Cleveland 1996 Brien Family Selection Chardonnay / Gordo - Pale brass. Herbal, pleasant medicinal scents, green and aromatic. Full and fresh, pears and juicy peaches. $11

Cleveland 1998 Chardonnay - Pale brass. Apples, spice. A bit oxidized, open three days. Crisp, yeasty, tart. $24

Cleveland 96er Macedon Brut - Citrus and milk chocolate. Quite dry; creamy, tart and fresh. $28

Cleveland 1998 Pinot Noir Cuvé Exceptionelle - Clear garnet; spicy red-fruit. Fresh tart-cherry flavor, good fruit, some tannins. $26

Cleveland 1997 Cabernets/Merlot - Dark garnet. Slightly herbal black fruit on the nose and palate. $24

Cleveland 1999 Heathcote Shiraz - Very dark reddish-purple. Fragrant black pepperand plummy fruit. Big, ripe and tannic. $24

Cleveland 1999 Pinot Noir (Barrel sample) - Amazing fruit and balance, a remarkable wine - even in just-"racked" barrel condition - that holds huge promise for the future. Very strongly worth seeking out.

Cleveland 1998 Cabernets (Barrel sample) - another impressive wine-in-progress, structured and long.

Two more winery visits with interesting, generally middle-of-the-road wines finished our long day in the Macedon Ranges.

Granite Hills Vineyard


Granite Hills 2000 Riesling - Clear straw. Pears and lime. Soft and fresh, crisp acid on finish. $16

Granite Hills 1997 Chardonnay - Clear straw, honey butter and apples. Full and ripe, seems a little off-dry. $17

Granite Hills 1998 Cabernet Sauvignon - Garnet. Dusty cassis and dark chocolate aromas. Deep black fruit, acids and tannins; well balanced and structured, needs time. $24

Granite Hills 1998 Shiraz - Dark ruby. Deep fruit. Plummy, slight pepper and acid. Seems shy. $26

Hanging Rock Winery


Hanging Rock Macedon VII Sparkling Wine - Yeasty, "vegemite" aroma and fresh green apples. Creamy, full, crisp and long. $48

Hanging Rock 1999 "The Jim Jim" Sauvignon Blanc - Pale straw. Lovely tropical fruit and wildflowers. Full and ripe fruit and fresh acidity. $22

Hanging Rock 1998 Gralaine Vineyard Merlot - Dark garnet. Black fruit and green bean; lean but juicy fruit. $30

Hanging Rock 1997 Central Highlands Reserve Cabernet Sauvignon - Spice and perfume, prickly and green. $30

Hanging Rock 1999 Victoria Cabernet Merlot - Reddish-purple. Ripe and juicy, fruity and tart; nice quaff. $20

Hanging Rock 1999 Victoria Shiraz - Garnet, not too dark. Menthol nose, Ripe and juicy fruit, more forward than the nose suggests. $20

Hanging Rock 2000 "S" late-picked Sauvignon Blanc - Grass and pears; soft, sweet and luscious, not too tart. $16

<!TODAY'S TEXT ENDS HERE!>

All my wine-tasting reports are consumer-oriented. In order to maintain objectivity and avoid conflicts of interest, I accept no free samples from wineries or distributors, purchasing all the wines I rate at my own expense in retail stores.

Have you tasted these wines?
E-mail me your tasting notes, and I'll consider adding them to this page.