GETTING STARTED | WINE NOTES | SEARCH SITE | DISCUSSION FORUMS | 30 SECOND WINE ADVISOR | CONTACT US
PT Cruisin' - an Indianapolis tasting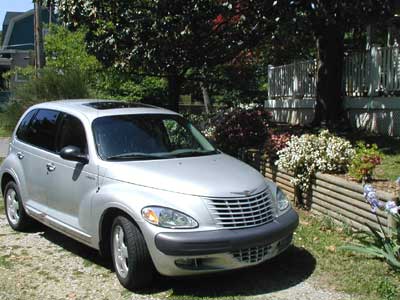 Our friends Eric and Ginny had been urging us for quite a while to come up and help break in their new house with some wining and dining, but I was a little concerned about hitting the highway from Louisville to Indianapolis in our increasingly geriatric Toyota, the one with the rust holes in the bodywork, the funny squeaks and the air conditioning that barely cranks out tepid air any more.
Meanwhile, my wife had been coveting a ride in one of those retro PT Cruisers, so I figured I could kill two birds with one stone by renting one for the weekend so we could roll up to Indy in a funky '20s-style wagon with the back seat crammed full of wine bottles and gourmey food, not worry about wearing out our jalopy, and maybe get this PT Cruiser thing out of Mary's system once and for all.
So we did ... and yesterday proved an absolutely perfect day for a spring drive. The farmers may need rain - it's been a dry spring in this part of the world - but it's hard to complain about low-humidity mild and sunny weather for a ROAD TRIP!
We arrived Saturday midafternoon, got a tour of the Stauffers' Gatsbyesque manse, and before long were joined by Eric's parents, Jerry and Nancy Stauffer, and Eric and Ginny's wine-loving friends Keith, Robert and Paula.
It didn't take long for the food and the wine and the friendly conversation to start flowing.
With aperitifs with smoked salmon and caviar in Belgian endive "boats" and a selection of cheeses (St. Andre, Double Gloucester, Fol d'Epi, Herkimer Cheddar and Cabot White Cheddar.
Champagne Pol Roger Brut - Clear gold. Ripe apples and a whiff of chocolate. Full and very rich, clean and long. One of my favorite Champagnes ... and now I remember why.
Champagne Nicolas Feuillate Brut Premier Cru - Clear straw. Fresh apple aroma. Creamy and crisp, fresh and clean. Good bubbly too, but pales in comparison with the Pol Roger.
With the cheeses from above and a wild-lettuces salad with pears and Roquefort:
Dolfo 1999 Goriska Brda Chardonnay - One of the stash that I brought along from my recent Slovenia trip, all from the border country where Slovenia's Goriska Brda meets Italy's Collio. Clear straw color. Fresh apples and spice aromas, fresh and fruit-driven. Dry and crisp, delicious "unwooded" Chardonnay.
Simcic 1998 Goriska Brda "Teodor" Belo Reserve - A blend of Rebula (Ribolla, in Italian) and other aromatic white grapes from another small, quality producer in Brda. Clear straw. Aromatic, almost resinous, complex, honey and beeswax and a whiff of almonds. Full-bodied and rich, flavors follow the nose, very long. Quite an impressive wine, but it's overshadowed by ...

Movia 1997 Goriska Brda Veliko Belo - Pale gold. Remarkable aromatics, flowers and beeswax. Full-bodied and long, oak present but well integrated with the fruit. Impressive, consistent with my impressions of Movia (Ales Kristancic) at the best small Brda producer (although he's got tough competition from Dolfo, Simcic and a few others).
Eric starts stoking the grill with hardwood charcoal for the beef tenderloin and I turn my attention to crafting the wild-mushroom risotto. Taking a break from the Slovenian wine tour, I willingly turn my attention to ...
Turley 1996 Black-Sears Vineyard Howell Mountain Zinfandel - Hazy ruby. Who opened the jam pot? Big, ripe blackberry aroma, a hint of green stemminess. Huge, ripe, strong, typical Turley. It's big and loud, yes, but a Pavarotti, not a Palooka.
The spring weather is so balmy that we decide to dine on the porch instead of the dining room. We gather around the risotto and tenderloin (and deeply concentrated shallot sauce for the meat, and grilled asparagus), and the corks start coming out of the red wines.
Heitz 1987 Martha's Vineyard Napa Valley Cabernet Sauvignon - What's wrong with this one? It starts on the other side of the table and works its way around to a wave of worried comments. Acetone? Varnish? Something musty? That's a dead giveaway, and sure enough, as soon as the glass reaches my place, I'm in no doubt: It's corked. Badly, irretrievably corked. My wife takes one sniff, and bless 'er, agrees. Much discussion ensues, and in fairness, not everyone agrees with my analysis. There's enough fruit there to punch through the TCA and at least show a hint of itself. I'm unpersuaded, though. This wine isn't slightly corked, it is extremely corked. That's my story, and I'm sticking to it.
Robert Mondavi 1990 Napa Valley Cabernet Sauvignon Reserve - Eric bounces back from the "controversial" Heitz with another great Napa name. Minty black fruit. Elegant and balanced. Drinking well. Mature but plenty of life yet.
H. Lun 1997 Sandbichler Riserva Südtiroler Blauburgunder Pinot Nero dell'Alto Adige - A gift from Luca Mazzoleni "for the next offline," I'm proud to open it here, thinking that a Pinot Noir might hit the spot with the wild-mushroom risotto. This proves true, and the wine - an Italian Pinot from far north in Alto Adige where Italian and German run together in a multilingual mix - is a good one, if a little unexpected on a table covered with heartier and less delicate wines. Deep ruby in color, it shows intense perfumed red fruit and deep, plushy fruit over a tart acidic core.
Movia 1994 Goriska Brda Veliko Rdece - Red fruit, earthy and perfumed. Ripe and juicy flavor, candied red cherries and cognac. Perhaps as idiosyncratic as the much-acclaimed Veliko Belo by Movia, but it gathers less applause in the company of the other fine reds on the table. A little too barnyardy, a little too out of whack between earthy nose and candied-fruit flavor. Or something. A nice wine, but perhaps unfairly matched against some top Cabernets and a good Bordeaux.
Chateau Leoville Poyferre 1989 Saint-Julien - Now we're getting serious! Enough of that California stuff. :) This fine Bordeaux is earthy and ripe, black fruit and leather. There may be a bit of tannin left but it's resolving; the wine is drinking very well and seems mature.
With a perfect flan hand-crafted by our host ...
Taylor Fladgate 1968 Quinta de Vargellas Porto - dark ruby. Perfumed, vinous stone fruit, a whiff of mixed nuts. Interesting wine, nobody turns it down, but there's something odd here. It's lighter, redder ("Robitussin red," jokes Eric), more aromatic and more youthful than any of us would have expected of a 1968.
Vinski Kleti Goriska Brda 1999 "Bourbon" Cabernet - Made by the former Communist-run wine cooperative in Dobrovo (Brda), Slovenia, this one came without explanation other than basic info on the all-Slovene label. Something about the half-bottle size and elongated shape led me to guess that it was a dessert wine. Nope! Bright ruby in color, its aroma is green, herbal Cabernet (Franc?) fruit. Dry and a bit thin on the palate. Bordeaux style, perhaps, but only AOC Bordeaux.
Simcic 1997 Goriska Brda 1997 "Leonardo" - The last of my Slovenian stash, this dessert wine by Marjan Simcic is a winner. Dark gold in color, it looks older than '97, but the aromas and flavors are exuberantly youthful: Intense orange peel and spice on the nose and palate, with honey and mint in a very sweet flavor. Not complex but highly appealing.
Joseph Phelps Vineyards 1988 Napa Valley Johannisberg Riesling - bronze-gold. Petrol scent, almost gasoline. Butterscotch hard candies, good acid to balance brown-sugar sweetness. Some worries about this age on a California Riesling, but tasting proves there was nothing to fear. A delightful wine, world-class even by Riesling standards.
---
Have you tasted these wines?
E-mail me your tasting notes, and I'll consider adding them to this page.