<!TODAY'S TEXT STARTS HERE!>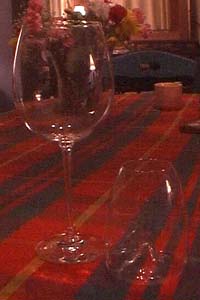 Testing two good wine glasses

On our way up to a post-Christmas wine dinner in Indianapolis last weekend, we took advantage of proximity to stop off at a Mikasa Outlet Store in North Vernon, Ind., to check out reports of a remarkable wine-glass value, a line of fine crystal stems purportedly modeled closely on the pricey Riedel glasses at a bare fraction of the price.

The reports were true! Mikasa's "Vivendi" line of glassware offers remarkably large and luxurious wine glasses -- surprisingly reminiscent of Riedel, although certainly machine-made and not quite as classy as the high-price model -- at prices that make them a reasonable option for everyday wine appreciation. After considering a Burgundy glass the size of a canteloupe and a rather strange vessel with an outward-flaring lip, we settled on the Vivendi Burgundy No. 2498381 model (the larger glass on the left in the photo above), which Mikasa lists at an affordable $7.99 and actually sells in its outlet stores for an amazing $4.99. The shop was short on stock after the holidays, but we carried out four and intend to order a case of 24 when they get new inventory.

It's a big glass, standing about 9 1/2 inches from base to lip, 3 inches across the opening and about 3 3/4 inches at the broadest part of the simple, tulip-shaped bowl; the bowl is about 4 1/2 inches in height atop a slender but not fragile 5-inch stem. This big glass is lightweight (about 5 ounces) but not eggshell thin; still, you'll want to use care in washing it.

Bottom line: It feels good in the hand and conveys the feeling of luxury that makes decent glassware an appropriate vessel for serving fine wine.

Also during the holiday season, with thanks to my wine-loving pal Dave Guimond who put in an order for me with a retailer in his area, I restocked on my favorite glass for analytical tasting: Le Taster from Les Impitoyables.

This bizarre little glass (the short, stemless item on the right in the picture above) is made by a French firm that also produces an array of larger tasting glasses that purport to uphold the firm's name ("The Merciless" or "The Pitiless" in translation) in that they are designed to maximize exposure to the wine's aromas and flavors, focusing the wine for evaluation for better or worse. I field-tested the larger (and very expensive) glasses back in the '80s and decided against the investment; but "Le Taster" is another story. Although it's ugly and impractical for social use, I'm convinced that its unusual shape, with sharply incurving sides and tiny aperture, does an exceptional job of capturing and concentrating the wine's aromas, facilitating serious tasting notes.

Lacking a stem, this glass appears a bit undersized, although it holds a full ration of wine. It weighs only 3 ounces and stands just over 4 inches tall, narrowing from a fat 3-inch base to an opening just 1 3/4 inches across, with deep "dimples" in the bottom and one side that provide both thumb and finger holds and, as mentioned below, crevices in which to catch the "edge" of the wine against the light.

Bottom line: This is no glass to put out at parties, unless everyone present is a crazed wine hobbyist. They're odd-looking and not especially practical for casual wine enjoyment. My wife doesn't like them at all. What's more, they're by no means cheap, with a suggested retail price of $20 per glass, although you can usually find them discounted by at least a few dollars.

But when it comes time to rate wines for publication (or for your own interest), there's no substitute for the way these little fellas gather the aromas and flavors and present them to you for inspection. I use them consistently for my tastings, and recommend them without hesitation for analytical use.

For today's tasting, I poured a ration of a decent, mid-range Chianti into each of these glasses and paid close attention to the differences (and similarities) in the way the wine presented itself in each.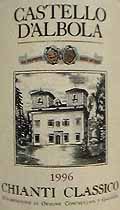 Castello d'Albola 1996 Chianti Classico ($10.99)
SIGHT: Clear, dark garnet in color; the tasting glass has a definite advantage when you hold both glasses up to the light, as the crevices formed by the "dimpled" bottom and side refract light through the wine to produce highlights that show up a vermilion glint not evident in the more traditional glass.

NOSE: The Mikasa glass offers a good, fresh sour-cherry aroma, but it's almost startling to compare it side-by-side with Le Taster, which seems almost to double the intensity of the scent and to reveal spicy notes of cinnamon and nutmeg that simply didn't show from the tulip glass.

PALATE: As mentioned above, the Mikasa glass feels good. It has a pleasant heft, and the large bowl and thin edge convey a sense of luxury as you sip. The wine shows juicy and crisp flavors, fresh black fruit and "tomato-skin," tart and softly tannic and just a bit vegetal. There's no obvious difference in flavor between the two glasses, except that the greater concentration and intensity from the tasting glass carries over from the nose to the palate.

OVERALL IMPRESSION: This wine shows surprising complexity for a Chianti (although it's not quite up to the delicious 1996 Castello dei Rampolla we tried earlier this month). And each glass serves its own purposes, though those purposes are different. To make the point, my wife continued sipping her glass from the Mikasa after dinner; I left mine in Le Taster and kept on taking notes.

U.S. importer: Seagram Chateau & Estates Wines Co., NYC. (Dec. 29, 1998)

FOOD MATCH: Excellent with a Piemontese "hashed beef" recipe featuring chopped beef braised with cabbage, red wine and aromatic spices.

Have you tasted this wine? E-mail me your tasting notes, and I'll consider adding them to this page. I also invite consumer reviews (no self-nominations from merchants or manufacturers, please!) about wine glasses that you particularly like.
All my wine-tasting reports are consumer-oriented. In order to maintain objectivity and avoid conflicts of interest, I purchase all the wines I rate at my own expense in retail stores.