GETTING STARTED | WINE NOTES | SEARCH SITE | DISCUSSION FORUMS | 30 SECOND WINE ADVISOR | CONTACT US
Friuli Wine Diary 2001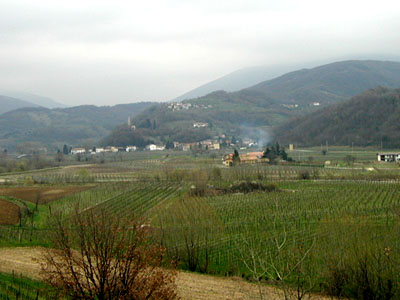 Utter the name "Friuli-Venezia Giulia," and most wine lovers around the world will think of light, fruity and essentially forgettable wines from this mild rural corner of Northeastern Italy that runs from Trieste on the Adriatic north to the foothills of the Alps along the border with Slovenia: Pinot Grigio and perhaps the occasional Chardonnay.
But like most wine stereotypes, this assumption based on the region's modest table wines is neither entirely accurate nor entirely fair. With a little help from friends like Luca Mazzoleni and other Italian advisors, I found my way to two small wineries today that stand out, not only on an Italian level but on a world level, as producers of unforgettable wines. (Nor are these two the only noteworthy regional producers; if only I had the time to spare, it would have been possible to spend weeks here discovering much more.)
Because I'm be headed for Slovenia for the coming week, I decided to spend my day in the border regions where the historical, family and cultural distinctions between Italy and the former Yugoslavian republic of Slovenia seem to blur in the way that border regions do. Many of the Italian towns here have Slavic names, and so do some of the wine making families; moreover, you can stand on each winery's property, look east, and - as in the photo above from Le Due Terre near Prepotto - see Slovenia as close as that wooded hilltop just across the valley.

---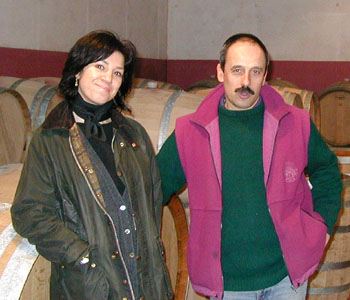 Wednesday, March 21:
Le Due Terre winery, Prepotto, Friuli
The eastern zone of Friuli-Venezia Giulia is divided, for wine purposes, into two sub-regions, Colli Orientali and Collio. My first stop was the highly recommended little Colli Orientali winery, Le Due Terre ("The Two Earths," named for the disparate soils in the vineyards that surround the attractive home and tiny winery of owners Silvana Forte and Flavio Basilicata (pictured).
They said they spoke little English. I told them I spoke little Italian. I really meant it. Fortunately, they were being somewhat modest, and between their best efforts and the universal language of wine, we managed an interview and tasting that began in the morning and extended through lunch with more of their wines.
In contrast with many of their neighbors who make wide ranges of wines from just about all of the 20-plus varieties permitted in Friuli, Le Due Terre bottles just four wines, and none too many of those, with an average production of 20,000 bottles in all during a good year. Tasting through all their wines now in barrel, I found them in general compelling, showing a rare combination of forward fruit with elegance and balance, consistently clean and bright but never stripped of character.
Here are my barrel-tasting notes:
Le Due Terre 1999 Bianco - This is the Tocia Friulano and Ribolla (10 percent) portion of the wines that will be blended with separate lots of Sauvignon Blanc this coming July to make the winery's "Sacrisassi" white, the proprietary name for its Colli Orientali del Friuli blends. Almond and hazelnut aromas frame a ripe white-fruit aroma and flavor, full of the heady scents of Tocai Friulano.
Le Due Terre 1999 Sauvignon Blanc - This barrel sample will be the other piece of the Sacrisassi white blend. Full, balanced and chestnutty, it's clean and piercing, Sauvignon Blanc at its best.
Le Due Terre 1999 Sacrisassi Colli Orientali del Friuli Rosso - The red counterpart to the Sacrisassi Bianco, this red blend from barrel is made entirely from regional grapes - 60 percent Schioppettino and the rest Refosco. Dark ruby in color, it's a bit sappy and herbaceous, but pleasantly so, full and ripe with a high-aromatic ripe-cherry flavor that Silvana rightly likens to Kirsch, the German cherry liqueur.
Le Due Terre 1999 Merlot - Very full and appealing, chocolate and nutella, structured and balanced. Evokes the style of a St.-Emilion from Bordeaux but carries a distinct Italian accent.
Le Due Terre 1999 Pinot Nero - Wow! Past experiences don't lead me to expect much of Italian Pinot Noir, but this is a remarkable exception, truly Burgundian in style, with lovely scents of red fruit, rose petals and potpourri spice. Even from barrel it's velvet and steel; balanced, clean and long. A remarkable wine.
Le Due Terre 2000 Pinot Nero - Young in barrel and much less accessible, it's tight and closed, but showing promise with a fruity-spicy style that's akin to the 1999 but muted.
Le Due Terre 2000 Sacrisassi Colli Orientali del Friuli Rosso - Again, not showing at its best in this early barrel stage, with "reductive" sulfury aromas that will pass with time. Even so, it shows potential with ripe, sappy red fruit that overcomes the barrel "funk."
Le Due Terre 2000 Merlot - No transient barrel issues show in this fine wine today. Dark and rich, amazingly approachable for a wine so young, breathing abundant chocolate, cherries and a whiff of black coffee. Chocolate-covered cherries burst on the palate, amazing.

---
Wednesday, March 21:
Lunch at Trattoria da Mario in Prepotto, Friuli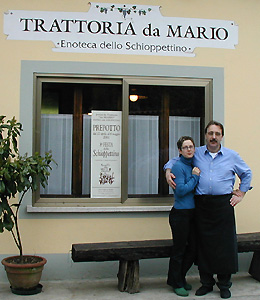 The friendly folks who run Trattoria da Mario in the village of Prepotto, the eponymous Mario and his wife (pictured) enjoy the joke that their restaurant is the only one in the village, so locals have no choice about where to eat. But it's a happy choice indeed, with memorable food and service to make any traveler feel welcomed, at home and, before long, well fed.
Trattoria da Mario also houses a regional enoteca (wine library) for the promotion of the local Schioppettino grape, and is sponsor of the eighth annual and increasingly popular Festa dello Schioppettino, a 10-day food-and-wine festival celebrating the grape that will run from April 27 to May 6, 2001.
Barrel-sampling and bilingual interviewing over, Silvana, Flavio and I adjourned there for lunch, taking a couple of their wines in bottle to try.
With tasting plates of San Daniele prosciutto and giant Sicilian capers, barley risotto with fresh spring herbs, and crespelle (crepes) topped with a light sauce of ricotta and asparagus puree:
Le Due Terre 1999 Sacrisassi Colli Orientali del Friuli Sacrisassi Bianco - The result of the eventual blend of the white components tasted from barrel above, it's a bright straw color, with lovely aromatics, floral and subtle hazlenut scents, full and fresh, rich but not heavy. It's a delicious white wine, good with all the food and ethereal with the asparagus.
With tender pork and veal slices served sizzling from the grill and lightly drizzled with fine pale olive oil:
Le Due Terre 1998 Merlot - Full but refined, balanced and elegant; like the 1999 barrel sample, it pays stylistic homage to the classic treatment of Merlot you'd expect from St.-Emilion, but somehow does it in a way that never loses touch with its Italian roots. A delight.
Finally, innkeeper Mario, an ardent advocate of Schioppettino, won't let us out without a taste of:
Vigna Petrussa 1998 Colli Orientali del Friuli Schioppettino - Clear ruby color with remarkably complex aromas of perfume and pepper, flowers and spice, finishing with a whiff of nutmeg. Bright and tart, perfumed red-fruit flavors follow the nose, long and fresh.
And then there was coffee, and then Mario insisted on demonstrating how Friulians end the meal, washing out the espresso cup with just a taste of:
Domenis Grappa Friulana delle Rinomate Vinacle dei Colli di Cividate - Produced in the region, this clear, fiery grape-skin distillate has none of the harsh fire or odd aromas that make some grappas hard to love. It's pure fresh wine grapes in the aroma and flavor, warm and potent but surprisingly cleansing. A fine way to finish a leisurely Italian country meal.

---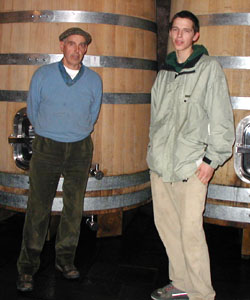 Wednesday, March 21:
Josko Gravner winery, Oslavia (Oslavje), Friuli
"You'll love this winery," my friends said, "but be prepared ... it's, well, controversial."
True on both counts. Josko Gravner is an Italian of Slovenian heritage who speaks more Slovene than Italian (which is not unusual in this Friulian sub-region called "Collio" ("Hills"), where even the villaged they live in has both Italian and Slavic names on the sign at the edge of town. Gravner is an ultimate traditionalist, and he's not shy about saying so, even when some of his neighbors and competitors take some of his opinions a bit amiss.
"A lot of people say my father is "confused" because he's always changing, says his son, Miha (pictured at right with his father, above). "But if a producer wants to become better, he has to change. He must be able to change to find the quality."
The son, I might add, is a chip off the old block, and I admire them both.
So what makes them "controversial"? For starters, they - even more so than Le Due Terre - shun the impulse to make a broad range of wines in favor of producing only the few they feel they can do best. For the Gravners, that's a pure Ribolla varietal wine; a white blend called "Breg" that's made from Sauvignon Blanc, Chardonnay, Pinot Grigio and Riesling Italico; and a red Merlot-Cabernet Sauvignon blend. He grows all his own grapes on just 18 hectares of vineyards scattered on both sides of the Italy-Slovenia border.
Then, in a move that had his neighbors shaking their heads again, during the past decade, he sold off all his high-tech wine making equipment to other wineries. No more fancy presses. No temperature controls. No added sulfiting, no added anything. Everything is now done the old-fashioned way, making wine the way his grandparents did, and their grandparents before them: Macerating the juice on the pressed grapes for 12 days without making any effort to control the temperature of the fermenting mass; then draining this heady juice into large standing barrels of Slovenian oak to rest for another three years before bottling; a slow, traditional process that makes a white wine so rich and complex that, the Gravners insist, it should be drunk at room temperature and not refrigerated.
And now, experimentally for the last two vintages but moving into production for 2001, he is going to try a "new" technique so old that it's thought to go back to the Black Sea shores of the Republic of Georgia where wine may have had its Bronze Age roots: He intends to macerate the grapes for a full year in huge clay amphoras ("anfora" in Italian), modern replicas of ancient wine vessels, lined with beeswax, then age them an additional two years in oak.

Already, in the basement of a nicely restored 300-year-old farmhouse across the Slovenian border, Gravner has an amphora filled with a bit of 2000 Ribolla, and small casks holding more amphora-fermented Ribolla from 1999 and 1998.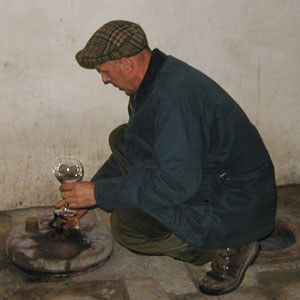 "Amphoras were the first tanks ever to hold wine," the senior Gravner said, nodding firmly to underscore the point. "In Georgia, they have documents 4,000 years old that confirm this." (He's shown using a "wine thief" to draw a tasting sample from the buried amphora in the photo at right.)
The wines? They're remarkable. Full and rich, dry and exotic, even in their partially finished state, they're among the most amazing white wines I've tasted.
Gravner 2000 Ribolla (Anfora sample) - Still macerating on the skins and yeast lees, this sample is nonetheless clean and fresh, a draught of aromatic white-grape juice so appetizing that you're tempted to gulp it.
Gravner 1999 Ribolla (Anfora macerated, now in wood) - Golden, hazy, highly aromatic, a mixed blend of almonds, hazelnuts and honey. Deep in flavor and incredibly long, leaving honey and subtle nut flavors that linger for minutes.
Gravner 1998 Ribolla (Anfora macerated, now in wood) - Approaching bottling time this fall and showing more clearly the wine's potential, it's a rich old-gold color and has fallen clear if not transparent. Intriguing clover honey, toasted nuts and brown-sugar aromas suggest sweetness, but the wine is bone-dry. Mouth-filling flavors are consistent with the nose, with great depth and complexity. It's not a white wine for everyone, but if you have a taste for the exotic, you would find this a truly memorable wine.
"Producing natural wines like these is like swimming upstream," Miha Gravner said; at this point it was getting a little hard to tell whether he was translating for his father or speaking his own mind, but I suspect they agree. "It's hard, and long, and as you are swimming up you are approaching the source. But a lot of people are swimming the opposite way, and they don't hesitate to drag you down. We must never forget, the process in the cellar must be 100 percent natural. My father won't even smell not-natural wine."
---
TOMORROW: I cross into Slovenia on my way to judge at the Ljubljana International Wine Competition over the weekend, with plans to visit several more wineries along the way to the capital city. I'll file more reports soon.
---
Have you tasted these wines?
E-mail me your tasting notes, and I'll consider adding them to this page.