Boston Wine Expo: Dinner at King Fung Garden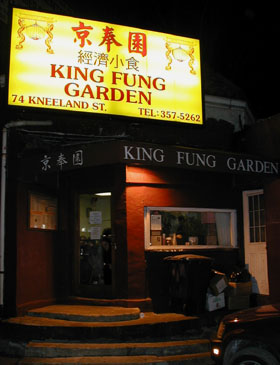 A sizable contingent of Boston-area Wine Lovers' Discussion Group participants and visitor in town for the Expo weekend took over Boston's King Fung Garden last night (with a hand-lettered sign on the door announcing a "Chinese New Year party)."
California wine maker Brian Loring was guest of honor, in for the Boston Wine Expo weekend bearing a couple of bottles from his winery, and the usual suspects produced the usual broad and imposing range of wines, from intriguing Germans to aging Frenchies, with a number of mystery bottles passing through in brown bags, silver foil and Pmac's famous Mr. Coffee decanter.
Without further babble, let's move straight to the wines:
Veuve Cliquot 1989 Trillennial Reserved Cuvee Champagne (Magnum) - Yeasty, earthy; plenty of fruit and fizz.
Bürgerspital zum H.L. Geist 1993 Randersackerer Teufelskeller Riesling Spätlese - (Franken wine in Bocksbeutel.) Pale gold. Honey and almonds, off-dry and steely. Showing a little oxidation, but it's the controlled oxidation of an older white that's still got plenty of life.
Huber n-v Indiana Catawba Rosé - Foxy, sulfury, off-dry; pictured next to "Catawba" in the wine grape dictionary. Brought along for laughs, it's actually a pretty good example of what a good wine maker can do with Catawba - and why few good wine makers bother. This item is the low-end offering of a decent Indiana winery, actually, aimed at the affordable-White Zin market niche.
Brown bag wine - Pale brass. Petrol and pine. Old Riesling? Turns out to be Trimbach 1993 Clos Ste. Hune Riesling, an odd lot that went through an unwanted malolactic fermentation and lost most of its soul. Instructive.
Freiherr Langwerth von Simmern 1995 Erbacher Marcobrunn Riesling Kabinett - Good old-Riesling character, mineral and pine.
Buitenverwachting 1999 Constantia Sauvignon Blanc - Earthy, unctuous, herbal but not grassy.
Mystery white - Grassy, tart. Sauvignon Blanc? New Zealand? I never did find out what this one was.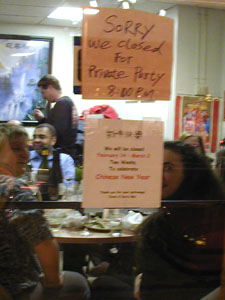 Zind-Humbrecht 1993 Herrenweg Turckheim Gewurztraminer - Bright brass color. Hazelnuts and light litchee scent. Thick, rather sweet, unctuous, a whiff of turpentine. Reminds some of us why we don't particularly care for Zind-Humbrecht.
St. Urbans-Hof 1995er Ockfener Bockstein Riesling Spätlese Halbtrocken - Apples, mineral and lemony acidity. Nice.
Maximin Grünhauser 1995er Herrenberg Riesling Kabinett - A lot of petrol and a lot of fruit. OK, I've had enough Germans now, thanks.
Loring Wine Company 2000 Garys' Vineyard Santa Lucia Highlands Pinot Noir - Jammy, peppery, fruit and acid. A big boy, but doesn't seem like benchmark Pinot, almost a bit Zin-like.
Brown bag red - Cherrv color, some browning; thin. Loire Cabernet Franc? Word on this one's identity never gets back to us either.
Loring Wine Company 2000 Clos Pepe Vineyard Santa Rita Hills Pinot Noir - Big cherry cola scent and flavor, good acid balance. I find this one more to my personal taste than Brian's other offering, definitely ranks well among New World Pinots.
Silver mystery bottle - Earthy, good barnyard scents but not over the top. This one has everyone guessing. Prodded by Joe Perry, I flirt with Italian but decide it has to be from the south of France. Bandol? Montpeyroux? Nope. It's a Mexican Barbera, of all things, from an unfamiliar producer in Baja. Actually one of the more interesting wines of the evening.
Delas 1990 Seigneur de Maugiron Cote-Rotie - Earthy, barnyard, intense perfumed fruit over a firm acidic core. Still needs more time.
Martinelli 1999 "Giuseppe & Luisa" Russian River Valley Zinfandel - Blackberry jam. Huge. Is this a Turley? Rude jokes go around the room. A poster-paint caricature of a wine.
Chateau La Lagune 1990 Haut-Medoc - Black fruit and barnyard, excellent. Big, still a little closed and tannic, but clearly one of the wines of the night. Thanks to Tim Harrigan for sharing this beauty.
Dan Beary tries a rare and bizarre egg liqueur. Do you drink it or do you eat it?

Umani Ronchi 1994 Vino da Tavola Rosso delle Marche "Pelago"
- Black. Plummy, sweet oak scent. Full and tannic. Designed with Parker in mind, perhaps, but a lot of promise.
Esmonin 1999 Gevrey Chambertin Cuvee Vieilles Vignes - Fresh, open Pinot fruit, fruity and smooth. Decent young Burg, although there's some amazement that a wine so "international" bears a Louis/Dressner import label.
Erik Banti 1997 Aquilaia Rosso Toscano - Bright black cherry fruit and snappy acidity. Nice Chianti-style wine.
Movia 1994 Brda Veliko Rdece - Deep black fruit, full and complex, framed by lemony acidity. A Bordeaux-style blend from Slovenia's Brda region bordering Italy's Collio, I brought this one back last year and am glad I did. Falls short of wine of the night but demonstrates that Slovenia - at least its top artisinal producers - can perform above the mass-market level.
Pio Cesare 1989 Barbaresco - Browning, oxidized. Perhaps storage issues. A shame, as this familiar label raised high hopes.
Faiveley 1990 Echezeaux - Herbaceous, seems simple. Still seems very young, maybe closed? Fails to meet expectations, sadly.
Zenato 1995 Amarone della Valpolicella - Ripe dried-cherry fruit, jammy and off-dry. Industrial-style Amarone.
Domaine Rene Manuel 1998 Meursault Rouge Clos de la Baronne - Light, tart. Maybe my palate's tiring, but I don't find much here.
Turnbull 1997 Napa Valley Cabernet Sauvignon - Black. Huge, tannic, eucalyptus. Well-made CalCab in a blockbuster style. (I've only recently tasted Turnbull, but in several exposures am finding it one California producer that I can reasonably warm up to.)
D'Arenberg 1993 The Ironstone Pressings McLaren Vale Grenache Shiraz - Caramel, oak and ripe strawberries, shading to wood, wood and wood on the finish. Not a favorite when young, and not aging particularly gracefully.
Domaine des Baumard 1989 Coteaux du Layon - Clear bright brass color. Creme brulee in a wineglass. Delicious. Now we're talking!
Mas Amiel 15 Ans d'Age Maury - Stone fruit and berries, sweet and complex, with earthy "rancio" undertones.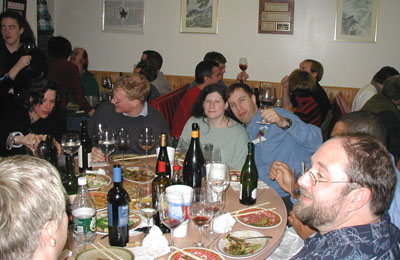 ---
Boston Wine Expo reports:
---
Wine notes in 'shelf-hanger' format:
We publish Wine Lovers' Page tasting reports in the familiar "shelf-hanger" size and format, to make it easy for wine merchants or collectors to print them out, clip and post them where this wine is displayed. We do ask, however, that the WineLoversPage.com name, logo and URL be left intact, and that these reports be used with the specific wines rated, not different bottlings or vintages.
Our tasting policy:
All my wine-tasting reports are consumer-oriented. In order to maintain objectivity and avoid conflicts of interest, I accept no free samples from wineries or distributors, purchasing all the wines I rate at my own expense in retail stores or - as in the case of events like the Boston Wine Expo - reporting on winery visits or public tastings.
Have you tasted these wines?
E-mail me your tasting notes, and I'll consider adding them to this page.