GETTING STARTED | WINE NOTES | SEARCH SITE | DISCUSSION FORUMS | 30 SECOND WINE ADVISOR | CONTACT US
<!TODAY'S TEXT STARTS HERE!>
Europe Wine Diary 2000
This tapestry depicting medieval wine making is displayed in the Musée National des Moyen-Age (National Museum of the Middle Ages) in Paris.

So much to see, so many friends to meet, so much wine to taste ... it was the same old story, as my wife and I suddenly realized how little time two weeks in Europe allows when you want to inhale as much as possible out of even a relatively small swath of the wine-producing areas of Italy and France. And that goes double when a wine-lover's easy-going spouse announces that she'd like to spend at least a little time on museums and nature hikes and other non-wine ventures.

So we hammered out an itinerary that came reasonably close to fulfilling all those needs: Starting in Milan on April 28, we wined and dined with friends in Bergamo and the Langhe in Northwestern Italy, then wandered down to Liguria, the Italian Riviera, for a quick wine encounter before moving on to France, where we balanced wine and sightseeing through Provence, the Southern Rhone (Avignon and Chateauneuf-du-Pape), the Camargue, Carcassonne, Bordeaux, Tours and finally up to Paris, where we spent a last few days relaxing and decompressing before heading home on May 11.

The following capsules, listed in reverse chronological order (latest first) provide hotlinks to more detailed wine notes and additional photos from our wine-related stops:


Willi's Wine Bar
We had heard a lot about Willi's Wine Bar from fellow participants in the Wine Lovers' Discussion Group and other American friends, and when a quick check revealed that it was located within a pleasant stroll from our hotel, it made sense to check it out for our last dinner in Paris. Not a bad decision - an interesting list of wines by the bottle and glass and interesting, affordable fare made it a good choice for value, even if its notoriety with Americans gives the scene a decided mid-Atlantic accent. Here's my review and tasting notes.

Vins & Marée

Randy Resnick (left) and Robin Garr.

We had the great pleasure of finally hooking up face-to-face with a longtime E-mail pal and American-in-Paris Randy Resnick and his wife Evelyne. At Randy's suggestion, we dined at Vins & Marée ("Wines and Tides"), a small but excellent restaurant specializing entirely in fish dishes. This was a great suggestion - the restaurant was friendly, stylish but not too formal, and everything we tried and passed around was first-rate. And the wine of the evening - Chateau Haut-Brion 1996 Graves white - was truly outstanding.


Au Thoumieux
The coincidental visits to Paris of several Wine Lovers' Discussion Group members led inexorably to the application of one of the most longtime and traditional rules of our interactive forums: "Wherever two or more of us are gathered together, let there be breaking of bread and popping of cork." Accordingly, eight of us gathered this evening at Au Thoumieux, a 7th Arondissement bistro specializing in Southwestern French country fare. Here's my report on the wines of the evening.

A day in Blaye

Any doubts about oceanic influences in Bordeaux should be dispelled by this view of the Gironde, which has widened to a broad estuary at Blaye.

A tiny winery located entirely in an ancient barn, too small to allow room for oak barriques so its wines are made entirely in stainless steel, Chateau La Bretonnière's wines are rarely seen outside France, only a relative handful of cases having been exported to Switzerland in a short-lived venture. But wine maker Stéphane Heurlier gleams with pride as he watches workers busily erecting a new chai, a modern building that will dwarf the old barn and that will allow him room not only for a more efficient, larger operation but for rows of fine oak barriques that he hopes will elevate his wines to a more international style. This is the story of my visit.


A day in the Médoc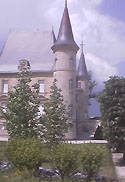 The Médoc, the low, gravelly peninsula north of the city of Bordeaux, between the Gironde estuary and the Atlantic ocean, may be one of the world's most historic wine regions as well as one of its best. Making wine for more than a millennium, Bordeaux and its wine have been linked with the English-speaking world since its Queen Eleanor of Aquitaine married King Henry II of England in 1152, introducing the English to the joys of claret and creating a love affair that has never abated.
Our friend Alex Rychlewski, an American who lives in Bordeaux and makes his living as a French translator, accompanied us on a daylong tour of four favorite wineries, from the Margaux region in the south through St.-Julien, Pauillac and finally St.-Estephe: Chateau Palmer, Chateau Beychevelle, Chateau Pichon-Longueville (pictured) and Chateau Montrose.
Except for our lunch, the wines tasted were mostly barrel samples, an intriguing experience for a wine lover but one that can be somewhat misleading, as it's a long trip from the barrel to the bottle, and it's not always possible to predict how a young wine in barrel will taste when it reaches the retailer's shelves. With that as caveat, here is my tasting report.

Oversize stones and coarse gravel make Chateaneuf-du-Pape's vineyards stand out; by catching and holding the sun's heat, they help ensure full ripening.

Chateauneuf-du-Pape
What!? You spent two nights and parts of three days within a half-hour's drive of Chateauneuf-du-Pape and only visited one winery!? Here's the story: Before we planned this trip, I promised my long-suffering wife (who enjoys wine but isn't as crazy on the subject as I am) that this trip to Europe wouldn't be all work, and it wouldn't be all wine. But we couldn't resist one winery stop, and the tiny, little-known Domaine Bois de Boursan richly rewarded a visit.


Beautiful Bandol


Our first day in France began on a very high note indeed, as we drove from Italy to Provence, ending up on a surprisingly steep and winding mountain road that quickly took us high into the heavily forested, chalky hills above the seacoast town of Bandol, where we had booked a room in the brand-new B&B/guesthouse of Chateau Ste Anne, a small but first-rate producer whose wines are produced entirely by "biodynamic" (organic) practices. Click here for my tasting report.

An "oasis" on the Italian Riviera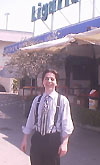 A chance E-mail encounter turned into an enjoyable face-to-face meeting when our new friend Flavio Lenardon, who owns a wine shop in Liguria, the Italian Riviera, realized that we would be traveling near his shop and invited us to drop in for lunch and a tasting of local wines. His shop, Liguria D.O.C., turned out to be, as he describes it, an "oasis on the highway," a fine-wine shop and excellent eatery unexpectedly located within a massive highway-service area on the A-10 Autostrada between Genoa and Nice.

Wine notes from Northern Italy


Our first weekend on the road featured three days of excellent food and wine in Northwestern Italy. My notes on nearly 60 mostly Italian wines are online in a Bergamo evening, a gathering of wine friends in a historic city east of Milan; A traditional day in the Langhe, visits to two excellent, conservative Barolo producers; and A modern day in Monforte d'Alba (village pictured in the scene above), following up with visits to two respected Barolo makers who are trying experimental techniques without losing touch with their roots.

Have you tasted these wines?
E-mail me your tasting notes,
and I'll consider adding them to this page.
All my wine-tasting reports are consumer-oriented. In order to maintain objectivity and avoid conflicts of interest, I purchase all the wines I rate at my own expense in retail stores.
Back to Current Tasting Notes Index