GETTING STARTED | WINE NOTES | SEARCH SITE | DISCUSSION FORUMS | 30 SECOND WINE ADVISOR | CONTACT US
<!TODAY'S TEXT STARTS HERE!>
Oh, Canada! Ontario wine tour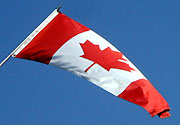 If a wine lover were asked to rank the world's top wine-producing nations, it's not likely that Canada would be among the first that came to mind. With our mental image of the Yukon and Hudson's Bay, I'm afraid most of us associate Canada with snow and ice, not vineyards and wine grapes.

But this vast nation that shares the world's longest unfortified border with the United States is much more diverse than that. As I discovered in a recent enjoyable if all-too-short visit, Canada quietly offers a small ration of excellent wines that can stand comparison with the world's best.

While I've made a mental note to check out the British Columbia wine regions in the mild far West of Canada on a future visit, this trip focused on Southern Ontario, the Canadian region southwest of Toronto.
Abundant signs make it easy to stay on the Canadian wine trail.

Most of the region's vineyards and wineries are located on the Niagara Peninsula in a strip of land along the south shore of Lake Ontario, where a high, wooded bluff called the Niagara Escarpment - the geological feature that Niagara Falls tumbles down - provides a protected environment within which the thermal effects of the Great Lake protect against extreme winter cold, fostering the development of a thriving fruit-growing economy that includes grapevines. This region contains more than two dozen wineries in a relatively compact area that stretches about 60 kilometers (38 miles) along the Queen Elizabeth Way (QEW), an Interstate-type highway, all within an hour's drive or less from Niagara Falls and Buffalo, N.Y.

At the other end of Southern Ontario, you'll find a smaller number of wineries along the north shore of Lake Erie (within a short drive from Detroit), where the lake waters again provide a relatively protected grape-growing environment close to the shore. Or in the case of the Pelee Island Winery, offshore.

Like most cool-climate northern wine regions (Germany, for instance) Canada has long made white wines from the Riesling grape as well as "French-hybrid" whites like Vidal Blanc. More recently, noting a kinship in both latitude and climate conditions with Burgundy in France, many Canadian wineries have been enjoying increasing success with reds, not only the Burgundian Pinot Noir but Cabernet Franc, Cabernet Sauvignon and Merlot.

The product that has truly ensured Canada a place on the world wine scene, though, is ice wine. Based on a German tradition (there called "Eiswein"), ice wine is made by allowing very ripe grapes to hang on the vines for many weeks after the time that they would normally be harvested. When the first hard freeze comes, the wine maker picks and crushes the grapes while they are frozen, each grape yielding only a drop of nectar-like fluid that is rich and intensely sweet and that makes a wine to match.

Most often made from either Riesling or Vidal, Canadian ice wines are produced only in tiny quantities. They are hard to find and very expensive, sometimes ranging to $100 (Canadian) or more for a small bottle. If you love dessert wines, Canadian ice wine is well worth seeking out ... and if you can't find it anywhere else, there's no better way to taste it than in a visit to a Canadian winery.

For more good online reading about Canadian wines and wineries, I suggest WineRoute, http://www.wineroute.com/, the official site of the Liquor Control Board of Ontario, which offers an online tour of the Ontario wine country and includes links to many of the wineries' Websites. For information on British Columbia wines, see http://www.bcwine.com/. Canada's top wine magazine is Wine Access, http://wineaccessmag.com/.

(Note: In the tasting notes that follow, all prices are suggested retail in Canadian dollars; at the time of my visit, a Canadian dollar exchanged for about 67 cents US.)
The wooded hillside in the distance in this view looking south is the Niagara Escarpment, the bluff that forms Niagara Falls and provides a protected environment for Niagara's vineyards.

Inniskillin
Founded in 1975, Inniskillin has built a worldwide reputation for its ice wines, which are available in limited quantities outside Canada.

1998 Zweigelt Niagara Peninsula VQA - Earthy, berrylike. Very fruity, good acid. $19.95

1997 Cabernet Franc Reserve VQA - Very full aroma, red fruit and a pleasant whiff of Dijon mustard. Earthy, rather soft at first, Firms up on the palate with tart fresh-fruit acidity, $19.95

1997 Niagara Peninsula Meritage Reserve VQA - Earthy, green, funky. Flavors consistent, long and tart.

1997 Founders' Show Reserve Niagara Peninsula Pinot Noir VQA - Clear ruby. Good Pinot nuse, black cherry and green tomato. Full and tart, red fruit and velvet ... almost Burgundian. $44.95

1998 Pearl Vidal Icewine VQA - bright gold. Peach and litchee, reminiscent of Gewurztraminer. Intensely sweet, peach nectar, with a good acidic snap. (Sugar code 27) $52.95

1998 Sparkling Vidal Icewine VQA - Clear gold. Subtle apricot and peach aromas, crisp and fresh, with prickly, foamy carbonation. (Sugar code 24) $89.95

1997 Oak Aged Icewine VQA - Bright gold with a greenish hue. Tropical fruit, almonds and hazelnuts, remarkable. Honey over creme brulee, burnt sugar and toasted nuts. Amazing. $110 (Sugar code 24)
The tasting room at Marynissen.

Marynissen Estates

1998 Niagara Peninsula Cabernet/Merlot - Dark purple. Ripe and plummy, somewhat green. Lighter on the palate, tannic and thin. $16

1998 Cabernet Franc - Very dark reddish-purple. Blueberry jam. Tannic, green. $19.95

1998 "Lot 66" Cabernet Sauvignon - dark reddish purple with a neon rim. Tart cherries and spice, fruity and tannic. Needs time. $20.50

1997 Vidal ice wine - Pale gold. Honey and apricots, Sauternes-like. Unctuous, sweet, nectar.

Henry of Pelham

1999 Ontario Baco Noir - Aromatic, a hint of bacon fat. Plummy fruit,tart acid.

1998 Niagara Peninsula Cabernet - dark garnet, smoky, meaty, dark fruit. Good, ripe and plummy, with good acidic structure.

1998 Niagara Peninsula Cabernet-Merlot - Very dark garnet. Excellent mixed-berry and tart-cherry aroma and flavor. Full, tart, slightly green (but pleasantly so) and tannic.

1999 Riesling Icewine - Clear gold, Honey and apricots, great balance, structure and length.
Late-summer vineyards at Thirty Bench.

Thirty Bench

1997 Meunier Red (60% Riesling) $12.50 - Pale rose. Berries and sappy green notes. Crisp and fruity, high acid makes it taste just off-dry.

Cabernets-Merlot "Tradition" Niagara Peninsula Crown Bench Vineyard Select VQA $15.95 - Light garnet. Black fruit and green bean. Herbaceous, but fruity too. Tart acid in finish.

1997 "Blend" Peter Kocsis Vineyard NP VQA $30 - Garnet. Black fruit and sweet oak, appealing. Bright and fresh, somewhat green, but accessible.

1997 "Reserve Blend" Niagara Peninsula VQA $45 - Very dark garnet. Earthy, somewhat closed. Big, fruity, tannic, acidic. Young, but shows a lot of promise.

1998 Riesling Icewine ($54.90/375) - Honey and apricot, intensely sweet but with good acid for balance.

1998 Vidal Icewine ($35.95/375) - Amber-gold. More subtle, pleasant apricot and mango. Clean fresh-fruit sweetness.
Pelee Island's onshore tasting room is a short drive from the Detroit area.

Pelee Island Winery

1998 Pinot Noir Reserve - Red fruit, herbaceous, stemmy, spicy oak. Acidic, green.

1998 Cabernet Merlot - Good blackcurrant and cedar. Full fruit, dry and crisp.

1997 "The Vinedressers" Cabernet Sauvignon - Inky blackish-purple. Deep black fruit and bitter chocolate.

1998 Pelee Island Vidal Icewine VQA ($39.95/375) - Litchee and mango, ripe tropical fruit. Unctuous, rich and textured, sugar code 19, but seems even more sweet. One of the best.

The Ontario wine country was featured in The 30 Second Wine Advisor, my free weekly E-mail bulletin of quick wine tips, advice and tasting notes. Click here to join the E-mail list!

Have you tasted these wines?
E-mail me your tasting notes,
and I'll consider adding them to this page.
All my wine-tasting reports are consumer-oriented. In order to maintain objectivity and avoid conflicts of interest, I purchase all the wines I rate at my own expense in retail stores.
Back to Current Tasting Notes Index