GETTING STARTED | WINE NOTES | SEARCH SITE | DISCUSSION FORUMS | 30 SECOND WINE ADVISOR | CONTACT US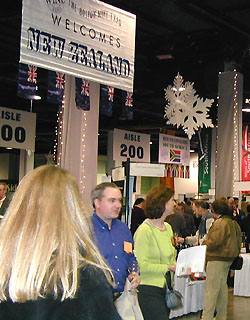 Boston Wine Expo (Jan. 20-21, 2001)

In contrast with last year's Boston Wine Expo, in which I tried to taste everything in sight, I found myself taking much more care in my tastings at this year's event, "cherry-picking" the more interesting wines and taking time to chat with wine makers and wine industry people who I knew or wanted to meet, but discreetly passing by the mass-market and low-end selections that seemed to be the primary pours at quite a few of the booths that packed Boston's World Trade Center.

Even with moderation and consistent spitting, there's no way to taste more than 1,000 wines with any kind of rigor ... although to their credit, quite a few of the exhibitors were pouring their best, and the quest for the better offerings was worth the effort.

I ended up tasting and taking notes on just 64 wines over two days, not really all that many for an event of this scope ... but I left with the feeling that I had experienced the best that the exhibitors had to offer.


Saturday, Jan. 20

The first day began as customary with a visit to Wine Lovers' Discussion Group (WLDG) buddy Jason Brandt Lewis, who spent most of the weekend presiding over the booth featuring an excellent New Zealand wine that he imports:

Isabel 2000 Marlborough Riesling - Crisp lemon-lime, tart, dry and refreshing.

Isabel 2000 Marlborough Sauvignon Blanc - Bright green chile, crisp and fresh.

Isabel 1999 Marlborough Chardonnay - Toasty apples, woody.

Isabel 1999 Marlborough Pinot Noir - Red fruit and tobacco leaf, herbal but pleasant. Full, spicy fruit flavor.

Isabel 1999 Marlborough Noble Sauvage - botrytis-affected Sauvignon Blanc. Delicious stickie, peach and apricot.

After exchanging pleasantries and tasting Jason's wine, I circle the hall, "breakfast" on free samples of Vermont cheese, chowder, hot sauce and a taste of Pol Roger Brut, toasty and full, then back to the tasting rounds. My next target is another frequent WLDG participant, Steve Edmunds, who is generously offering samples of his best juice - not just to pals and ITBers but to everyone who comes along.

Edmunds St. John 1999 Rocks and Gravel California Red Wine - GSM, juicy and ripe, nice raspberries and earth.

Edmunds St. John 1998 Eldorado County "Wylie-Fenaughty" Syrah - Lots of Rhone-style perfume, meat and pepper. Full and peppery fruit.

Edmunds St. John 1997 Durell Sonoma Carneros Syrah - Inky, almost black. Deep and brooding black fruit, gains dimension in the glass.

Edmunds St. John 1997 Parmelee Hill Sonoma Valley Syrah - Closed but promising - gamey grilled meat, structured and elegant. I love this wine and am heartened to know that I chose well in bringing along a bottle of my own from Louisville to enjoy at one of the weekend's social events.

Then I start a Brownian-motion walk around the hall, pausing from time to time for cheese snacks and sit-down breaks at some of the "gourmet cooking demonstrations."

I catch a couple of Champagne rosés:

Bruno Paillard Champagne - Very pale salmon color, creamy and fresh. Good clean, lasting fruit.

Champagne Pommery Rosé - Light salmon. Perfumed fruit, delicate and complex.

And I sample some Ports and cousins:

Croft 1997 Roeda Vintage Port - Inky, almost black. Huge black fruit, plummy and ripe. Tannic, but so much fruit that it's stunning now.

Barros Porto 1977 Colheita - Light amber. Stone fruit and honey scent; sweet brown sugar flavor, luscious and long, with a firm acidic "grip."

Chateau Reynella Old Cave McLaren Vale Fine Old Tawny Port - Amber with a slight rosy hue. Sweet and warm, stone fruit and nuts.

Before calling it a day. On the way home, Thor and I stop off for a drink at a nearby pub with local distributor Gary Pena, who pulls a sample of an amazingly good Australian Sparkling Shiraz that he's currently touting:

Scarpentoni n-v Black Tempest - smoky and grapey, full and tart.

Sunday, Jan. 21

Just like last year, I start my day (during the trade-only hour, before the hordes arrive) at importer Alain Junguenet's Wines of France table, where he has again assembled a crew of wine makers from the properties he represents in Chateauneuf-du-Pape. I love these wines, and the wine makers are friendly, outgoing and generous people. Most of them don't speak much English, but this give me a chance to practice my awful French as, skipping the whites, I taste through a lot of the region's 1998 and 1999 reds. I have loved the fruity, Parker-style '98s, but the '99s grow on me, showing leaner fruit, perhaps, but very promising delicacy and structure.

Dom. Moulin-Tacussel 1999 Chateauneuf-du-Pape - excellent perfumed fruit, more lean than the '98s but nicely structured.

Dom. Moulin-Tacussel 1998 Chateauneuf-du-Pape - Fruity and delicious; a delight.

Dom. Du Bois Dauphin 1999 Chateauneuf-du-Pape - floral perfume, structured, light.

Clos de Pontifes 1999 Chateauneuf-du-Pape - 25 Syrah - peppery and aromatic.

Dom. de la Cote de l'Ange 1999 Chateauneuf-du-Pape - leather and earth and abundant fruit, nice.

Cuvee du Vatican 1999 Chateauneuf-du-Pape - closed, red fruit. Very tannic.

Dom. Pontifical 1999 Chateauneuf-du-Pape - Load of fruit, ripe and full.

Bousquet des Papes 1999 Chateauneuf-du-Pape - red fruit, anise, austere but elegant.

Bousquet des Papes 1999 Chateauneuf-du-Pape Cuvee Grenache - Ripe berries. Tart fruit, balanced and long.

Dom. Pierre Usseglio & Fils 1999 Chateauneuf-du-Pape - Leathery, a hint of barnyard. Beautiful deep fruit and subtle licorice.

Cuvee de mon Aïul 1999 Chateauneuf-du-Pape - Usseglio's cuvee in memory of his grandfather. Full and clean, red fruit, acid and tannin. A keeper.

Chateau-Fortia 1998 Chateauneuf-du-Pape - fruity and delicious.

Chateau-Fortia 1999 Chateauneuf-du-Pape - more structured, but very fine.

Dom. des Relagnes 1999 Chateauneuf-du-Pape - closed aroma, but tart berry fruit bursts on the palate.

Dom. des Relagnes 1999 Chateauneuf-du-Pape La Cuvee Vigneronne - floral and light, delicious fruit.

Dom. des Relagnes 1998 Chateauneuf-du-Pape - plummy, ripe, peppery and full.

Dom. des Relagnes 1999 Chateauneuf-du-PapeLa Cuvee Vigneronne - best yet. I really like this vineyard.

Mas de Boislauzon 1999 Chateauneuf-du-Pape - leather and black cherry, tart and full; tannic but forward fruit.

Mas de Boislauzon 1998 Chateauneuf-du-Pape - full and ripe, good structure and length; another keeper.

From there, it's another random walk for the rest of the afternoon. I try Champagnes:

Champagne Jacquart rosé - very pale coral color. Tart, delicate.

And Ports:

(Souza) Porto Kopke 10 Anos - clear amber. Pleasant stone fruit, sweet and firm; a bit hot.

Andreson's Finest 1985 Vintage Porto - blackish-purple, clear. Sweet and tart, long finish.

Champalimaud 1995 Vintage Porto - licorice and dark chocolate, soft tannins. Delicious and accessible.

Feist 1997 Vintage Port - big, ripe, surprisingly accessible.

Feist 1991 Vintage Port - purplish, browning. Stone fruit, pleasantly medicinal; sweet, hottish and long, tannic.

Feist Colheita 1991 Porto - rosy amber. Nutty brown fruit. Brown sugar and cloves, mellow and delicious.

Royal Oporto Vintage 1997 - black. Tannic, hulking, a brute, but there's beautiful black fruit behind the tannins.

Royal Oporto 20 year Tawny - Clear amber. Subtle and complex, nutty and smooth.

Porto Barros 20 year old Tawny - clear amber, sweet stone fruit, luscious and warm, uith a good acidic grip.

After a palate-scrubbing with bread and cheese, coffee and water, I take a break for a quick private tasting with Gina Gallo, then return to the hall to catch up with wine maker Bill Easton, presiding over a booth serving the products of his paired Sierra Foothills wineries: Terre Rouge for Rhone styles, Easton for the rest.

Easton 1998 Sierra Foothills Natoma - rich melon aromas, full and ripe. Sauvignon Blanc-Semillon blend.

Terre Rouge 1999 Enigma - Marsanne 63% Viognier 30% Roussanne 7% - perfumed, floral and crisp, very nice.

Terre Rouge 1998 Sierra Foothills Syrah - Ripe fruit and menthol, simple but enjoyable.

Terre Rouge 1997 Shenandoah Valley Sentinel Oak Vineyard Pyramid Block Syrah - deep, plummy fruit. Immense structure and fruit, impressive.

Easton 1998 Shenandoah Valley Estate Zinfandel - lots of delicious berry fruit, relatively restrained by Zin standards, a plus in my book: "elegant" and "refined" rarely apply to Zin, but this one qualifies.

Have you tasted these wines?
E-mail me your tasting notes, and I'll consider adding them to this page.