GETTING STARTED | WINE NOTES | SEARCH SITE | DISCUSSION FORUMS | 30 SECOND WINE ADVISOR | CONTACT US
<!TODAY'S TEXT STARTS HERE!>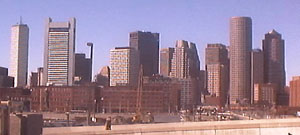 More Boston tastings

In addition to the gigantic Boston Wine Expo, a large "offline" gathering of Wine Lovers' Discussion Group friends, a quick informal trade tasting with a New Zealand wine importer, and two smaller gatherings with friends provided plenty of additional opportunities for wine tasting during my recent visit to Boston. Here are my tasting reports:


New Zealand Tasting

Bruce Cole, state manager of the first-rate import company Dreyfus, Ashby & Co., and Martin Greig with Corbans, New Zealand's largest wine company, put on a quick, informal tasting of some of Corbans' wines at the Federal Wine & Spirits shop in downtown Boston. Greig noted that New Zealand produces only 2/10 of 1 percent of all the world's wine and represents just 0.045 percent of the 222 million cases of wine consumed in the United States in a year. Viewing their major competitors as California and Italian whites and Australian wines, the New Zealand industry would like to increase its U.S. market share to 0.3 percent.

Huntaway 1998 Reserve Gisbourne Pinot Gris. Pale straw, crisp melon, dry and tart.

Huntaway 1998 Reserve Marlborough Gewurztraminer. Pale brass, aromatic grapefruit, dry, tart and bitter,

Stoneleigh 1999 Marlborough Sauvignon Blanc. Very pale brass, cat spray, green chile and citrus. Excellent example of the "outrageous" New Zealand Sauvignon Blanc style and a fine value at $10 suggested retail.

Corbans 1999 Marlborough Winemaker's Cottage Block Sauvignon Blanc. Pale straw color; citric, grapefruit aromas and full fruit flavor, piercing acidity, very long. More of an international style than the Stoneleigh, but a very fine Sauvignon Blanc.

Longridge 1998 Hawkes Bay Chardonnay. Pale straw, citric, steely, no fat, no oak. Tastes like a Sauvignon Blanc, and that's a compliment.

Longridge 1997 Hawkes Bay Cabernet Sauvignon 55%-Merlot 45%. Very dark garnet, green and deep, green bell pepper and chocolate. Lean but juicy fruit.

Huntaway Reserve 1997 Hawkes Bay Merlot 54% - Cabernet Sauvignon 46%. Inky garnet, black fruit and an odd scorched note, not unpleasant. Lean and tart.

Dinner with Thor and Theresa

Boston Phoenix wine writer Thor Iverson and his wife Theresa Regli hosted me for dinner at home Friday, and these wines made an outstanding accompaniment to Thor's excellent rendition of Chef Todd English's steak on a bed of onions.

Dopff au Moulin 1995 Cremant d'Alsace Blanc de Noirs Brut. Clear pale salmon with a frothy mousse and lasting pinpoint bubbles. Very yeasty aroma with flowery notes. Full-bodied and very dry, clean and tartly acidic.

Rosenblum 1997 Contra Costa County Continente Vineyard Zinfandel. Very dark reddish-purple, oak dominates berry fruit. Full sweet oak and berry fruit on the palate, rich and long.

Rosenblum 1997 Dry Creek Valley Rockpile Road Vineyard Zinfandel. Very dark reddish-purple. Peppery bramble fruit and spicy oak. Woody at first, then tannic.

Dow's 1982 Reserve Single Year Tawny Porto. A Colheita (single-year Tawny) but not declared as such on the label, apparently a British style. Clear reddish-purple with an amber edge. Stone fruit and milk chocolate and perfumed fruit, and a seductive flavor balancing fresh stone-fruit sweetness and acidic grip. Thor and I sit up late and talk and sip, enjoying this seductive wine that makes it hard not to take another small glass.

WLDG "Offline" at Angelo's

WLDGers at the Boston Offline included (from left) Dan "McQ" McQuillen, Paul Winalski, Theresa Regli, Deborah Lemon, Eden Stone, Karl Wee and Phil "PMac" MacDonald.

Angelo's restaurant in suburban Stoneham, a local favorite that appears to be a neighborhood pizzeria but houses a first-rate Italian restaurant in the back room, had a bit of trouble getting accommodated to our large group of 23, but soon got into the swing of things, providing fine fare to go with the usual diverse collection of wines.
Trimbach 1983 Frederick Emile Riesling Vendanges Tardives. Clear gold, petrol and pine, full and ripe, surprisingly fresh.
Reichsgraf von Kesselstatt 1994 Scharzhofberger Riesling Spëtlese. Very pale gold, petrol, sweet-tart and very long.
Chateau Soucherie 1995 Clos des Perrieres Savennières. Very pale straw, lemon-lime and mineral on nose and palate.
Vinum Cellars 1998 San Benito County Vista Verde Vineyard Viogner. Very pale straw, floral aromatics.
Müller-Catoir 1997er Haardter Herrenletten Riesling Spätlese. Faint citrus, soft and sweet.
Comte Armand 1993 Pommard Clos des Epeneaux. Clear garnet, plum-tomato scent. Soft at first, tart finish.
The Ojai Vineyard 1996 Santa Barbara County Bien Nacido Vineyard Syrah. Blackish purple with a day-glo edge. Black fruit, pepper and spicy oak aromas; perfumed fruit and fragrant pepper flavors.
Falesco 1997 Montiano Rosso Lazio. Presented in a brown-bag for guessing, I manage to decide that it's Italian. Black fruit and earthy "barnyard" notes, full and tannic.
E. Guigal 1986 Cotes Brune et Blonde Cote-Rotie. Ruby with a clear edge. Barnyard and black fruit. Sweet old-Rhone fruit, very fine.
M. Chapoutier 1997 Hermitage. Dark garnet, mineral and spice. Big, open, forward.
Vinum 1998 Placer County Clos du Lac Vineyard Cabernet Franc. Clear garnet, red fruit Sweet red fruit, easy drinking.
Chateau St. Jean 1995 Cinq Cepages Sonoma County Cabernet Sauvignon. Last year's predecessor to this year's Wine Spectator "Wine of the Year" winner. Very dark garnet. Faint cassis and oak. Big, forward fruit. Easy drinking, a fair value at its then-current price in the $25 range.
Domaine Gourt de Mautens 1998 Rasteau Cotes du Rhone Villages. The subject of much discussion in the group, this is the recently arrived new vintage of a 1997 discovery that I loved and had rated as "Helen Turley meets the Rhone." Since 1998 was generally considered a better vintage in the region, there were high hopes for the new release (which also jumped significantly in price, to $30 from the 1997's $18). Unfortunately, although it shows the aromatic complexity of the 1997, it's a tannic monster than may never come around. Inky dark reddish-purple, black fruit and aromatics on the nose. Big fruit and huge tannins, gasps of "Oh, my God" go around the table. Thor dubs it "wine jerky," a joke with a kernel of truth so obvious that it becomes the descriptor of the evening.
De Boisseyt-Chol 1996 Saint-Joseph. A personal favorite, I brought this one along, only to find it a bit less impressive than on two previous tastings. Perhaps it suffered from banging around in my carry-on baggage? Very dark garnet, it shows good dark fruit and black-pepper aromas and flavors, chewy and full, but somehow lacks its previous complexity.
Bodegas y Vinedos 1995 Alion Ribera del Duero. Inky dark blackish-purple, black-cherry and lemony acidity in balance.
Michele Chiarlo 1990 Vigna Rionda in Serralunga Barolo. Very dark ruby, odd perfumed floral scents and pungent flavor.
Torre Muga 1994 Rioja. Very dark garnet, black fruit and oaky vanillins. Load of fruit, good acidity and sweet oak.
Saddleback Cellars 1995 Napa Valley Zinfandel Nils Venge. Inky blackish-purple, berries and jam.
Shafer 1987 Hillside Select Stags Leap District Cabernet Sauvignon. Very dark purple. Black coffee and plummy fruit aromas and flavors.
Beringer 1996 Third Century Howell Mountain Napa Valley Cabernet Franc. Dark garnet, odd burnt-rubber aroma, oaky and sweet, juicy but rather one-dimensional. (Trivia note: Packaged in a bizarre bottle, resembling a large Bordeaux-style bottle but so heavy that it feels full even when the wine's all gone, with a remarkably deep "punt" (dent in the bottom).
Chateau de Beaucastel 1994 Chateauneuf du Pape. Dark ruby,light barnyard and red fruit. Peppery and earthy, tart and long.
Domaine des Baumard 1996 Quarts de Chaume. Pale straw, huge ripe litchees and peaches aromas. Sweet and well-balanced, a fine way to end the evening.
Dinner at Iversons'
Back at Thor's House again, this time with friends Jason Brandt Lewis and Bob Ross joining us and Theresa taking over the kitchen to produce a luxurious lobster dish and a truly memorable Italian meat ragu over fresh pasta. The wines:
Dopff au Moulin 1996 Cuvee Bartholdi Cremant d'Alsace Brut. Clear straw with a lasting stream of pinpoint bubbles. Yeast and apples, bone-dry and foamy, crisp and long.
Pierre Peters Champagne Blanc de Blancs Grand Cru Brut. Pale gold, with a fountain of bubbles. Apples and milk chocolate; crisp and tart, foamy mouthfeel. Very good Champagne.
Trimbach 1983 Cuvée Frederil Emile Riesling Selection de Grains Nobles. Pale gold, mineral ("petrol") and pine. Huge, tropical fruit, full-bodied and fully dry, complex and elegant; truly a world-class wine and a perfect choice with the buttery lobster.
Mathilde et Yves Gangloff 1991 Cote Rotie. Jason's contribution. Inky blackish-purple, black coffee and black fruit, smoky and ripe. Very full and intense, a great wine.
E. Guigal 1995 La Turque Cote Brune Cote-Rotie. Bob's offering. Inky blackish-purple. Rich black fruit, spicy oak and mint. More oak on the palate than the nose, but it's subtle oak, well integrated with the fruit.
Gourt de Mautens 1997 Rasteau Cotes-du-Rhone Villages. My addition to the deliberations, re-calibrates us after last night's disappointment with the 1998. Inky reddish-purple. Big, complex and forward, full-bodied and ripe.
Branson Wines & Vineyards 1998 Coach House Barossa Shiraz. Black, most opaque wine I've ever seen. Big fruit, vinous alcohol and oaky vanillins. Black fruit struggles with wood and tannin; loses. Perhaps better in another setting, but it fails to impress among the great wines on this table this evening.
Borges 1982 Vintage Port. Attractive dark-ruby color, stone fruit and licorice. Sweet and rich, with plenty of acidity to provide "grip" and palatable but substantial tannins indicating a long life ahead.
Have you tasted these wines?
E-mail me your tasting notes,
and I'll consider adding them to this page.
All my wine-tasting reports are consumer-oriented. In order to maintain objectivity and avoid conflicts of interest, I purchase all the wines I rate at my own expense in retail stores.
Back to Current Tasting Notes Index