GETTING STARTED | WINE NOTES | SEARCH SITE | DISCUSSION FORUMS | 30 SECOND WINE ADVISOR | CONTACT US
<!TODAY'S TEXT STARTS HERE!>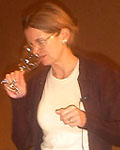 Boston Wine Expo
Feb. 5-6, 2000

The weekend's Ninth Annual Boston Wine Expo attracted thousands of wine lovers to the city's World Trade Center, where they found representatives of more than 300 wineries pouring samples of some 2,000 wines, along with a score of organized wine seminars on topics ranging from how to find an affordable wine (with the British wine writer Jancis Robinson, pictured at right) to tastings featuring great German dessert wines and fine Burgundies.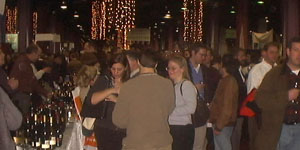 There's no way to taste all the wines available, of course, especially when the hordes swell to a frenzied peak toward the middle of each afternoon, especially Saturday. I spent the full weekend on the scene, taking a look at every booth but being selective about the wines I tasted, and ended up with notes on just 80 items - 2 1/2 percent of those available. Here are some highlights of a survival strategy that worked for me. If you've got other suggestions about making the most of large, crowded public tastings like this, let us know!

Study the ground in advance and take note of your "must-taste" items. A lot of people made beelines for the tables serving such widely publicized items as Chateau St. Jean's 1996 "Cinq Cepages" Cabernet Sauvignon, a wine that shot up in price and became instantly unavailable after Wine Spectator declared it "Wine of the Year" before its public release. That's one I avoided.
Highlight wine types and regions of special interest to you and take advantage of this rare opportunity to taste your way through a much larger number of samples than you'll ever have at home. Since we're planning a visit to these regions this spring, I chose to focus heavily on Northeastern Italy's Piemonte and Southern France's Chateauneuf-du-Pape. Not only did I get to taste a lot of wines, I met and exchanged cards with several friendly wine makers who I can now look forward to visiting in May.
Grab this rare chance to try wines from out-of-the-way countries and regions that you might not normally buy at the wine shop. I spent some worth-while time at booths featuring wines from the former Soviet Republic of Georgia, Switzerland, Rhode Island and Virginia, and enjoyed more South African Pinotages in two days than I've tasted at home in the past year. And best of all, these less-popular regions rarely have large crowds at their tables.
Don't overdo. Take advantage of the "spit buckets" available at every booth, and stop periodically for snacks (many of them free, including an array of artisanal New England cheeses). Take a break every now and then to sit down and rest your feet. While chairs are at a premium, taking in a wine seminar or the free gourmet-cooking demonstrations that run all afternoon is a good way to get a breather. (Pictured: Chef Michael Schlow of Boston's Radius restaurant demonstrating a barley risotto.)
Solicit tips from friends and even strangers. Listening to good advice led me to such treats as California's Renwood and Ahlgren wineries, a creamy New Zealand sparkler and a beautiful lineup of Ports.

Finally, if you are in the wine business or can come up with any legitimate reason to qualify for trade or press credentials, don't be shy about taking advantage. With the proper badge, you qualify for a head-start on the mob scene, with a one-hour "trade-only" session preceding the public hours on Saturday and a two-hour session on Sunday, and there's a lot less pushing and shoving, and shorter lines at the tables, before the crowds come.
France: Chateauneuf-du-Pape
Perhaps one of the best booths at the Expo, this group of wineries represented in the U.S. by Alain Junguenet presented uniform high quality - particularly in the amazing 1998 vintage just now reaching our markets - and exceptionally friendly and helpful wine maker-representatives. Visiting this station was a joy, and it was important to get there early in the day, as happy crowds quickly made the aisles around it almost impassable.
Chateau Fortia 1998 Chateauneuf du Pape. Very dark garnet, deep, clean black fruit. Rich and full. Excellent.
Clos des Papes 1997 Chateauneuf du Pape. Dark ruby, earthy black fruit and restrained "barnyard." Very full, flavors follow the nose.
Le Vieux Donjon 1998 Chateauneuf du Pape. Inky blackish purple, big black fruit, clean and ripe, very fine.
Mas Boislauzon 1998 Chateauneuf du Pape. Very dark garnet, black fruit and licorice, big and chewy.
Mas Boislauzon 1997 Chateauneuf du Pape. Clear ruby, shy nose, slight barnyard. Lean but abundant fruit.
Mas Boislauzon 1996 Chateauneuf du Pape in magnum. Inky garnet, full fruit and earth. Full and peppery, very long.
Domaine Moulin-Tacussel 1998 Chateauneuf du Pape. Very dark, black fruit and fennel, big flavors, peppery ad clean.
Domaine Moulin-Tacussel 1994 Chateauneuf du Pape. Rosy-amber, earthy, some oxidation. Floral and soft.
Domaine Moulin-Tacussel 1996 Chateauneuf du Pape.. dark ruby with an amber glint, earthy barnyard and full red fruit. A mouth full of black pepper and roses, very nice.
Domaine Pierre Usseglio & Fils 1997 Chateauneuf du Pape. Rosy garnet, restrained barnyard and floral.
Domaine Pierre Usseglio & Fils 1998 Chateauneuf du Pape. Inky ruby, bright, peppery and full.
Cuvée de mon Aïeul 1998 Chateauneuf du Pape. Inky blackish-purple, Subtle black fruit. Very big and ripe.
Bousquet des Papes 1998 Chateauneuf du Pape. Very dark purple, perfumed fruit, fragrant pepper.
Bousquet des Papes 1998 Brut de Cuve 100% Grenache Chateauneuf du Pape. Dark amber-rose. Grapey, ripe.
Bousquet des Papes 1998 Vieilles Vignes Chateauneuf du Pape. Very dark ruby, deep pemfumed fruit, big and complex. Slight' pleasant barnyard.
Bousquet des Papes 1996 Chateauneuf du Pape. Dark ruby, earthy black fruit and a hint of wool.
France: Other Rhone
E. Guigal 1997 Cotes du Rhone. Dark reddish-purple. Perfumed red fruit.
E. Guigal 1996 Cotes du Rhone. Reddish-amber, slight barnyard, much more ripe andfull than the 1997.
E. Guigal 1996 Gigondas. Ripe, barnyard and black fruit. Peppery tannic and full.
E. Guigal 1996 Cote-Rotie. Dark garnet, black fruit and a tasty hint of something like sun-dried tomatoes. Full fruit, slightly herbal, very long.
France: Alsace
Leon Beyer 1998 Alsace Pinot Blanc de Blancs. Pale brass, fresh melon scent, crisp and full, a bit of peach-pit bitterness.
Leon Beyer 1998 Gewürztraminer. Bright greenish-gold, complex almond and grapefruit scents. Full, unctuous, starts off-dry but finishes bone-dry.
Italy (Piemonte)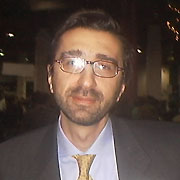 Wine maker and musician Roberto Bava (pictured at left) is passionate about his love for wine and music, and it shows in his wines, which he describes as "songs" and likens to the works of musicians from Vivaldi to Mahler. For me, the Bava wines - and Bava himself - were among the most delightful discoveries of the weekend.
Bava 1997 Alteserre Monferrato Bianco. Pale brass, melon and mint, crisp and full, an ageworthy white.
Bava 1996 Piano Alto Vigneti Bava di Agliano Barbera d'Asti. Blackish-purple, big fruit and mint. Full and ripe.
Bava 1995 Stradivario Barbera d'Asti. Dark ruby, caramel and black fruit.
Bava 1991 Barolo di Castiglione Falletto. Dark ruby amber, beautiful Barolo scent, a field of violets. Big and balanced.
Rousori 1997 Icardi Dolcetto d'Alba. Very dark reddish-purple, black fruit and barnyard. Intense fruit, tart acid.
Cairel 1998 Vigneto del Mandorlo Dolcetto d'Alba. Inky purple, tar and violets, full, fruity and crisp.
Cairel 1995 Vigneto Raine Nehsiolo d'Alba. Dark ruby, perfumsd fruit. Very full, saved from fatness by tart acidity and tannins.
La Ca' Nöba 1995 Barbaresco Montestefano. Dark ruby-amber, black fruit, caramel, some oxidation. Perfumed and aromatic.
Ettore e Livia Fontana 1993 Barolo. Clear rose-amber, looks old. Good tar and flowers, classic Barolo.
Torre Roa 1996 Barbera d'Alba. Clear ruby, pemfumed and floral. Rich and tart, high-acid food wine.
Torre Roa 1998 Dolcetto d'Alba. Cinnamon and spice and fresh red fruit. Mouth-filling and peppery, lingering tangy acidity.
Renzo Seghesio 1997 Barbera d'Alba. Black. Closed and tight, but good black fruit and fennel show through. A tannic "monster," but a load of clean and fresh black fruit shows potential.
Marchesa 1998 Gavi. Pale straw. Good melon fruit and a grassy edge. Crisp, citric and tart.
Podere Luigi Einaudi 1995 Barolo. Dark ruby-amber, violets and tar. Big but balanced, high acidity.
Punset 1998 Dolcetto d'Alba. Inky garnet, fresh black fruit, simple but appealing.
Dessert and fortified wines
Dow's 1986 Quinta do Bomfim Vintage Porto. Very dark ruby, plummy stone-fruit aroma. Sweet, structured. Still tannic, but coming along.
Graham's 1987 Malvedos Vintage Port. Inky garnet, black fruit and licorice. Very sweet, structured and balanced.
Symington's 1996 Quinta do Vesuvio Vintage Porto. Black. Very closed and tight, black fruit, mint and fennel on the nose and palate.
Smith-Woodhouse 1982 Vintage Porto. Clear ruby-amber. Stone fruit and taut structure. Fine.
Broadbent Madeira Malmsey 10 Years Old. Clear mahogany, earthy molasses, caramel and stone fruit. Intensely sweet, good acidic "grip."
Emilio Lustau East India Solera Sherry. Clear amber. Deep walnutty aroma. Nutty and sweet, brown sugar. Delicious.
California

Robert Smerling, the CEO of Renwood Winery (pictured at left), pours his Grandpere Vineyard Zinfandel, made from a vineyard that he says pre-dates the U.S. Civil War, for a visitor.
Renwood 1996 Linsteadt Amador County Barbera. Very dark reddish-purple. Earthy perfumed red fruit, full and long.
Renwood 1996 Grandpere Amador Zinfandel. Very dark ruby, intense and complex on the nose and palate. Berries and delicious herbal notes, big but balanced.
Renwood 1998 "Amador Ice" Zinfandel. A "white" late-harvest Zinfandel made in an ice-wine style by freezing the grapes in a commercial cooler? It ought to be bizarre; in fact it's delicious. Pale salmon, in color, it's full-bodied and intense, with berrylike Zin aromas and a toothache-sweet 23% residual sugar.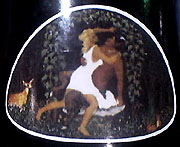 Santino 1991 Satyricon California Red Wine. A ripe, hearty red wine made of Rhone varieties, this bargain wine from Renwood's second label is dark ruby in color, with earthy red-fruit flavors, tart and full. Meant to sell for $7, it's a great bargain, with a lusty label (pictured at right) that prudish officials in Massachusetts declined to approve for sale until Renwood's artist painted a modest white frock on the maiden shown cavorting with a satyr.

Ahlgren 1997 Bates Ranch Santa Cruz Vineyard Cabernet Sauvignon. Blackish-purple. Big, ripe. mint-eucalyptus. Forward and full.
Ahlgren 1998 Livermore Valley Zinfandel. Dark ruby, licorice and black fruit nose and palate, very full.
Ahlgren 1998 Meeker Vineyard Paso Robles Syrah. Dark ruby, perfumed red fruit. Peppery, jammy, structured.
Ahlgren 1998 Monterey Ventana Vineyards Chardonnay. Clear straw. Spicy tropical fruit, very ripe fruit but not fat. Unusually good California Chardonnay.
New Zealand
Huia Marlborough Brut. Pale gold, scant bubbles after frothy mousse sudsides. Frothy and tart.
Isabel 1999 Marlborough Sauvignon Blanc. Pale straw, good green chile and citrus. Crisp and full.
Isabel 1999 Marlborough Riesling Light citric, crisp and fresh.
Isabel 1998 Marlborough Pinot Noir. Light rosy red, good tomato skin and tart cherries on the nose and palate.
Switzerland
Balavaud 1998 Döle Grand Cru. Clear ruby, with pleasant floral and red-fauit aromas. Fresh, juicy fruit flavor, a blend of Pinot Noir and Gamay.
Greece
Skouras 1996 Nemea Saint George. Deep garnet, brooding red fruit. Full and ripe, excellent acidic structure.
Skouras 1997 Megas Oenos. A stylish blend of 30% Cabernet Sauvignon and 70% Agiorgitiko (St. George), this stylish wine is dark garnet in color, showing delicious black fruit and well-integrated spicy oak.
Georgia (former Soviet Union)
Not widely available in the U.S. outside New England, the wines of Georgia were known to me only by reputation. I'm glad I had a chance to taste these unusual wines, both sweet and dry, made from the little-known but ancient Saperavi grape.
Saperavi 1998 Dry Red. Very dark garnet, tart and pleasantly bitter.
Old Tbilisi 1998 Dry Red (Saperavi). Inky black, warm and plummy. Some oxidation confers a warm nutlike flavor.
Tamada 1998 Saperavi. Inky blackish-purple, more delicate aroma than the preceding Saperavis, red fruit and perfume. Plummy and pleasantly bitter.
Kakheti Region 1998 Saperavi. Inky dark, plummy and ripe. Fresh, full and pleasantly bitter.
Balanchine 1997 Dry Red Wine. (Saperavi). Dark ruby. Faint red fruit, fruity and fresh, Beaujolais style.
Kindzmamauli 1998 Semi-sweet wine, Kakheti Region (Saperavi). Black. Prunes and plums, soft and bittersweet.
Khvanchkara Semi-sweet wine. Very dark ruby, raisined fruit. Sweet and full, lemony acid and pleasant bitterness holds the sugar in balance.
Tbilisi 17 year old Georgia Brandy. Bright amber, good caramel and maple aromas. Warm and full, earthy and complex flavors. Very stylish.
South Africa
Wilderkrans 1998 Walker Bay Pinotage. Plummy earthy and full, characteristic Pinotage.
Rawson's 1999 Breede River valley Pinotage. Dark reddish-purple, perfumed, estery.
The Pinotage Company 1999 Selected Bush Vine Pinotage. Dark garnet, light berry fruit, jammy and ripe. Easy quaff.
Cloof 1998 Groenekloof Pinotage. Inky dark purple. Earthy and cranberry aromas, full and ripe.
Virginia (U.S.)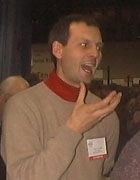 Luca Paschina, the Italian-born wine maker of Virginia's Barboursville Vineyards, who learned his trade in Barolo, says he thinks Cabernet Franc has the potential to be Virginia's best wine-grape variety. The two examples he presented here are certainly persuasive.
Barboursville Vineyards 1997 Cabernet Franc (10% Merlot). Dark garnet, weedy, good clean fruit.
Barboursville Vineyards 1998 Cab Franc (12% Merlot). Very dark garnet, minty black fruit, full and ripe. Very appealing,
Barboursville Vineyards 1998 Barbera Reserve. Dark ruby, good perfumed fruit, highly acidic. Good food wine.
Massachusetts (U.S.)
It was a pleasure to run into my old friends Van and DeeDee Potts working at the Westport Rivers winery booth. While Massachusetts might not immediately jump to most wine lovers' minds as a source for quality wines, Bill Russell's beautiful winery on the state's southeastern shore, near Rhode Island, combines a wine-friendly microclimate and a serious approach to wine making to create fine wines that deserve a wider audience.
Westport Rivers 2000 Collaborative Cuvee Brut. Clear pale-gold sparkling wine, yeasty and full.
Westport Rivers 1998 Pinot Noir Blanc. Clear gold, good fresh aroma, clean and tart. Not a "blush" but a good dry white.
Westport Rivers 1997 Chardonnay. Clear pale brass, mineral and citrus, Chablis-like,
Westport Rivers 1995 Signature Reserve Red Table Wine. Dark garnet, cassis, herbal, Bordeaux-like.
Have you tasted these wines?
E-mail me your tasting notes,
and I'll consider adding them to this page.
All my wine-tasting reports are consumer-oriented. In order to maintain objectivity and avoid conflicts of interest, I purchase all the wines I rate at my own expense in retail stores.
Back to Current Tasting Notes Index