GETTING STARTED | WINE NOTES | SEARCH SITE | DISCUSSION FORUMS | 30 SECOND WINE ADVISOR | CONTACT US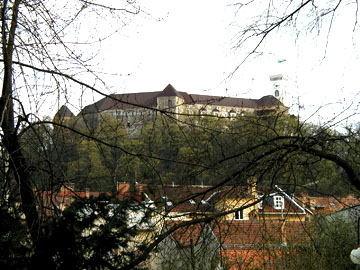 Dinner at Gostilna As in Ljubljana
After a couple of days in this hard-to-pronounce little (300,000) capital city of the smallest, most affluent and least belligerent ex-Yugoslavian republic, a Slavic neighbor of Northern Italy that makes surprisingly good wine, I'm reaching the conclusion that I like this place.
It's been a pleasure to meet and get to know the two-dozen international wine judges who are here (a few old friends and a bunch of new ones) as well as the Slovenian wine-fair organizers, and it's been fun exploring Ljubljana, a walkable burg that looks a little bit like a small version of Budapest or Prague, with a few modern buildings and a few Tito-style blocky towers amid a streetscape that looks mostly like a slightly down-at-the-heels Paris. And of course the traditional medieval castle on a hill (pictured).
But enough travelogue. Let's talk about wine and food, as we had a tremendous sampling of both last night. A mostly English-speaking international group of six judges (Australian wine writer Huon Hooke; New Zealanders Ivan MacG Donaldson and his wife Christine, wine makers of Pegasus Bay; German wine maker Ralf Anselmann, who owns vineyards in Pfalz and also the Canary Islands; South African wine writer Sue Van Wyk, and your humble scribe) assembled at Gostilna As, a historic and pleasantly elegant seafood restaurant that came recommended as Ljubljana's best.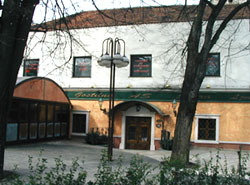 The restaurant was an easy walk from our hotel (as just about everything in central Ljubljana is), and a pleasant spring evening made the stroll a good way to work up an appetite. We were going to need it, as - with the urging of the folks at the hotel who made reservations for us, we were served a six-course meal of seafood specialties with eight wines to match. The dishes were creative, international in style, perhaps with a hint of Slovenian and certain a touch of high-tone Italian. The wines were 100 percent Slovenian, and they were good.
Here's my description of the courses, and the wine notes.

Aperitif:
Gjana non-vintage Brda Brut - Decent if everyday bubbly: appley fruit, fizzy and soft, near-dry. ("Brda," by the way, means "hills" in Slovene, and - sometimes rendered "Goriska Brda" or "The Hills of Gorizia" - is the wine region contiguous with, and closely related to, the Italian Collio subregion of Friuli-Venezia Giulia near Trieste. I visited there Thursday and will report on that in more detail later.)
With a carpaccio of delicate, lemon-accented sea bass, salmon and a sweet freshwater shrimp on arugula:
Kmetija Princic 1999 Brda Sauvignon Blanc - Grassy, citric, crisp, good body and a nice minerally quality. Good wine, perfect with the fish.
With a hearty, tomato-laced fish soup and giant prawn served in an edible brioche-style "bowl" of bread:
Boleslav Mervic 1998 "Jenk" Vipavski Merlot - From Vipava, a pretty wine-producing valley in the mountains between Trieste and Ljubljana. Dark garnet color, with ripe and pleasant black-cherry aromas and herbal notes; clean and tart in a lingering finish. I'm not sure I would have chosen it with fish soup, but the tangy tomato base in the soup brought the match around.
With grilled gamberi (giant shrimp) wrapped in pancetta, two fine razor clams and a scallop on the halfshell drizzled with olive oil:
Cotar 1998 Kras Malvazija - Pale gold; honey and almonds on the nose and palate, crisp and full. (Kras is another wine region, near the Adriatic; Malvazija is Slovene for Malvasia.)
With a "vertical food" presentation of rich, garlicky mashed potatoes studded with tender bites of octopus and laced with fruity olive oil:
Movia 1999 Brda Furlanski Tokaj "Gredic" - You'll be hearing me talk more about Movia, a private winery in Brda run by a creative wine maker, Ales Kristancic, arguably Slovenia's best producer. This wine is bronze in color, with honey and hazelnut aromas, bananas and spice, full- bodied and dry. Our Kiwi friends say it's oxidized. I insist the grape (Slovene for Tocai Friulano) is supposed to taste like that.
With prawns wrapped in prosciutto ("Prscut" in vowel-impaired Slovene) and perched on a delicately curry-flavored risotte served in raddicchio leaves:
Edi Simcic 1999 Brda Rebula Reserva - Bright gold. Banana oil and kiwi fruit, cinnamon and spice; buttery oak is hard to ignore, but there's big fruit to go with it. A bit weird, but give the server credit for the choice - it's a surprisingly good, if exotic, match with the subtle curry flavor in the risotto. ("Rebula" is the Slovene name for the grape that Northeastern Italy calls Ribolla.)
An amazing palate cleanser followed: A tart, pale-chartreuse sorbet of fresh Granny Smith apples swimming in a short shot of vodka. Then came the main course, grilled sea bass with onions and garlic ("cooked in milk to make it mild") atop thin-sliced roasted potatoes, with:
Movia 1996 Brda Modri Pinot - "Blue" Pinot, Slovene for Pinot Noir, is expressed very well indeed in this Kristancic wine. Dark ruby in color, it breathes tart cherries and herbal notes with a crisp red-fruit flavor, fresh and sparkling clean. A bit light on midpalate, maybe, but balanced and appealing.
With an assortment of five desserts passed around the table (chocolate souffle, pear with creme anglaise, chocolate mousse rolled in a crepe, panna cotta with prune sauce and raspberry cake:
Okolcis Vinag 1992 Izbor Laski Rizling - Most likely Riesling Italico, not true Riesling, this one's OK but falls a bit short of most of the evening's other wines. Pale straw color, it offers earthy cooking apples on the nose and palate; tart and slightly sweet with marked sulfury character.
And finally, with espresso after the meal:
Grappa and blueberry brandy, to be mixed together in tiny glasses and knocked back after the meal in the Slovenian tradition. Do we dare? Sure, why the heck not? The grappa, Movia Methana, is actually quite intriguing, clear as water with remarkable spicy scents of white peppercorns, caraway, cinnamon and, over it all, anise, warming and strong. The unlabeled blueberry liqueur/brandy is dark purple, sweet and very fiery. Mix them together and ... well, it's kind of hard to describe. But let's put it this way: It was late, and the dinner was good, and the glasses were tiny, so what the hell, I had a second.
A truly memorable dinner for six, with all the wines and with excellent continental-style service, totaled just under 110,000 Slovenian Tolars, which after a little gyration to account for the food-wary South African participant having skipped some of the more exotic courses, yielded a share for one of 18,500 SIT, roughly $75 U.S.
---
COMING SOON - About the international wine competition at the Ljubljana Wine Fair; and a detailed report, with tasting notes, on several wines and wineries of Western Slovenia's Goriska Brda wine region.
---
Have you tasted these wines?
E-mail me your tasting notes, and I'll consider adding them to this page.