GETTING STARTED | WINE NOTES | SEARCH SITE | DISCUSSION FORUMS | 30 SECOND WINE ADVISOR | CONTACT US
<!TODAY'S TEXT STARTS HERE!>
Adelaide Hills and Plains (Nov. 20 and 22)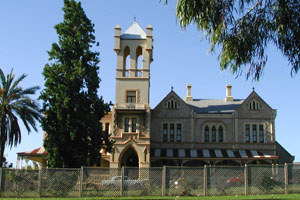 With a relatively relaxing weekend in Sydney behind me after the end of the competition, I flew over to Adelaide on Monday morning,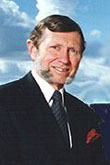 where I was met by the genial gentleman who'd be my host in South Australia. Peter Smith (left), proprietor of Barton Vale and several B&Bs in the Barossa, owns several first-rate vineyards in Barossa, where he has sold grapes to major wineries and hopes soon, with the assistance of wine maker Rolf Binder, to reach the market with a Barton Vale label of fine wines all his own. Peter, his wife Marilyn, daughters Samantha and Kylie and family of friendly dogs and cats put me up for the duration at Barton Vale, an imposing and nicely restored 19th Century manse in Adelaide that's pictured above).


Adelaide, an attractive town of about 1 million, is arguably the best single place to base an Australian wine tour, being within day-trip driving distance of several top wine regions including Barossa Valley and its Eden Valley, Clare Valley and the McLaren Vale. We would visit all these regions during coming days, and - keeping our priorities in order - made a sweep through part of the nearby Adelaide Hills before we even went to Barton Vale to unpack.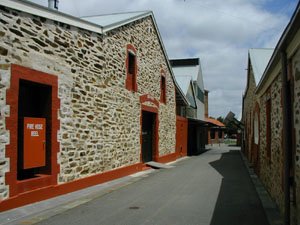 Penfolds
First up was Penfolds, a major brand well known around the world, which has a major property in Barossa but also maintains its historic winery and cellar door (tasting room) on the northern outskirts of the city. David Matters, cellar door manager, greeted us warmly, gave us a quick tour of the cellars, and set out a range of wines:
Penfolds 1997 The Valleys Chardonnay - Pale brass, pears and a pleasant hint of green pea. Full and ripe, big fruit and tart acid. $13.90
Penfolds 1998 Adelaide Hills Chardonnay - Pale straw. Spicy apple butter. Fresh and round, a bit soft on the acid side. $29.50
Penfolds 1999 Cellar Reserve Pinot Noir - Clear dark garnet. Fruitcake aromas, red-fruit and spice, herbal green-bean in restraint. Soft and full, flavors follow the nose; tart acid shows up in the finish. (Experimental, not for commercial release except at the cellar door, $35.)
Penfolds 1997 Kalimna Bin 28 Shiraz - Inky garnet. Pleasant black fruit and peppery spice. $21.50
Penfolds 1996 St. Henri Shiraz - Very dark garnet. Perfume, plums and spice, big, peppery and ripe, subtle hints of smoke. $47.50
Penfolds 1997 Magill Estate Sliraz - Very dark purple. Ripe plummy fruit, subtle pepper and lovely notes of tobacco leaf. Balanced and ripe, a great wine. $50
Penfolds 1997 Cellar Reserve Grenacle - Clear ruby. Berrylike, a bit green. Light but fresh. (Experimental, not for commercial release except at the cellar door, $19.90)
Beautiful vineyards framed by flowers at Chain of Ponds.

Chain of Ponds
Further up into the Adelaide Hills, up a scenic and winding country road that led us through a fairly California-like scene of rolling hills dotted with gum trees, we came to an exceptionally pretty winery where we were met by an exceptionally friendly wine maker. Caj Amadio (left), an all-Australian wine maker who's also proud of his deep Italian family heritage, introduced us to just about all his wines.
Chain of Ponds owner-wine maker Caj Amadio.

Chain of Ponds 2000 Adelaide Hills Riesling - Clear pale brass. Delicious aroma, fresh lime and apple blossom. Crisp, tart and fresh, just off dry. $18

Chain of Ponds 2000 Adelaide Hills Sauvignon Blanc Semillon - Pale straw. Citric and grassy, quite full and fresh; tart citrus in a long finish. $18

Chain of Ponds 1999 Adelaide Hills Semillon - Pale brass. Intense toasty oak and appley fruit aromas. Very full fruit, almost unctuous; seems soft at first, but tightens up with good acidity on the finish. $20

Chain of Ponds 1999 Adelaide Hills Chardonnay - Clear gold. Fresh, crisp apples on the nose and palate. $25

Chain of Ponds 2000 Adelaide Hills Chardonnay (tank sample) - Pale gold, rather closed but very appealing tropical fruit aromas and flavors, full and structured.

Chain of Ponds 1999 Adelaide Hills Sangiovese - Dark ruby with an orange glint. Spicy, tomato-skin aromas; flavors similar, soft and spicy cherry fruit. Gains interest with a bite of prosciutto and parmigiano. $23

Chain of Ponds 1998 Adelaide Hills "Amadeus" Cabernet Sauvignon - Inky dark blackish-purple. Cassis and dusty spice, tight but promising. Very full and long, a fine Cabernet. $28

Chain of Ponds 1998 Adelaide Hills "Ledge" Shiraz - Inky garnet, peppery black fruit and smoke with a distinct menthol note. Very extracted and intense. $33

Kangaroo Island 1998 "Florance" Premium Release Cabernet Merlot - A separate label for Amadio's wines made from grapes grown on Kangaroo Island off Australia's South coast, it's black, opaque, bright garnet at the edge. Black fruit and aromatic eucalyptus leap from the glass. Blockbuster fruit, but spicy complexity and finesse save it from being a "fruit bomb." Fine wine, needs time. $25

Chain of Ponds 2008 "Novello Rosso" Grenache Sangiovese - Clear cherry red. Strawberry jam, fresh and fruity; full, prickly and tart, a wine designed to be served cold and enjoyed with food. $10

After a busy two days tasting wines in the Barossa and Clare valleys, we would return to the Adelaide Plains on Wednesday on our way back to Adelaide:

Primo Estate


This respected property, located well away from most of the region's wineries on a rather featureless plain north of Adelaide, produces wines that show an intriguing blend of Australian and Italian character.

Primo Estate 2000 Colombard "La Biondina" - pale color; pleasant pears and apples, crisp and tart. An unusually interesting treatment of a rarely interesting grape.

Primo Estate 1990 Shiraz Sangiovese "Il Briccone" - Ruby-orange. Cherries and spice; soft and juicy.

Joseph 1998 Cabernet Sauvignon Merlot - Jewel-like ruby-amber. Warm and plummy, full and ripe, slight bitter finish.

Joseph 1992 Cabernet Sauvignon Merlot - Very dark ruby; earthy, herbal aromas. Full, "Porty," some raisin qualities, but nicely balanced and ripe.

Joseph 1998 "La Magia" Eden Valley Botrytis Riesling - Pale gold. Intense honey and apricot aromas, clean and true botrytis. Rich and very sweet, with plenty of acidity for balance.

Joseph Sparkling Red - Earthy black fruit, dry and tart; complex earth and tree-bark flavors and crisp carbonation.

Joseph "The Fronti" III fortified white - Clear amber-gold. Stone fruit and herbs; brown sugar and a squirt of lemon in a smooth, mellow flavor.

Oil and vinegar

Primo also offers a line of their own artisinal olive oils and fine vinegars; we couldn't resist a taste.

Joseph 2000 Foothills Extra Virgin Olive Oil - almost a fluorescent chartreuse; very grassy, like mowing the lawn after a rain shower. Green and smooth, peppery finish.

Joseph 2000 Cold Pressed Extra Virgin Olive Oil - Bright brass. Mild grassy aroma, very smooth and mellow.

Joseph La Casetta aged vinegar - Slightly hazy caramel color; pleasant smoky appley vinegar aroma, not too pungent. Smooth and tart-sweet, with real personality but almost mellow enough to sip.

Barossa Valley Estate
Featuring wines from the Barossa, the winery itself is located in the Adelaide Plains relatively close to the city, making it - with Primo - a good winery visit if you're on a business trip to Adelaide but don't have time to drive all the way out to the wine country.

Spires 1999 Barossa Valley Shiraz Cabernet Sauvignon - black fruit and spice; peppery fruit. $9.40

Moculta 1999 Barossa Valley Grenache - Ruby. Berry fruit, juicy and ripe. $14.20

Moculta 1999 Barossa Valley Cabernet Merlot - Dark garnet. Grapey cherry-berry aroma and flavor, soft but structured. $14.20

Moculta 1999 Barossa Valley Shiraz - Dark garnet, spice, roses and leather, very appealing. $14.20

E&E 1997 Barossa Valley Black Pepper Shiraz - Inky blackish-purple. Pepper, roses, mint and deep black fruit. Full and ripe, rich and complex flavors follow the nose. Delicious wine, although perhaps oxidizing a bit, as the tasting room sample had been open for a couple of days. Almost a "cult" wine in the U.S., where it often commands nearly three times the cellar-door price of Aus$48.

The following two wines are "export blends," made specifically for sale in the U.S., where they will be priced in the $10 range, and perhaps in the UK, but not available in Australia:

1999 Barossa Valley Chardonnay - Pale gold; apples and butter. Soft at first, tart acid and crisp apples in the finish.

1999 Barossa Valley Shiraz - Perfumed, spicy, a whiff of meat; quite fruit-driven and crisp. Good value if sold at the planned $10 point.

Dinner in Adelaide (Nov. 22)


Back in the city, I finally caught up face-to-face with an Australian friend I've known for many years as an Internet wine pal: Gavin Trott, proprietor of the Australian Wine Centre (http://www.auswine.com.au/) and its U.S. sibling, The Wine Center, (http://www.the-wine-center.com), my standard recommendation for wine lovers looking for information and good values in Australian wine.

We dined at Jolley's, a popular and stylish restaurant on the riverbank in downtown Adelaide, and Gavin brought along a very rare and excellent Australian red:

Wendouree (A.P. Birks) 1993 Shiraz - very dark garnet. Big fruit and chocolate, developed and full.

<!TODAY'S TEXT ENDS HERE!>

All my wine-tasting reports are consumer-oriented. In order to maintain objectivity and avoid conflicts of interest, I accept no free samples from wineries or distributors, purchasing all the wines I rate at my own expense in retail stores.

Have you tasted these wines?
E-mail me your tasting notes, and I'll consider adding them to this page.