GETTING STARTED | WINE NOTES | SEARCH SITE | DISCUSSION FORUMS | 30 SECOND WINE ADVISOR | CONTACT US
<!TODAY'S TEXT STARTS HERE!> Balls and Whimsy
Review © 2002 by Burton Kaplan

Mustards Grill Napa Valley Cookbook
Cindy Pawlcyn, with Brigid Callinan; photography by Laurie Smith
Ten Speed Press, Berkeley, Calif.
(Distributed also in Australia, Canada, New Zealand, South Africa, Southeast Asia, and the United Kingdom and Europe)
288 pp, hdbk, US$39.95, CDN$64
ISBN 1-58008-045-6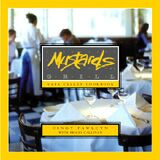 Striding up the steep ramp that is Sutter Street beyond Union Square, I was blissfully unaware that just steps ahead, at the entry to number 655, lay the waist of an hourglass.
Beyond it, all was fresh with New World possibility; before, a palate defined not by peripatetics but by narrow food and wine preferences (entirely French-accented) elevated to the status of religious principles and practiced with the zeal of a true believer.
San Francisco beckoned that glorious fall of 1972 in the person of Solange, who had a year earlier fled Gotham to embrace her manifest destiny by the bay. To celebrate our reunion I had taken rooms at the then-new Miyako Hotel, rooms with a private Japanese bath. It was in this steamy setting we planned a Champagne matinee. Alas, my Krug did not survive the westward schlep. It was her urging to replace it that led me now to approach the premises of Messrs. Draper and Esquin, wine merchants.
I found myself in a grogshop the likes of which I had never before encountered – no shelves, fluorescent lights, carpeting, glitz (or, for that matter, Krug). Instead, handsome bare brick walls, luminous incandescent lighting, shellacked floors of glowing amber maple, the wines not individual bottles standing at rigid attention but splintery wooden cases stacked three or four high, tops open to reveal Napa treasures artlessly pillowed in curvy coils of excelsior. It did not take long to realize that, while visually gallery-like, here was one museum whose treasures I might more than figuratively possess.
Had I died and gone to wine lovers' heaven?
Perhaps. But if so, how to explain St. Peter's curiously earthly handle, Jerome Draper, Jr.?
Jerry proved an angel in more than my imagination. To begin with, he gave me my first serious tutorial on California wines, lessons which continue to this day. More into the bargain, I left his shop that fine September midday not just with enough legendary wine for a double dip (the 1968 Heitz Martha's Vineyard at mid-afternoon followed by a late night plunge with 1968 Beaulieu Private Reserve Georges de Latour), but with the added benefit of Jerry's keen awareness of the newly emerging California cuisine scene. If there was a worthwhile table from Calistoga to The Avenues and beyond, it was better than even money that Jerry not only knew of it but had dined off it. No wonder from that moment forward his shop became my first downtown stop on each of three or four visits a year, as much for heads-ups on dining venues as for vintages.
Okay, fast forward to 1983. Jerry's location changes but not his habits or those of the people whom he hires. One of these, store manager Rene Rondeau, is at least as knowledgeable of the dining scene as Jerry. It was Rene who first pulled my coat to a restaurant recently opened in the Napa Valley, a joint called Mustards Grill. He characterized it a "steak-and-potatoes truck stop deluxe." Rene turned out to be right, of course. The toothsome 14-ounce strip came flavored with a smoky chipotle marinade to warm the soul (not to mention the belly), topped with a herb-infused red wine butter sauce, plated alongside fragrant goat-cheese mashed potatoes; in the glass, a young and beefy 1980 Conn Creek Cabernet.
To look in on Mustards during service is to be amazed by a Mandelbrotian dynamic: aproned staff heltering here, skeltering there – working, rushing, pushing tither and yon, serving, bussing, scurrying up ladders and down to chalk-in or erase the day's wine selections. The sublime professional calm which distinguishes a first-class restaurant is nowhere to be seen, or is it? In the same way that Chaos Theory explains apparent disorder as a strict form of arrangement we cannot entirely fathom or easily explain, so it is with the hurly-burly of Mustards – complex but, somehow, coherent.
The menu, too, proved something of an anomaly - sensitive to the best of California's cornucopia but indifferent to chic. Whereas at the moment of my first visit serious Bay-Area eateries were presenting recipes so complex it made me wonder if they were not ghostwritten by the Rubik Cube guy, chef-proprietress Cindy Pawlcyn made simplicity a matter more of inspiration than limitation.
With her interpretations of what constituted cuisine, Pawlcyn quickly established Mustards Grill as one of the more influential restaurants in California and, perhaps, the country. Her cooking – including but not limited to butternut squash and goat cheese risotto, whole roasted garlic, coconut curried mussels, grilled rabbit "coq au vin", sweet potato and leek ravioli with morel mushrooms and brown butter sauce, mint julep ice cream - affords very few fancy flourishes and no gimmicks. But, likewise, no shortage of opportunity to rediscover fundamental flavors and tastes.
To at least one semi-frequent diner, the wonder of it all is not that Mustards continues to succeed but that its stock in trade does not seem to put off the expense-account crowd – trendy types generally more concerned with fad than food, what comes out of their mouths than what goes into them.
Much like her restaurant, Pawlcyn's handsome and well-produced book delivers 150 easy-to-follow recipes with an indescribable mix of balls and whimsy. Charming indeed, but by no means perfect. For instance, her directions for crispy calamari is a touch misguided. She calls for frying raw, breaded calamari in deep fat until done. This is almost sure to yield mollusk a la Goodyear. Much better first to plunge fresh raw squid rings in boiling salted water then to remove to ice water and allow to chill the instant the pot returns to 212F. This produces tenderness after deep-frying according to her directions.
On the other hand, her scheme for salmon roulade is both novel and faultless. It is made like a jelly roll but here the butterflied fish fillet is the "cake" while the filling is made of garlic and parsley – the whole of it dressed in a zesty olive, orange, and celery relish.
Speaking of things novel brings into fresh view that stunning waist-of-the-hourglass moment in 1972. To be honest, it was humbling for one as given to grandiosity to have to realize that I was less the prideful sum of my tasting notes than the witless victim of gustatory tunnel vision.
Amazing, eh? one minute you are the dog, the next the hydrant.
January 2002
Back to the Wine Book Reviews Page