GETTING STARTED | WINE NOTES | SEARCH SITE | DISCUSSION FORUMS | 30 SECOND WINE ADVISOR | CONTACT US
<!TODAY'S TEXT STARTS HERE!> Meze? Think noshing of it!
Review © 2002 by Burton Kaplan

Meze: Small Bites, Big Flavors from the Greek Table
Rosemary Barron; photographs by David Roth
Chronicle Books, San Francisco
(also available in Australia, New Zealand, South Africa, the United Kingdom and Europe, and US military bases worldwide)
132 pp, pbk, US$18.95, CDN$31.50
ISBN 0-8118-3148-5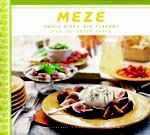 The American couple found themselves in a sand-floored taverna by the shores of an island awash in less traveled reaches of the Aegean. Here, sagging grape-stake walls opened to the vast night sky, across whose black heavens Apollo had struck a match. A band of ancient mandolinists, the grey of their great moustaches streaked yellow with age and tobacco, plucked mournful songs. Men with handkerchiefs danced. Candles flickered in the breeze. Plump-cheeked children slept in their mothers' arms.
The sense of imminent discovery adrift in the air of a dining establishment with no menu quickly palls in the face of ravenous appetite. The waiter spoke no English, they no Greek. What to do? Eventually, body language got across the idea to look around the common tables at the food before various diners. When they found something of interest it would be served to them. Meanwhile, there was Ouzo.
Aniseed-flavored spirits in water made clouds swirl in the glass. These called to Solange's mind the milky radiance of June mornings. Her consort found the observation poetic but, alas, lacking a means to quiet gnawing stomachs. He suggested a walkabout. When they took seats again, they caught the waiter's eye, gesturing toward a diner seated by the far wall. The server walked behind the fellow and, with arched eyebrows, pointed. They nodded. From beneath a descending fork within inches of its target the waiter snatched away the grilled octopadi off which the startled man had been feeding. With a flourish, he presented what was left of the toothsome tentacle to the couple. When they nodded yes, he replaced it before the astonished chap. A good sort, the fellow raised his glass to them and, with a wry smile, returned to the business of his meze.
The moves did not go unnoticed.
In a trice, every diner in the crowded place made the pleasure and variety of the Americans' meal their self-appointed missions. As people were served, men and women and even children raised their plates to show the couple the small dishes they had chosen–red pepper salata, sfongata, garides, astako, kephtedes, maritha, barbounia and more.
How does such a moment – such food, such fellowship – come to pass? Perhaps it is enough to say that it springs out of the warmth of a squat, broad-shouldered people with joyful souls and faces of leather; from sea-spray and shining air; land the color of honey and houses the color of bone; the miracle of golden-columned temples perched on sheer-edged cliffs; pristine beaches where the sea becomes a dimension of a lambent sapphire sky, an Homeric place removed from time where souls soar through sunlit air and minds rise free.
But to argue thus is to mistakenly say such fare is to be had only in the Cyclades.
Meze, like its Spanish counterpart, tapa, along with analogs in the Balkans, Lebanon, Egypt, and Morocco, express the enduring influence of noshing in the manner of the Arab, Byzantine, Ottoman, and Venetian conquerors who once occupied these and other Mediterranean-rim civilizations.
Culinary historian Aya Algar elsewhere traces meze to its origins in the ancient Persian word maza, meaning 'taste, relish.' "Wine was the center of an emotional and aesthetic experience ... that also included food and music" Algar writes. "The original meze of Persia appear to have been tart fruits ... designed to alleviate the bitter taste left by unripe wine. Later, nuts and small pieces of roasted meat were added to the spread of the wine drinker."
Rosemary Barron's fresh and well-turned little book indirectly picks up Algar's thread to explain that, over 2,500 years, the Greek custom of snack with drink was elevated to a social ritual, making it culturally unacceptable to imbibe without eating. She reveals, among other interesting and sometimes obscure facts, that Plato was given to noshing on olives, radishes, and such. Today, the meze table is the Greek framework for social interaction and the unhurried enjoyment of fresh, seasonal, and intensely flavored preparations. In her words, "This is food to share with other people in an atmosphere of friendship and community."
One or two of her fifty-seven carefully articulated recipes (many of them vegetarian) make a good first course. Five or six compose a light meal. A buffet table might call for as many as twelve to sixteen. These range from such standards as olives, yogurt, cheeses, and simple vegetables to exotics the likes of easily-prepared olive-stuffed onions, sweet and sour shallots, shrimp kephtedes with cucumber, bay-scented chicken, salt-grilled prawns, marinated squid with walnut-garlic sauce, and my personal favorite, rosy lamb in a honey-sweetened sauce of sun-dried tomatoes, olives, and cinnamon
Pairings with wines and spirits accompany most recipes. These include Mavrodaphne Ouzo, Retsina, Samos Nectar, and the rarely seen Tsipouro, a raki-like distillate from Crete. David Roth's photographs are adequate if uninspired. Production values are good, though in such a book, one likely to be in regular use, spiral-ring binding might, over time, prove practical. A detailed multi-page glossary, index, and a list of resources for otherwise unobtainable ingredients are added values.
To cook from Ms. Barron's clear and thoughtful work is to recall the divine radiance of the Cyclades that struck one sailor as edible. Over weeks before the mast his eyes had become another mouth, tasting and swallowing the ripeness of it as it fumed, glared, flashed off peacock-blue wave caps. As for island fare, it was, if anything, even better.
March 2002
Back to the Wine Book Reviews Page