GETTING STARTED | WINE NOTES | SEARCH SITE | DISCUSSION FORUMS | 30 SECOND WINE ADVISOR | CONTACT US
<!TODAY'S TEXT STARTS HERE!> Going forward by going backward
Review © 2002 by Burton Kaplan

The Bread Baker's Apprentice: Mastering the Art of Extraordinary Bread
Peter Reinhart; photographs by Ron Manville
Ten Speed Press, Berkeley
(also distributed in Australia, New Zealand, South Africa, Southeast Asia, and the United Kingdom and Europe)
320 pp, hdbk, US$35, CDN$56
ISBN 1-58008-268-8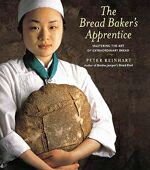 It seems unkind to argue here that my mother was an unsuccessful baker. Allow me, then, to share an observation instead, and leave the conclusion to you. In our ethnically mixed neighborhood the greatest demand for her breakfast rolls arose not within our family but among the district's champion bocce teams, men who knew a thing or two about heft and density. Given my formative training at her knee, it should come as no surprise that I am not adept at evoking from wheat its fullest potential. Happily, artisanal baker Peter Reinhart is.
To this boulanger manqué, Reinhart, winner of the 1998 James Beard Award, seems less master baker than supreme alchemist. How else to explain his uncanny ability to transform humble flour, water, salt, and yeast into the culinary gold of good-as-it-gets bread?
Reinhart's prominence among baking educators testifies to a bread renaissance as people everywhere turn away from squishy commercial loaves to seek out the nut-like flavor, toothsome crumb, and crusty crackle of bread from a bygone era. In the last decade the number of specialty bread bakers in the United States rose from less than a hundred to more than a thousand, while Paris alone counts some 250 bread shops; the Bread Bakers Guild of America was founded; and tens of thousands of bread heads flock annually to summer loaf festivals.
Unlike the factory bakery, wherein chemistry and technology conspire to produce large volumes of ugly and tasteless bread with great efficiency, artisans bake bread that is individualistic, beautiful to behold, characterful, and tasty. How this has come to pass is a fresh reminder that, when it comes to modern-day food, one of the better ways to go forward is to go backward.
Six thousand years ago an Egyptian applied heat to beer and from this was kindled the concept of the simple, hearth-baked loaf. It was not long before the inevitable muck-up of "progress" polluted the simplicity of it all. Agribusiness gave us gluten-rich grain; engineering begat high-speed flour mills; chemistry added leavening and additives; and whodjamacallit brought forth the iron ovens that almost entirely displaced the long-reigning bakestone.
Committed to the notion that the future of bread is behind us, contemporary breadwrights make the flat stone hearth of yesteryear the basis for almost all that seems new and wonderful now. In setting hardwood aflame on the floor of a stone oven, their objective is to create the once-and-future ideal conditions to strike heat into the center of their hand-formed dough as quickly as possible, from as many angles as possible. As for their makings, these are simply but precisely confected of unadulterated flours. Using ancient and modern bakers' tricks, the tasteless starch molecules that comprise the bulk of the loaf are unraveled to spring free the simple sugars that afford layer upon layer of flavor.
At the heart of Reinhart's conceit is a twelve-step tutorial. Taking readers under his wing to teach them to build bread as he might one of his students at Johnson & Wales University, he delivers the premise with patience, good humor, consummate skill, and a wealth of anecdote. Step-by-step procedures readers can easily follow and be guided by are illustrated with crisp, carefully styled, and well-lit photographs.
Covered here is a range of subjects that include proper mise en place, how to select flour, the baker's math-formula system, tips on how to mix dough in a food processor, a surefire test to determine gluten development, shaping and panning, washing and garnishing, how to replicate a professional hearth oven in your home kitchen, troubleshooting problems with your bread to better understand the processes at work within, and more.
Master formulas are presented in text and graphics for some 50 basic breads - everything from old-school New York bagels to the newfangled delayed-fermentation Pain à l'Ancienne. Not overlooked are sweet Challah, Tuscan bread, sourdough Pullman loaves, and rustic Ciabatta. Variations on basic themes range from Roasted Onion and Asiago Miche to Potato and Cheddar Torpedoes to Marbled Rye.
The engaging combination of Reinhart's hands-on experience and his evident teaching skills allow for rich and accessible text. This is made all the more pleasurable by Nancy Austin's noteworthy graphic design and typography. Ron Manville's luminous images vividly elevate the whole of it. A resource chapter proves a ready reference for those seeking books, websites, schools and training programs, and grain suppliers.
There is no question that filling the house with the aroma of loaves fresh from the oven is among the most sensual and rewarding pleasures a serious cook can know. Nor is there any gainsaying that we live in an age when few of us can accommodate the time such self-indulgence requires. No matter. If you never bake a loaf from it, The Baker's Apprentice cannot help but inform your appreciation for this most basic of foods.
Would that such had been in print during my growing up, the buzz in the bocce crowd might never have been what it was.
March 2002
Back to the Wine Book Reviews Page