In a big hurry for less
Review © 2002 by Burton Kaplan
The Minimalist Cooks at Home, Revised Edition
Mark Bittman
Broadway Books, New York
215 pages plus index, hdbk, $26 (US), $40 (Canada)
ISBN 0-7679-0926-7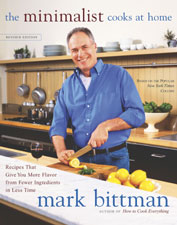 From the looks of things, The New York Times food columnist Mark Bittman appears in an unseemly hurry to establish himself as the Mies van der Rohe of food writers. His original title, which the present edition revises, appeared only 30 months ago. Bittman's minimalist culinary philosophy has not changed since. He says the original 100 recipes here repeated are as contemporary now as ever. In the absence of a passed sell-by date, this reader was left to wonder; why a new edition? Only his publisher's accountants know for sure – and they're not talking.
Operating on the "Less is more" dictum famously espoused by Mies, an acknowledged immortal of architecture, Bittman – one of the few to win both the Julia Child and James Beard awards for the same book in the same year–here modestly amplifies by mildest accretion his quest for more flavor from fewer ingredients in less time. New are suggestions for possible variations on some of his recipes, serve-with recommendations, and wine pairings. While this hardly justifies replacing the original book (which can be found in the quality used-book market for as little as $10), it does serve to slightly better reward the patience of the culinoscenti who passed on the first offering.
Bittman's work remains a refreshing change from the immodest, received-word tonality prevalent in the celebrity-chef books with which we are inundated these days. "A disproportionate amount of space and time in food magazines, newspapers, cookbooks, and television shows has been devoted to needlessly and sometimes outrageously complex recipes," he laments. "Food does not have to be complicated to be interesting."
Amen.
Still, it is not in his usually sound, always spare, and sometimes pedestrian recipes that one finds genuine value. Rather, it is in some of the fundamental ideas that underlie them. These offer rich opportunities for variations and spin-offs. For instance, the notion of treating a thick slab of tuna as if it were something of a marine pork chop, stuffing it with fresh soy-dressed mesclun and grilling it. (See the recipe below.)
This sparked one home cook to a variation using 2-inch cut of swordfish stuffed with a herbed puree of roasted garlic, caramelized onions, sun-dried tomatoes, seared red peppers, and bread crumbs. When the fish was done and sliced thickly, the central element on the plate appeared as if it were a lucent, black-edged seam of alabaster gorgeously veined with a vivid golden red. In the eating it proved no less a treat for the palate than for the eye. It was served with a snappy young Tavel rather than the more prosaic Chianti or Zinfandel Bittman prescribes.
Equally fecund but less successful was Bittman's Beet Roesti with Rosemary, itself a segue from an original creation by Michael Romano, chef at Manhattan's Union Square Café. This calls for grated beets, chopped fresh rosemary, flour, and either butter or olive oil. Followed to the letter, the recipe produced a crunchy patty of red library paste. The problem was the amount of flour called for: 1/2 cup to about 1 1/2 pounds of beets. The miscalculated recipe was eventually made to work using much less flour and adding a whisked egg to bind.
Even more successful was pan frying these beets in half-filled biscuit cutters until crispy on the bottom, removing them from the heat, then icing these with a creamy young goat cheese. The assemblages, flashed under broiler for a moment or two before tuning out, were brought to table as centerpieces atop small salads of mixed greens tossed earlier in a zesty vinaigrette. The interplay of beety sweetness, barnyard redolence, and vinegar zing proved a savory forspeiss to a parsleyed rack of grilled lamb matched with a ravishing, well-aged Sonoma Pinot Noir from an unsung source – Hanzell.
Kinderkitcheners are likely to find Bittman's lean-and-mean writing style easy to follow. Sufficient information to advance basic home-cook repertoires is provided with each dish, under the rubric "With Minimal Effort." Book design and typography are intelligent, you might even say architectural. Illustrations are entirely lacking, leaving readers on their own in the presentation department, a distinct shortcoming.
In the confident hands of Bittman it is often but not always the case that simplicity is the ultimate sophistication. Unfortunately, in quest of this lofty grail Bittman sometimes forgets that less can also prove both not enough and too much.
Grilled Tuna with Mesclun Stuffing
While Bittman focuses here on tuna, he suggests variations using swordfish, salmon, lamb or beef, and stuffings based on garlic, herbs or pesto.
To serve 4, you will need:
juice of 3 limes
1/4 cup high-quality soy sauce
5 tablespoons extra virgin olive oil
2 tablespoons water
1 teaspoon dark sesame oil, optional
1/2 teaspoon coarsely ground black pepper
2 cups mesclun, arugula, or other greens, washed, dried, and torn into bits
1 tuna steak (1 1/2 pounds) no less than 1 1/2 inches thick
salt and freshly ground pepper
Procedure
Start a charcoal or wood fire, or preheat a gas grill or broiler. Combine the first 6 ingredients in a bowl or the container of a blender and whisk or blend until emulsified. Soak the greens in this mixture while you prepare the tuna.
Make a pocket in the tuna. Be careful not to cut through the top, bottom, or opposite edge of the tuna, and try to keep the entry point relatively small.
Drain the greens, reserving the excess marinade, and cram them into the pocket; you can overstuff the tuna (it won't shrink, nor will the greens expand) as long as you don't tear the tuna. If you've kept the pocket opening small, seal it with a toothpick; if it's more than an inch or two wide, use a couple of skewers. Marinate the tuna in the remaining soy mixture until the grill is hot, or up to an hour at room temperature or several hours refrigerated.
Grill the tuna, turning once, about 6 minutes per inch of thickness (if the steak is 1 1/2 inches thick, for example, turn it after 4 minutes and cook 4 or 5 minutes more). Cut into 1/2-inch thick slices, season with salt and pepper, and serve.
Keys to Success
When you buy tuna for this dish, make sure to get a slice that is at least 1 1/2 inches thick; you need a substantial piece for stuffing. As with all tuna, the skin should be removed. Try to find a dark-red yellowfin rather than paler albacore.
With Minimal Effort
Use this stuffing and marinade with swordfish, salmon, lamb, or beef
Stuff the steaks with pureed roasted garlic; roasted red peppers; about 1 cup chopped fresh herbs; thick pesto; or a mixture of lightly cooked onions, red peppers, and chiles
Substitute any vinaigrette for the soy dressing.
September 2002
Back to the Wine Book Reviews Page
<!- Page Contents End Here ->