Pinot Gris: Ho hum or Oh, boy?
Pinot Gris, Pinot Grigio. Ho, hum! This little-honored member of the Pinot family doesn't get a lot of respect, and frankly, there's a good reason for that: Under both its French and Italian monikers, Pinot Gris/Grigio has become the current generic "glass of white wine," prompting the industrial segment of the wine economy to plant vast acreage of overcropped, dull and boring wine.
But it doesn't have to be like that! Pinot G draws its name from the French or Italian words for "gray," an odd way of saying that this grape's skins contain an unusual amount of pigment for a white variety. Since pigment tends to map to flavor, these grapes - if handled with care in the vineyard and the winery - can make a white wine of unusual character, complexity and depth.
Sadly, this doesn't happen as often as it should. But during March in our monthly Wine Focus on the WineLovers Discussion Group, we're looking for the exceptions that demonstrate the rule.
To help us narrow the focus, we suggest that you begin by looking for Pinot G in regions known for doing it well. Curiously, a lot of those favored regions have names that begin with a vowel, so, tongue-in-cheek, we invite you to taste and tell us about Pinot G/G from the "Vowel Regions:" Alto Adige, Alsace, Oregon, Ontario, Okanagan and (cheating just a little) Colli Orientali and Environs, and Aotearoa, as the Maori call New Zealand, the Land of the Long White Cloud.
Don't worry, exceptions are permissible. Please post notes on any PG you find if it is good. The key this month is quality. If you tasted a PG and found it bland and uninspiring, please spare us. Let's let this month's roster become a shopping list of wines that we can recommend.
To join in, simply click to the WineLovers Discussion Group - log in via Facebook if you use it - and head for the conversation "March Wine Focus: Seeking memorable Pinot Gris/Grigio."
To get us started, I sampled an exceptionally fine California blend based on two-thirds Pinot Gris: Au Bon Climat 2013 Santa Maria Valley Pinot Gris-Pinot Blanc. You'll find my tasting notes below.
Discovering wine with new eyes: Continued
Many of you mentioned having enjoyed the opening chapters of our forum's "Proust Questionnaire" on our wine preferences last time, so for your continued interest, here are links to all four of its weekly sections.
The discussions are still open, and everyone is welcome to view the conversations and, using our new easy "social login" and registration via Facebook, join in the fun by posting your own responses. Here are the links:
What Would Proust Drink? A WLDG Survey Part One
What Would Proust Drink? A WLDG Survey Part Two
What Would Proust Drink? A WLDG Survey Part Three
What Would Proust Drink? A WLDG Survey Part Four
Today's Sponsor
Wines for Easter with $1 Shipping!
During The California Wine Club's $1 Shipping Spring Wine Sale, you can stock up on award-winning, handcrafted wines at everyday prices. Plus, you'll save up to $36 in shipping on every case.
Plan your holiday pairings now:
• Ham: Match with a fruity Riesling, on sale for as low as $11.
• Roast Lamb: Savor with a rich Red Blend, on sale for as low as $11.
• Chocolate Bunnies: Eat the ears first with a luscious Merlot on sale for as low as $15.
See all wines on sale.
No membership is required to take advantage of the savings.
1-800-777-4443 www.cawineclub.com
$1 Shipping Spring Wine Sale ends on March 31, 2015. Some restrictions apply. Must be 21+ to order.
Today's Tasting Report
Au Bon Climat 2013 Santa Maria Valley Pinot Gris-Pinot Blanc ($16.99)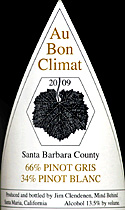 Not a full-varietal Pinot Gris but a blend of two-thirds Pinot Gris to one-third Pinot Blanc, this rich, appealing California white benefits from the blend. A clear, bright straw color in the glass, it offers good, fresh, snappy citrus - lemons and limes - on the nose and palate. There's something more, too, a whiff of white flowers on the nose that segues into an intriguing chalky minerality in the flavor. It shows good texture on the palate, medium body with 13.5% alcohol; bone-dry and crisp, fresh-fruit acidity, with limey citrus and stony minerals lingering in a very long finish. Impressive wine at a value that's more than fair. The varieties meet and mingle to the extent that I can't single out what comes from the Gris and which from the Blanc. It doesn't matter. Just enjoy the dance. (March 8, 2015)
FOOD MATCH: This one would make a versatile food match with a range of food, from pork or grilled chicken dishes to richer ocean fish or sweet shellfish. Egg dishes and cheese would do it favors also; it was outstanding with a free-range egg frittata with spinach, onions and lots of garlic
WHEN TO DRINK: Fine now, but I wouldn't worry about it losing its edge over the next year or two.
VALUE: No complaints whatsoever at this mid-teens price. Wine-Searcher.com reports an $18 U.S. average for all vintages.
WEB LINK The Here's a fact sheet about this wine - with a link to buy it for $18 - on the winery website.
FIND THIS WINE ONLINE:
Compare prices and find vendors for Au Bon Climat Pinot Gris-Pinot Blanc on Wine-Searcher.com.
As noted above, you can order it from the winery for $18 at this link.
We hope you'll "Like" us on Facebook!
If you use Facebook, we'd be delighted to have you "Like" our WineLovers Facebook Page. This way you can get Facebook notifications when there's a new The 30 Second Wine Advisor issue or a topic of particular interest on the WineLovers Discussion Group (WLDG).
If you're a Facebook user, you can also now join our forum with a single click! All you need to do is visit the forum and click the "Social Login" link at upper right.
Talk About Wine Online
If you have questions, comments or ideas to share about today's article or wine in general, you're always welcome to drop by our online WineLovers Discussion Group, the Internet's first and still the most civil online community. To find our forums, click:
http://www.wineloverspage.com/forum/village
Discussions are open for public viewing, but you must register to post. If you're a Facebook user, you can also now join our forum with a single click! All you need to do is visit the forum and click the "Social Login" link at upper right.
We use only your name and Email to identify you and make no other claim on your Facebook information or privacy. However, if you prefer not to use Facebook, contact me at wine@wineloverspage.com for information about registration.
Subscriptions and Administrivia
Unsubscribe:
We're sorry if you must leave us, but simply click the "unsubscribe"
link at the bottom of your Email edition to be instantly removed from the mailing list.
Change address:
The quickest and easiest way to change your Email address is simply to register anew, using the link below. If you are keeping your old address but no longer wish to get the Wine Advisor there, click the unsubscribe link below to take it off our list; if you are closing the mailbox, you needn't take any action, as our system will delete your old address as soon as the mail to your old address starts to "bounce."
Subscribe to this weekly E-letter (free):
http://www.wineloverspage.com/wineadvisor
WineLoversPage.com RSS Feed (free):
http://feeds.feedburner.com/wineloverspage/tzva
Wine Advisor Archives:
http://www.wineloverspage.com/wineadvisor2/archives.php
Sponsorship Opportunities:
For information, E-mail wine@wineloverspage.com