Get a $25 Wine Credit for YOU!
It's Black Friday again. Give a wine club gift from The California Wine Club today and we'll give you a $25 wine credit to spend any way you wish. Use promo code CREDITME when ordering to secure your credit. More details below!
Hurry! Offer expires at 11:59 p.m. PST, Dec. 5, 2014.
Send a Gift: Get a Credit for YOU!
Bubbly trivia: Plaques!
Planning to pop the cork on a bottle of bubbly or two over the holidays, or on New Year's Eve?
Thinking about Champagne, and all the world's other sparkling wines, reminded me about two of my favorite truly obscure wine words related to a truly obscure wine hobby: "Muselage," or "muzzle," the witty French name for the wire cage that securely holds a Champagne cork in place; and "plaque" (or "plaque de muselet") for the small, dome-shaped, often colorfully decorated metal cap that protects the outer end of the cork.
I doubt that there's any practical re-use for the muselet, which ends up pretty badly twisted after you take it off. But the plaques de muselet? That's a whole 'nother story. I was intrigued to learn, quite a few years ago, that lots of wine enthusiasts - particularly French wine enthusiasts - collect them and even build fancy display cases to show them off. Enameled and shiny, they are often brightly colored. Many carry the wine producer's trademark or logo.
Right after I wrote a column about this in 2001, I started saving plaques de muselet myself. I never did get around to displaying them, but I have a large coffee mug full.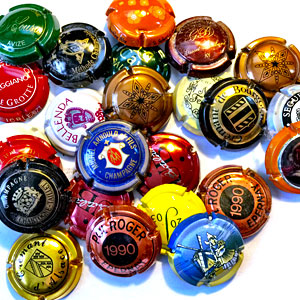 When I wrote about plaques back then, I was deeply indebted to an online source, John Holland's ChampagneMagic, an all-about-bubbly publication that was perhaps the only English-language source of placomusophilia on the Internet. Alas, it's gone now, so I guess it's up to me, in debt to Mr. Holland, to keep the basics available for The Google - and all of you.
Early Champagne bottles, Holland said, were stoppered with wood and sealing wax. Corks tied down with string (as you'll still see now and then with artisanal Lambrusco) persisted well into the 1800s before a Frenchman named Adolphe Jacquesson patented the wire cage and metal capsule in 1844. It was not until the early 20th century that Champagne makers started putting slogans and trademarks on the small metal disk, turning a functional item into a potential collectible.
How about you? Do you collect plaques de muselage? Have you ever noticed them? If you enjoy bubbly now and then, this may be your opportunity to start a new hobby!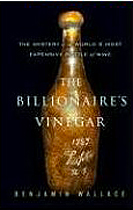 If you like a little controversy with your wine, I think you'll enjoy Benjamin Wallace's book, The Billionaire's Vinegar, The Mystery of the World's Most Expensive Bottle of Wine." An investigative story, yet a good read, it takes a close look over the controversy surrounding an 18th century bottle of Chateau Haut-Brion with the initials "Th. J" engraved on the bottle.
Based on its rarity and its purported connection with Thomas Jefferson, Christie's auction house in London sold it at auction in 1985 for a cool $156,000, even though many considered its authentification dubious. Was it a fake? Was it real? A suspected scammer insisted that it was genuine, even after investigators found empty bottles, blank wine bottles and ancient corks in his home. The alleged miscreant moved to Europe, beyond the reach of U.S. law, and the issue remains uncertain.
Wallace digs into all this, and much more about the dark, little-known world of fine-wine counterfeiting, in The Billionaire's Vinegar. Interested in reading it over the holidays? Amazon.com no longer has new copies, but you can order it online in hardcover or paperback from secondary sellers by clicking this Amazon.com link.
Or, you can start reading it immediately on your Kindle or free Kindle app. Click here to download the Kindle edition for $9.99 now.
As always, Amazon.com purchases made through these links will return a small commission to help us pay the bills at WineLoversPage.com and The 30 Second Wine Advisor, and we're always grateful for that!
Today's Sponsor
Get a $25 Wine Credit for YOU!
It's Black Friday again. Give a wine club gift from The California Wine Club today and we'll give you a $25 wine credit to spend any way you wish. Use promo code CREDITME when ordering to secure your credit.
A minimum 2-month gift purchase is required to qualify for this offer. Coupon code for $25 credit will sent by email on 12/20/2014. One credit will be sent per gift giver. Offer cannot be combined with any other promotion or discount nor applied to previously placed orders. Offer ends at 11:59 p.m. PST today, Dec. 12, 2014.
This holiday season, share the passion of artisan wineries and give delicious deliveries of award-winning, handcrafted wine. It's a holiday wine club gift that can't be found in local stores. Every wine is hand-selected from a real, working artisan winery.
Send a Gift and Get a Credit for YOU!
About The California Wine Club
There are thousands of small family wineries handcrafting extraordinary wine in quantities too limited to be found in local stores or shops. In 1990 wine club founders Bruce and Pam Boring discovered that these winemaking families were the most passionate in the wine world and that their wines were the hidden gems of wine country! Together Bruce and Pam embarked on a journey to help these artisan wineries introduce their exquisite wines to the world. Learn more!
www.cawineclub.com 1-800-777-4443
Today's Tasting Report
Madonna di Como 2010 Dolcetto d'Alba ($14.99)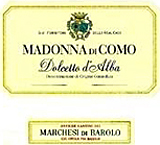 Produced by the respected Marchesi di Barolo, this classy Dolcetto is holding up very well despite five years in the bottle. It's a very dark blackish-purple color at the center, shading to garnet, then clear at the very edge. Good, characterful Dolcetto aromas, blueberries and blackberries and earthy moist clay. Fresh and bright on the palate with a subtle 12.5% alcohol; tart blueberries with a distinct edge of tannic astringency. Dark berries, a mineral note and a touch of lemon zest in the finish. U.S. importer: Wine Ware, Jericho, N.Y. (Dec. 9, 2014)
FOOD MATCH: A natural with red meat from roasts and steaks to burgers, it would also go well with cheese dishes or even game and organ meats. It was fine with a simple dish of conchiglie pasta with grilled sausages, garlic and butter.
WHEN TO DRINK: Dolcetto is not considered an ager, but I have to say that this 2009 bottle, four years behind the current vintage, is holding up very well. It may be showing more tannin with the passage of a few years, but that's not a problem in this wine, particularly when served with appropriate food.
VALUE: I got a good buy on this older bottle at $15, but I'd be delighted to pay an upper-teens price for a recent vintage. Wine-Searcher.com reports an average $17 U.S. retail price for all available vintages.
WEB LINK:
This seems to be the producer's English fact sheet on this wine, although it refers to it by a slightly different name. The details match, though, including the source vineyard, Madonna di Como.
FIND THIS WINE ONLINE:
Locate vendors and compare prices for Madonna di Como Dolcetto d'Alba on Wine-Searcher.com.
We hope you'll "Like" us on Facebook!
If you use Facebook, we'd be delighted to have you "Like" our WineLovers Facebook Page. This way you can get Facebook notifications when there's a new The 30 Second Wine Advisor issue or a topic of particular interest on the WineLovers Discussion Group (WLDG).
If you're a Facebook user, you can also now join our forum with a single click! All you need to do is visit the forum and click the "Social Login" link at upper right.
Talk About Wine Online
If you have questions, comments or ideas to share about today's article or wine in general, you're always welcome to drop by our online WineLovers Discussion Group, the Internet's first and still the most civil online community. To find our forums, click:
http://www.wineloverspage.com/forum/village
Discussions are open for public viewing, but you must register to post. Registration is free and easy; we ask only that you join following our Real Names Real Format system, using your real name in the format "John Doe" or "John D". Anonymous, cryptic or first-name-only registrations are discarded without notice.
Once your registration has been approved, which usually happens quickly, you'll be able to participate in all our online wine, food and travel forums.
To contact me by E-mail, write wine@wineloverspage.com. I'll respond personally to the extent that time and volume permit.
Subscriptions and Administrivia
Unsubscribe:
We're sorry if you must leave us, but simply click the "unsubscribe"
link at the bottom of your Email edition to be instantly removed from the mailing list.
Change address:
The quickest and easiest way to change your Email address is simply to register anew, using the link below. If you are keeping your old address but no longer wish to get the Wine Advisor there, click the unsubscribe link below to take it off our list; if you are closing the mailbox, you needn't take any action, as our system will delete your old address as soon as the mail to your old address starts to "bounce."
Subscribe to this weekly E-letter (free):
http://www.wineloverspage.com/wineadvisor
WineLoversPage.com RSS Feed (free):
http://feeds.feedburner.com/wineloverspage/tzva
Wine Advisor Archives:
http://www.wineloverspage.com/wineadvisor2/archives.php
Sponsorship Opportunities:
For information, E-mail wine@wineloverspage.com