Give The California Wine Club a Try and Save!
With a membership in The California Wine Club, you'll discover handcrafted wines, learn their stories, and see the winemaker's tasting notes. All delivered straight to your door and guaranteed to be delicious. You can then reorder the wines you love at savings of up to 50% off winery retail.
Special Offer: Use Coupon Code WA50 and save 50% on your first club shipment
www.cawineclub.com 1-800-777-4443
Languedoc and Provence
Head down the Rhône through southern France and you'll pass some of France's most loved wine regions.
From Côte-Rotie past the storied Hermitage and Cornas, we move along the Côtes-du-Rhône (the hillsides of the Rhône) into the Southern Rhône, Chateaneuf-du-Pape and all the Rhône villages and on to the sea.
If these aren't the greatest vineyards in France - some might nominate Burgundy or Bordeaux for that title - these are surely among the world's most popular wines, rich and appealing, fine at the table.
But as we approach the Mediterranean, things change. Turn to the east, toward Marseilles and Nice, and we enter Provence, well known for its beaches and mountains, its food and its aromatic herbs like lavender; but as a wine destination, perhaps not so much.
Turn to the west from the mouth of the Rhône, and we enter Languedoc, a zone perhaps even less well known to tourists or to wine lovers.
Sure, you'll see an occasional Provence wine on your wine shop's shelves; and the wines of Languedoc and its neighbor Roussillon certainly aren't unknown. But most of them are identified by smaller, less familiar regional names like Minervois, Picpoul and Corbieères, which makes things a little more confusing.
Here's a simple way to cut through the static: From the Pyrenees in the west across France's Mediterranean coast past the Rhône and on through Provence, the wines are all similar. Sure, you can argue for the varying influence of terroir - soils and winds and local climate.
But the region's wine grapes - primarily all 13 of the wild mix of varieties permitted in Chateauneuf-du-Pape, plus occasional indigenous rarities - are similar all the way across. If you get a red from anywhere in this region, it's likely to be a GSM (Grenache, Syrah and Mourvèdre), likely with the addition of Carignan in Languedoc. If it's a white, it's likely to contain some Grenache Blanc, maybe some Marsanne and Roussanne - and likely a shot of Viognier.
Languedoc, Provence. Looks like Rhône. Tastes like Rhône. May very well cost less than Rhône. What's not to like? Today's tasting report, a fine, fairly priced Corbieères from the Aude region of the Languedoc, is below.
We're tasting all the wines of Southwestern France and Provence, excepting the Rhône, which we covered last month, as our Wine Focus for October on the WineLovers Discussion Group. You're invited to come join in our online conversations. Shoot me an Email at wine@wineloverspage.com if you'd like to register for the forum.
Today's Sponsor
Give The California Wine Club a Try and Save!
With a club membership, you'll discover handcrafted wines, learn their stories, and see the winemaker's tasting notes. All delivered straight to your door and guaranteed to be delicious. You can then reorder the wines you love at savings of up to 50% off winery retail.
Special Offer: Use Coupon Code WA50 and save 50% on your first club shipment from one of their most popular club levels:
Premier Series: Their original and most popular wine club level features handcrafted award-winning wines from California's small family wineries.
Signature Series: For collectors and connoisseurs who wish to experience California's highest rated and most coveted wines.
Pacific Northwest Series: Limited-production wines from the exciting regions of Oregon and Washington.
About The California Wine Club
There are thousands of small family wineries handcrafting extraordinary wine in quantities too limited to be found in local stores or shops. In 1990 wine club founders Bruce and Pam Boring discovered that these winemaking families were the most passionate in the wine world and that their wines were the hidden gems of wine country! Together Bruce and Pam embarked on a journey to help these artisan wineries introduce their exquisite wines to the world. Learn more.
www.cawineclub.com 1-800-777-4443
Today's Tasting Report
Gérard Bertrand 2011 Corbières ($12.99)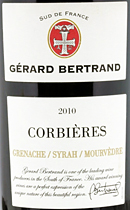 A characteristic blend of the Languedoc grapes Grenache,Syrah and Mourvèdre, this is an inky dark purple wine. Showing earthy black plums and blackberries on the nose and palate, it's full and rich, good structure and balance with fresh-fruit acidity and soft tannins at 13.5 percent alcohol. It's an excellent food wine, with some potential for short to midterm cellaring. U.S. importer: USA Wine West LLC, Sausalito, Calif. (Oct. 6, 2014)
FOOD MATCH: Simple Languedoc reds, like their cousins from the Southern Rhône, pair easily with red meats, grilled chicken and cheese. I find they work very well with Italian-style red-sauced pasta, too: It was outstanding with a dinner of spaghetti with fresh tomato sauce and porcini.
WHEN TO DRINK: Simple Southern French Grenache-based red blends generally aren't made for aging, but this wine's good balance, structure and tannins should guard it well for at least five years after the vintage.
VALUE: No complaints about this $13 price, which is a bit under the $15 U.S. median reported at Wine-Searcher.com.
WEB LINK:
Here's a fact sheet on this wine from the producer in English; alternatively, click here to download it in PDF format.
FIND THIS WINE ONLINE:
Check prices and find vendors for Gérard Bertrand 2011 Corbières on Wine-Searcher.com.
Visit us on Facebook!
Don't forget, we have recently revamped and updated our WineLovers Facebook Page. If you'll drop by and "Like" the page, you can get Facebook notifications when there's a new The 30 Second Wine Advisor issue or a topic of particular interest on the WineLovers Discussion Group.
Talk About Wine Online
If you have questions, comments or ideas to share about today's article or wine in general, you're always welcome to drop by our online WineLovers Discussion Group, the Internet's first and still the most civil online community. To find our forums, click:
http://www.wineloverspage.com/forum/village
Discussions are open for public viewing, but you must register to post. Registration is free and easy; we ask only that you join following our Real Names Real Format system, using your real name in the format "John Doe" or "John D". Anonymous, cryptic or first-name-only registrations are discarded without notice.
Once your registration has been approved, which usually happens quickly, you'll be able to participate in all our online wine, food and travel forums.
To contact me by E-mail, write wine@wineloverspage.com. I'll respond personally to the extent that time and volume permit.
Subscriptions and Administrivia
Unsubscribe:
We're sorry if you must leave us, but simply click the "unsubscribe"
link at the bottom of your Email edition to be instantly removed from the mailing list.
Change address:
The quickest and easiest way to change your Email address is simply to register anew, using the link below. If you are keeping your old address but no longer wish to get the Wine Advisor there, click the unsubscribe link below to take it off our list; if you are closing the mailbox, you needn't take any action, as our system will delete your old address as soon as the mail to your old address starts to "bounce."
Subscribe to this weekly E-letter (free):
http://www.wineloverspage.com/wineadvisor
WineLoversPage.com RSS Feed (free):
http://feeds.feedburner.com/wineloverspage/tzva
Wine Advisor Archives:
http://www.wineloverspage.com/wineadvisor2/archives.php
Sponsorship Opportunities:
For information, E-mail wine@wineloverspage.com