How to drink wine? What?
Who needs wine advice? This may seem an odd question from a guy who dispenses wine advice, but bear with me.
Wednesday, impressed by New York Times wine writer Eric Asimov's article, "A Guide to Drinking Wine at Home," I shared it on our WineLovers Discussion Group and the WineLoversPage Facebook page.
Well, it wasn't long before my snarky friends started having fun. Lisa H. landed first, asking, "I need a guide? 1. open bottle. 2. Drink bottle. 3. Repeat." I'll spare you the details, but it went on like that for a while.
I think Asimov had a point, though: His article wasn't really about how to drink wine. My friends got that right. Open bottle, pour (optional) and enjoy. He's going after something more subtle, trying to persuade people who think of wine as a special treat for special occasions to reconsider it as a natural part of everyday life, not just on Saturday night but any night of the week.
"People who really love wine think of it as an ordinary part of their meals, like salt or bread," Asimov wrote. "Regular consumption is the single most important characteristic of the confident wine lover."
I won't repeat Asimov's column here. That would be lazy, not to mention an actionable violation of copyright, so I'll just give you this iink again and encourage you to go read it online.
In brief, though, he offers a quick list of tips and suggestions. and I think they're right on target:
* Drink wine with food, as an enjoyable element of a good meal.
* Look for "exciting bottles" in the $10 to $20 range, and share them with friends if that seems excessive.
* Enjoy it in good stemware and pick up a sturdy, practical waiter's model corkscrew. Neither has to be a major investment.
* Don't worry about filling up a wine cellar. Get to know a good wine merchant, and pick up a mixed case now and then to cover your wine-with-dinner needs. If you turn into a wine "geek," you can think about investing in a controlled-temperature cellar and filling it up then.
* Finally, don't worry about the wine going spoiled, much less toxic, if you don't finish it for a few days.
This is all great advice, and again, I encourage you to read Asimov's article for the details. If you like his stuff, you can follow him on Twitter, too - @EricAsimov - to keep up with what he's saying about wine.
Now, I've got an idea! Let's add a bunch more bullet points to Asimov's list! I'll post a few tidbits that I think worth sharing with people who enjoy drinking wine but want more details, and I'll urge you to join in by posting your own suggestions as comments to this article on our Facebook page or sending me Email. If we get a lot of responses, I'll sum them up in a future 30 Second Wine Advisor.
Let's get started!
* Red wine is usually most enjoyable at room temperature and white wine cold, but don't take that too far. Reds often taste more refereshing slightly chilled; good whites show more flavor if you serve them cool but not ice cold. I often put a red in the fridge for a half-hour before dinner, and take a white out of the fridge an hour before dinner.
* If you want to extend the life of your half-full leftover bottle, keep it in the refrigerator. This will dramatically slow the oxidation that eventually turns opened wine dank and funky. Give the red time to warm up before serving, or if you're desperate, try hitting it with a few seconds in the microwave in a Pyrex cup. Don't overdo it!
* Most wine won't get better with age, and if you keep your wine at room temperature, it's usually best to drink it up within a year or two. Don't over-buy, but if you find yourself getting serious about becoming a wine collector, seek professional help. From a trusted wine shop, I mean ...
* Don't diss the screw cap. It hasn't been that long since the metal screw cap was a sure sign of cheap, awful wine, but that's no longer true. The sturdy, modern screw cap with its long sleeve works at least as well as traditional cork, and is much less likely to spoil your wine. Even excellent wineries are using it for high-end wines now, so don't be afraid.
* Don't leave your wine in the car during winter freeze or summer heat; excessive heat, in particular, can ruin the wine or even force the cork out. On the other hand, don't obsess about exact cellar temperature for wines you intend to drink within a year or so. Room temperature is fine.
I could think of dozens more, and in a future edition, perhaps I will. But now it's your turn! Give us your best tips for drinking wine at home: Post on the WineLovers Discussion Group or our WineLovers Facebook page.
Today's Sponsor
Last Chance: $1 Shipping Fall Wine Sale!
Act now to save up to $36 in shipping on every case and half case, plus save up to 60% on every bottle of handcrafted wine. As a 30-Second Wine Advisor reader, you are invited to shop The California Wine Club's $1 Shipping Fall Wine Sale.
Shop Now!
About The California Wine Club:
California is home to thousands of small family wineries handcrafting extraordinary wine in quantities too limited to be found in local stores or shops. In 1990 wine club founders Bruce and Pam Boring discovered that these winemaking families were the most passionate in the wine world and that their wines were the hidden gems of wine country! Together Bruce and Pam embarked on a journey to help these artisan wineries introduce their exquisite wines to the world. Learn more.
www.cawineclub.com 1-800-777-4443
Today's Tasting Report
We're tasting Rhône and Rhône-style reds as our Wine Focus this month on the WineLovers Discussion Group. You're invited to come join in our online conversations. Shoot me an Email at wine@wineloverspage.com if you'd like to register for the forum. Meanwhile, here's an excellent simple Rhône from a favorite producer at a price that's fair:
Famille Perrin 2012 "Nature" Côtes du Rhône ($12.99)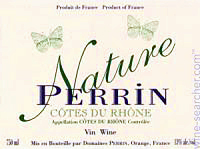 Made from certified organically grown Grenache (95%) and Syrah grapes from a single vineyard in the commune of Tulette, this appealing red is dark garnet in color, with a clear edge. Good, if simple, Rhône character; raspberries and freshly ground pepper pop on the nose and palate, with subtle herbs as a back note. Good, crisp acidity, 13.5% alcohol and soft but persistent tannins make for a food-friendly structure, and it's robust enough to keep well in the open bottle at room temperature for a few days. It's not a fancy wine - you wouldn't mistake it for a Châteauneuf-du-Pape - but it's an appealing table wine with real regional character, at a price that in today's market is more than fair. U.S. importer: Vineyard Brands, Birmingham, Ala. (March 29, 2014)
FOOD MATCH: The back label suggests, rather broadly, "meat and pasta dishes, especially those with Mediterranean flavor, as well as all types of cheese." It made a fine match with a dish made from the late-summer garden's bount, a pilaf of fresh eggplant and tomatoes in basmati rice with lots of onions, garlic and fresh herbs.
WHEN TO DRINK: It's customary to enjoy simple Côtes du Rhône within two or three years after the vintage, enjoying its charming raspberry and herbal flavors - with food, of course - while it's young and fresh. Should you "lose" a bottle for a few more years, though, I wouldn't discard it un-tasted. Chances are that it's fine.
VALUE: It's a fine value at my local $13 price, which was right on the U.S. median reported at Wine-Searcher.com. Wine-Searcher's database shows it ranging from $11 to $15, so grab bargains if you can find them.
WEB LINK:
Scanning a tiny QR code on the back label takes you to a quick, useful fact sheet on this wine.
Importer Vineyard Brands offers this online brochure about the Perrin family and its wines.
FIND THIS WINE ONLINE:
Check prices and find vendors for Perrin "Nature" Côtes du Rhône on Wine-Searcher.com.
Visit us on Facebook!
Don't forget, we have recently revamped and updated our WineLovers Facebook Page. If you'll drop by and "Like" the page, you can get Facebook notifications when there's a new The 30 Second Wine Advisor issue or a topic of particular interest on the WineLovers Discussion Group.
Talk About Wine Online
If you have questions, comments or ideas to share about today's article or wine in general, you're always welcome to drop by our online WineLovers Discussion Group, the Internet's first and still the most civil online community. To find our forums, click:
http://www.wineloverspage.com/forum/village
Discussions are open for public viewing, but you must register to post. Registration is free and easy; we ask only that you join following our Real Names Real Format system, using your real name in the format "John Doe" or "John D". Anonymous, cryptic or first-name-only registrations are discarded without notice.
Once your registration has been approved, which usually happens quickly, you'll be able to participate in all our online wine, food and travel forums.
To contact me by E-mail, write wine@wineloverspage.com. I'll respond personally to the extent that time and volume permit.
Subscriptions and Administrivia
Unsubscribe:
We're sorry if you must leave us, but simply click the "unsubscribe"
link at the bottom of your Email edition to be instantly removed from the mailing list.
Change address:
The quickest and easiest way to change your Email address is simply to register anew, using the link below. If you are keeping your old address but no longer wish to get the Wine Advisor there, click the unsubscribe link below to take it off our list; if you are closing the mailbox, you needn't take any action, as our system will delete your old address as soon as the mail to your old address starts to "bounce."
Subscribe to this weekly E-letter (free):
http://www.wineloverspage.com/wineadvisor
WineLoversPage.com RSS Feed (free):
http://feeds.feedburner.com/wineloverspage/tzva
Wine Advisor Archives:
http://www.wineloverspage.com/wineadvisor2/archives.php
Sponsorship Opportunities:
For information, E-mail wine@wineloverspage.com