Memories: Cheap Italian reds
Ah, memories! For many of us who've been enjoying wine since baby boomers first encountered the good stuff back in the '70s or early '80s, we get so wrapped up in studying sub-appellations and prattling about Pinot that we forget how much we enjoyed wine back when we hardly knew anything about it.
At least, that's the way it was for me. When I was barely old enough to drink legally - okay, maybe even a little before that - I knew wine as rough, sour and red, a beverage that might be mixed with 7-Up for casual sipping but that became much more interesting when I got it at a pizza joint or family Italian eatery.
Chianti, I knew, came in a funny bottle wrapped in a wicker basket that made a great candlestick when the wine was gone. Lambrusco was a little fizzy, a little sweet, but it went great with pizza, too. Armed with this knowledge, I managed to make an end run around the Boone's Farm, Annie Green Springs, Lancer's and Mateus that many of my friends chose. Hmm, I guess we were budding wine geeks even back then.
Recently, perhaps feeling nostalgic and sensing the passage of time as summer nears its end, I thought it might be fun to do a retro trip back to a couple of cheap Italian reds that might evoke memories of those early, innocent days of wine and pasta.
A point-of-sale display at Trader Joe's pointed me to a Le Grotte Lambrusco selling for just over $5, a retro price in and of itself. Then at my local wine shop popped up a very modest Tuscan red, Il Bastardo, an under-$10 Sangiovese that's very much in the spirit of the old cheap Chianti of days gone by.
Now, times have changed, and so, I suppose, have I. This Lambrusco, in contrast with the mass-market brands we guzzled back in the day, carries an appellation - Reggiano - representing a region in Emilia-Romagna, around Bologna, that's known for great food and drink. Emilia-Romagna is the home not only of Lambrusco but Parmigiano cheese, Parma prosciutto, balsamic vinegar and many other good things. It's probably no coincidence that Marcella Hazan, the beloved cook and cookbook author who died recently, hailed from Bologna.
When I used to swill cheap Lambrusco, the idea of thinking about where it came from and what's made there would never have occurred to me. I think the more informed approach to food and drink comes with being a wine geek, and I think it's a good thing.
The same is true of Il Bastardo, a made-for-America Tuscan red with a winking moniker and amusing label that seems made for a pop-wine market. But the fluid within, while hardly the stuff of which top-level Parker or Spectator points are made, does take me back to those rough-and-ready Chiantis that made the cannoli or the sausage pies at Mario's Pizza in Los Angeles' Westwood taste so good back then. Designated "Rosso di Toscano," a red wine of Tuscany, Il Bastardo is 100 percent Sangiovese. It doesn't meet the geographical or composition regulations to be labeled as Chianti, but who needs that? For a nostalgia hit at a price that's right, it works just fine.
You'll find my tasting notes on both wines below.
Today's Sponsor
$1 Shipping Fall Wine Sale - 12 under $12!
As a 30 Second Wine Advisor reader, you are invited to shop The California Wine Club's $1 Shipping Fall Wine Sale.
Get artisan wines at everyday prices with 12 incredible wines each priced under $12.
Stock up for the holidays with 200+ wines on sale for as low as $9.99. Every wine is handcrafted and guaranteed to be delicious.
$1 Shipping Fall Wine Sale ends Sept. 30, 2014.
About The California Wine Club:
California is home to thousands of small family wineries handcrafting extraordinary wine in quantities too limited to be found in local stores or shops. In 1990 wine club founders Bruce and Pam Boring discovered that these winemaking families were the most passionate in the wine world and that their wines were the hidden gems of wine country! Together Bruce and Pam embarked on a journey to help these artisan wineries introduce their exquisite wines to the world. Learn more.
www.cawineclub.com 1-800-777-4443
Today's Tasting Reports
Il Bastardo 2013 Rosso di Toscana Sangiovese ($8.99)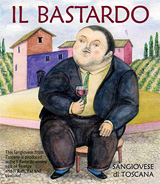 Slightly hazy reddish purple with a garnet edge. Smells like a Tuscan red, dark cherries and dried fruit. Tart and dry, black cherries and a warm impression of raisins. Astringent tannins and a touch of heat in the finish that feels a bit warmer than its claimed 13% alcohol. Certainly "rustic" in style, but works well with food, particularly Italian fare that celebrates ripe, juicy summer tomatoes. U.S. importer: HB Wine Merchants, NYC; R Shack Selection. (Aug. 21, 2014)
FOOD MATCH: This should go well with any variation on the stereotypical Italian pairing, from pasta with long-simmered Italian-American "gravy" to our choice, Michael Ruhlman's pasta with tomato water, basil, and garlic, recently featured on the Food 52 website.
WHEN TO DRINK: It's not a keeper and won't likely evolve into something more interesting with cellar time; but its high acidity and sturdy metal screwcap should protect it from going around the bend for two or three years in cool storage conditions.
VALUE: If you're in the mood for a simple, rustic, old-fashioned cheap Italian table red, this one will serve you well. It may be worth shopping around, as Wine-Searcher.com shows US retail prices ranging from $6 to $10. At the upper end of that range, you can find better Tuscan reds.
WEB LINK: Here's an info sheet on the importer's Web page, with a follow-up link to this sales flier.
FIND THIS WINE ONLINE:
Find vendors and check prices for Il Bastardo Rosso di Toscana Sangiovese on Wine-Searcher.com.
You'll also find useful "where to buy" information in a pull-down link on the importer's info page.
Visit us on Facebook!
Don't forget, we have recently revamped and updated our WineLovers Facebook Page. If you'll drop by and "Like" the page, you can get Facebook notifications when there's a new The 30 Second Wine Advisor issue or a topic of particular interest on the WineLovers Discussion Group.
Le Grotte non-vintage Reggiano Lambrusco Dolce ($5.49)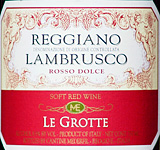 Dark reddish purple, with glints of ruby against the light. Appealing scent of dried fruits, plums and cranberries. Approachable flavors but balanced and surprisingly complex, a far cry from the familiar, and much maligned, commercial Lambrusco imports. Ripe, plummy fruit, perhaps just a hint of sweetness, but it's set off by a tart, slightly bitter flavor that wraps the fruit sugars in a cloak of invisibility. There are no visible bubbles in the glass, but a touch of carbonation lends a pleasant prickly quality that further enhances the wine's offbeat appeal, as does a light 8.5% alcohol level that invites another glass. Not the fanciest wine ever, but at $5.49 per bottle, I'd definitely head for Trader Joe's to stock up. U.S. importer: Latitude Wines Inc., Danville, Calif. (Aug. 20, 2014)
FOOD MATCH: This may seem non-intuitive, but I find the combination of light carbonation and slight sweetness in quality Lambrusco makes it an exceptional choice with fiery Asian curries and other hot-and-spicy dishes. It went very well with a Thai-style curry of kale chiffonade with tofu, onions and ginger.
WHEN TO DRINK: Lambrusco rarely carries a vintage, and it's best by far when it's young and fresh. Buy from a trustworthy retailer with good turnover, avoid dusty bottles, and drink up soon.
VALUE: When you want a Lambrusco, you can't do much better than pick up a bottle or two of this Trader Joe's brand in the $5 range.
FIND THIS WINE ONLINE:
The Trader Joe's grocery chain seems to have the U.S. (and perhaps the world's) supply of Le Grotte Reggiano Lambrusco locked up. If you have a Trader Joe's wine shop nearby, head that way if you want to stock up.
For other Lambrusco possibilities beyond the ubiquitous, factory-made Lambrusco brands, here is
a shopping list from Wine-Searcher.com, set up to focus on more artisanal Reggiano Lambrusco labels available in the U.S.
Talk About Wine Online
If you have questions, comments or ideas to share about today's article or wine in general, you're always welcome to drop by our online WineLovers Discussion Group, the Internet's first and still the most civil online community. To find our forums, click:
http://www.wineloverspage.com/forum/village
Discussions are open for public viewing, but you must register to post. Registration is free and easy; we ask only that you join following our Real Names Real Format system, using your real name in the format "John Doe" or "John D". Anonymous, cryptic or first-name-only registrations are discarded without notice.
Once your registration has been approved, which usually happens quickly, you'll be able to participate in all our online wine, food and travel forums.
To contact me by E-mail, write wine@wineloverspage.com. I'll respond personally to the extent that time and volume permit.
Subscriptions and Administrivia
Unsubscribe:
We're sorry if you must leave us, but simply click the "unsubscribe"
link at the bottom of your Email edition to be instantly removed from the mailing list.
Change address:
The quickest and easiest way to change your Email address is simply to register anew, using the link below. If you are keeping your old address but no longer wish to get the Wine Advisor there, click the unsubscribe link below to take it off our list; if you are closing the mailbox, you needn't take any action, as our system will delete your old address as soon as the mail to your old address starts to "bounce."
Subscribe to this weekly E-letter (free):
http://www.wineloverspage.com/wineadvisor
WineLoversPage.com RSS Feed (free):
http://feeds.feedburner.com/wineloverspage/tzva
Wine Advisor Archives:
http://www.wineloverspage.com/wineadvisor2/archives.php
Sponsorship Opportunities:
For information, E-mail wine@wineloverspage.com