Natural value
In my part of the world today, the greatest rivalry since the fall of the Iron Curtain reaches its zenith in the game of college basketball, as the long, tall athletes from the University of Louisville and the University of Kentucky meet late this evening on the road to the annual National Collegiate Athletic Association championship. Only the victor will move forward through the joy of victory and the agony of defeat.
It doesn't get much more competitive than this. Except, of course, in the world of wine, if you choose to get involved in the great debate between the partisans of "natural wine" and those who favor extracting all the flavor possible from the grape by any means necessary.
I won't go into detail today, simply referring you to the writers Alice Feiring for the naturalists and the ubiquitous Robert M. Parker Jr. for the interventionists if you're just desperate for more.
Personally, I try to keep to the middle of the road, or at least to stay on the pavement rather than screeching into the underbrush, although I do admittedly lean toward the natural side.
Given the choice between a New World-style wine industrially tweaked by centrifuging, flavored with oak chips and "enhanced" in color with commercial products like the widely, but secretly, used Mega Purple, or a fresh, relatively unmanipulated European wine like today's feature, Jean-Marc Brocard 2011 "Kimméridgien" Bourgogne Chardonnay, I'll go for the old-school Old World option every time.
This White Burgundy, which qualifies as a fine value under our "Wine Focus topic, "Wine Values ($20 and under)," this month, is made from the fruit of "15-year-old Chardonnay vines grown on Kimmeridgian limestone, fermented with indigenous yeast," according to the label, which adds, "Mon vin puise arome en terre" ("my wine draws aroma from the earth").
Let's deconstruct that: While 15 years doesn't constitute "old vines," it is long enough for the grape vines to have extended their roots deeply into the soil; and that soil, the clay-and-limestone mix known as "marl," resides in the so-called Kimmeridgian ridge, a geological feature that extends all the way from Burgundy through the Champagne region, the Loire Valley and, beneath the English Channel to Southern England's emerging wine regions. All these regions are known for wines that express the minerals of their environment in the grapes and wine ("terroir").
To put the icing on the cake, natural-wine fanciers typically applaud the use of the natural, indigenous local yeasts that reside on the grape skins, which impart natural, if sometimes wild flavors; the other side favors using tested strains of commercial yeast, which provide consistency and control at the expense of, well, naturalness.
The proof of the pudding, and the wine, is in the tasting, though, and this wine pleases with its fresh, zippy apple and citrus fruit and subtly earthy minerality. My tasting report is below.
Today's Sponsor
$1 Shipping Sale Ends in 72 Hours!
Don't miss your last chance to shop The California Wine Club's $1 Shipping Spring Wine Sale.
Treat yourself to award-winning, handcrafted wines from California's best small family wineries, on sale for a low as $9.99. Plus, you'll save up to $36 in shipping on every case.
No membership is required to take advantage of savings.
1-800-777-4443 www.cawineclub.com
Today's Tasting Report
Jean-Marc Brocard 2011 "Kimméridgien" Bourgogne Chardonnay ($16.99)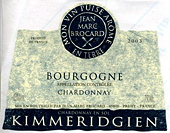 Transparent straw color. Fresh apple aromas, but there's something more, a pleasantly earthy scent of wool and a distant, subtle hint of mandarin orange. Fresh and tart on the palate, crisp white fruit and a touch of chalky minerality; rational 12.5% alcohol, and a zippy lemon-squirt of palate-cleansing acidity. Simple and fresh but with plenty of flavor interest, it might not stand up to the gravitas of a top white Burgundy, but then, neither does its price tag. U.S. importer: Vanguard Wines LLC, Columbus, Ohio. (March 26, 2014)
FOOD MATCH: White Burgundies traditionally go well with Brie, Camembert and other creamy soft cheeses; lighter seafood and saltwater fish such as scallops or cod; roast chicken or veal, and fresh vegetable dishes. It was fine with a risotto of roasted fennel and onions finished with nappa cabbage.
WHEN TO DRINK: A sturdy modern screw cap keeps the wine fresh, not such a common thing with French wines, but frankly - especially with clear, subtle whites - a good thing. It's not made for long-term aging but would certainly keep, and might gain a little complexity, over five years or so.
VALUE: It's a fine value at my local price, which is right on the national median for this wine according to Wine-Searcher.com.
WEB LINK: The Jean-Marc Brocard website is available in French and English. This link goes to a fact sheet (French only) on the 2012 Kimméridgien.
FIND THIS WINE ONLINE:
Find vendors and check prices for Jean-Marc Brocard 2011 "Kimméridgien" Bourgogne Chardonnay on Wine-Searcher.com.
Talk About Wine Online
If you have questions, comments or ideas to share about today's article or wine in general, you're always welcome to drop by our online WineLovers Discussion Group, the Internet's first and still the most civil online community. To find our forums, click:
http://www.wineloverspage.com/forum/village
Discussions are open for public viewing, but you must register to post. Registration is free and easy; we ask only that you join following our Real Names Real Format system, using your real name in the format "John Doe" or "John D". Anonymous, cryptic or first-name-only registrations are discarded without notice.
Once your registration has been approved, which usually happens quickly, you'll be able to participate in all our online wine, food and travel forums.
To contact me by E-mail, write wine@wineloverspage.com. I'll respond personally to the extent that time and volume permit.
Subscriptions and Administrivia
Unsubscribe:
We're sorry if you must leave us, but simply click the "unsubscribe"
link at the bottom of your Email edition to be instantly removed from the mailing list.
Change address:
The quickest and easiest way to change your Email address is simply to register anew, using the link below. If you are keeping your old address but no longer wish to get the Wine Advisor there, click the unsubscribe link below to take it off our list; if you are closing the mailbox, you needn't take any action, as our system will delete your old address as soon as the mail to your old address starts to "bounce."
Subscribe to this weekly E-letter (free):
http://www.wineloverspage.com/wineadvisor
WineLoversPage.com RSS Feed (free):
http://feeds.feedburner.com/wineloverspage/tzva
Wine Advisor Archives:
http://www.wineloverspage.com/wineadvisor2/archives.php
Sponsorship Opportunities:
For information, E-mail wine@wineloverspage.com