A Valentine for You!

Enjoy special access and special savings on award-winning, handcrafted wines from California's best small family wineries. You are invited to shop The California Wine Club's $1 Shipping Spring Wine Sale before it opens to everyone. No membership is required to take advantage of savings of up to 57 percent off normal retail prices. Plus, you'll save up to $36 in shipping on every case.
Click here to shop now
1-800-777-4443 www.cawineclub.com
Aging wine overnight?
Remember the old TV commercials of the1970s in which a burly, bearded Orson Welles would intone in a most dignified voice, "We will sell no wine before its time"?
Like most Americans, I wasn't enough of a wine geek in those early days to have any idea that the California wine brand that Welles was hawking - Paul Masson - was a cheap, industrial beverage that neither required nor would benefit from cellar time. But that didn't stop us from yelling "It's time!" and pulling out the cork.
The problem of table wines that really aren't quite ready to drink, however, is a real one, and it remains with us in this age of much broader wine knowledge and, in my experience, a far broader range of possibilities on wine shop shelves.
While many, many wines, including most "industrial" brands that make up the lion's share of all wines sold, are ready to drink the day we buy them, and won't gain a thing from further aging. Toss them on the wine rack for a year or three, and they'll eventually fade, lose their fruit and eventually turn into a brownish, stinky fluid that won't poison you if you drink it, but won't please you either.
But when we come to the artisanal, interesting, hand-made and small-production wines that I believe fascinate most readers of this column, we run into a whole 'nother story. Many of these wines - and not only the expensive models - start their lives tart and tannic, loaded with acids and tannins that will eventually evolve into something complex and beautiful but that may be less than approachable right now. It's no wonder that many people exposed to "fine wines" will go "ptui" and head right back to the simpler pleasures of White Zinfandel.
This dilemma affects in particular most red wines built to last, from better Cabernets, Pinot Noirs and Syrahs to some of the most beloved reds from France and Italy. Chianti Classico Riserva, we're looking at you today! While simple Chianti is a delight with pizza or pasta and rare red meat, the higher levels - particularly "Riserva," which as its name implies are "reserved" in oak barrels for years before release, add the tannins of oak to the natural acidity of the Sangiovese grape to yield a wine meant for keeping.
The problem has prompted a wide range of responses, from decanting and "breathing" the wine, perhaps for hours before drinking, to a shopping list of modern "aerator" devices that we clamp on the business end of a wine bottle and that purportedly mix air in with the wine as it goes into the glass. (Personally, I consider these instruments the modern equivalent of Welles' shtick, a concept meant to separate consumers from their money.) Some creative wine geeks have also experimented with running their ageworthy red through a blender for a few moments before serving, an idea that you're welcome to try if you like. Let me know how it works out for you!
Meanwhile, a recent accidental experience with a modestly priced Riserva from Trader Joe's reminded me that one of the oldest and simplest solutions to the too-young, too-tannic red may still be one of the best: We opened a bottle of Incanto 2010 Chianti Classico Riserva from Trader Joe's wine shop the other night, and ... ummm. It was a good wine, all right, but even three-plus years is barely enough for a Riserva, which can't even be sold until it has aged for well over two years in barrel and bottle at the winery. Still youthful, its natural fruit was present but muted, and all that oak showed as a pleasantly earthy but dominating presence. Serving it with a cheesy pasta dish helped, but at the end of dinner, we stuck the cork back in and left about two-thirds of the bottle on the sideboard.
The next night, I returned to the bottle for another try, and whoa! Some 24 hours of exposure to air had worked wonders. This time the wine was softer, smoother, less astringent and more pleasantly redolent of black cherries and dried fruit. Served with more cheese, it was a beauty.
Wine too tannic? Before you pour it out, try leaving it alone, with the cork stuck back in, at room temperature overnight. Might work, and it's certainly cheaper than an aerator device ... or a wine cellar. This approach should work with many youthful Chianti Classico Riservas, and it's well worth the effort with other wines opened, well, "before it's time."
My tasting report is below.
Today's Sponsor
A Valentine for You!
Enjoy special access and special savings on award-winning, handcrafted wines from California's best small family wineries. You are invited to shop The California Wine Club's $1 Shipping Spring Wine Sale before it opens to everyone.
No membership is required to take advantage of savings of up to 57 percent off normal retail prices. Plus, you'll save up to $36 in shipping on every case.
Inventory of the small-batch artisan wines they feature is limited, so early access means that you will get the best selection.
1-800-777-4443 www.cawineclub.com
Today's Tasting Report
Incanto 2010 Chianti Classico Riserva ($10.99)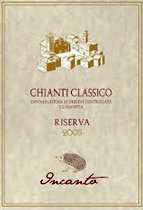 Clear dark ruby, with bright red-orange glints along the edge, a characteristic Sangiovese hue. Black cherries and a subtle touch of oak, far from woody but a distinct scent of earth and spice. Well balanced on the palate, black cherries and dried fruit, palate-cleansing acidity and rather astringent tannins. Typical of Chianti Riservas, it will likely benefit from a few years' aging, up to five years or more assuming good cellar conditions. In fact, as related above, the simple measure of an overnight stay at room temp in the recorked bottle worked wonders, softening the astringency and bringing up the fruit-to-oak balance. U.S. importer: Aquino Italian Importing Inc., Duarte, Calif. (Feb. 12, 2014)
FOOD MATCH: Despite Chianti's reputation as a wine for pizza or pasta, this fine Tuscan red at the Riserva level deserves a higher-level pairing. It's a natural with steaks or roast beef served quite rare, and works well with cheese-based dishes for those who prefer a meatless match. Even on its first night, it made a great match with the "tannin-wiping" facility of Cabot white Cheddar in a mashup of two comfort-food dishes, macaroni and pimento cheese.
WHEN TO DRINK: This modestly priced Riserva might not have the staying power of fancier Tuscan reds, but based on its flavor profile and balance, I wouldn't be reluctant to keep it under cellar conditions for five years or so. Or, or course, leave it open on the counter overnight.
VALUE: At $12 for an ageworthy red, this one is a candidate for backing up the truck to the wine shop door, assuming that you have a Trader Joe's wine shop nearby.
FIND THIS WINE ONLINE:
This specific label is only available at, and may be bottled specifically for, Trader Joe's wine shops in the U.S. For a listing of 500 Chianti Classico wines with vendors and prices, however, follow this link to Wine-Searcher.com. Read or page through the article on Chianti Classico wines to find the links to specific wines and vendors.
Talk About Wine Online
If you have questions, comments or ideas to share about today's article or wine in general, you're always welcome to drop by our online WineLovers Discussion Group, the Internet's first and still the most civil online community. To find our forums, click:
http://www.wineloverspage.com/forum/village
Discussions are open for public viewing, but you must register to post. Registration is free and easy; we ask only that you join following our Real Names Real Format system, using your real name in the format "John Doe" or "John D". Anonymous, cryptic or first-name-only registrations are discarded without notice.
Once your registration has been approved, which usually happens quickly, you'll be able to participate in all our online wine, food and travel forums.
To contact me by E-mail, write wine@wineloverspage.com. I'll respond personally to the extent that time and volume permit.
Subscriptions and Administrivia
Unsubscribe:
We're sorry if you must leave us, but simply click the "unsubscribe"
link at the bottom of your Email edition to be instantly removed from the mailing list.
Change address:
The quickest and easiest way to change your Email address is simply to register anew, using the link below. If you are keeping your old address but no longer wish to get the Wine Advisor there, click the unsubscribe link below to take it off our list; if you are closing the mailbox, you needn't take any action, as our system will delete your old address as soon as the mail to your old address starts to "bounce."
Subscribe to this weekly E-letter (free):
http://www.wineloverspage.com/wineadvisor
WineLoversPage.com RSS Feed (free):
http://feeds.feedburner.com/wineloverspage/tzva
Wine Advisor Archives:
http://www.wineloverspage.com/wineadvisor2/archives.php
Sponsorship Opportunities:
For information, E-mail wine@wineloverspage.com