There's Still Time to Send a Fun and Unique Gift!

Delight your gift recipients with a wine adventure from The California Wine Club. Gift deliveries feature two handcrafted, award-winning wines and more (see below), plus a $25 credit in their first shipment. Holiday Gifts start at $38.95.
www.cawineclub.com 1-800-777-4443
Any old Port in a storm?
So you want to enjoy a mature, well-aged wine without spending a bundle, but you can't afford a temperature-controlled wine cellar? Go with Madeira, most any savvy wine geek will advise. As far back as the 15th century, the sturdy wines of this Portuguese-ruled Atlantic island were being built to survive ocean voyages and last for the long haul.
This good advice still holds. But the savvy wine geek's usual second suggestion, Vintage Port, takes a bit more analysis. Vintage Port, or "VP" to those who know it well enough to use nicknames, can last for generations indeed. But to find a keeper requires a little knowledge and a lot of good advice. The producer's record and, perhaps even more important, the vintage, matter.
I wrapped up a 12-year experiment the other day, pulling cork from the second bottle of a Duff Gordon 1994 Port that I had originally purchased and first sampled in 2001, then kept on a wine rack in a cool but not cellar-quality home location since.
Cutting to the chase, the bottle was still drinkable. But I can't say it was any better than when I first sampled it only seven years after the vintage, a practice that's not recommended for the higher-end VPs that may need 20 years to come around in a good vintage.
To expand on that a little, 1994 was indeed a splendid vintage. Duff Gordon, however, is not normally ranked among the top-tier Port producers. The label is owned by Osborne, a giant Spanish Sherry producer that purchased the old Duff Gordon property in the 1960s. Osborne makes a Port under its own label, but also unveils a Duff Gordon VP every now and then. More "then" than "now," as this 1994 appears to be its most recent release.
In short, there is a good reason why this VP cost only $25 a decade-plus back, in a market where its more upscale cousins commanded a still quite reasonable $50 to $75 or so: It's just not that great a wine, a truth that was revealed when I pulled the cork and found a short, tiny tree-bark stopper a fraction the size of the massive plug more commonly inserted into Ports meant for the long haul. It was also bottled in 1996, only two years after the vintage, another practice that suggests a Port made more for drinking up than laying down.
All that being said, I was pleased to get a good, licorice-plum Port scent when I opened the bottle. As I decanted it, I was surprised to find relatively little sediment in the bottle. And then I noticed The Blob. What is this gross thing? A big, gelatinous, reddish-purple blob that resembled a sizable dollop of cranberry jelly came out of the bottle. What was it? Mother of vinegar, I guessed, prompting me to fret that much of the flavor might have been sapped out of the wine.
Good news: It was actually pretty good, although I think I liked it a little better 12 years ago, when it was loaded with fruit and perhaps at its peak. Now it's thin and light. If you have any left - even in a better cellar - you may want to consider drinking it soon. You'll find my detailed tasting report below.
Today's Sponsor
There's Still Time to Send a Fun and Unique Gift!
Delight your gift recipients with a wine adventure from The California Wine Club.
Gift deliveries feature two handcrafted, award-winning wines plus an insider's look at the featured small family winery. Your gift recipients will also enjoy beautiful wine country note cards and a $25 credit in their first shipment.
Holiday Gifts start at $38.95.
Click to Shop Now!
Extended Holiday Hours:
Monday - Friday: 7 a.m. to 5:30 p.m. Pacific Standard Time
Saturday & Sunday: 8 a.m. to 2 p.m. Pacific Standard Time
Shop online any time!
www.cawineclub.com 1-800-777-4443
Today's Tasting Report
Duff Gordon 1994 Vintage Porto ($24.99 in 2001)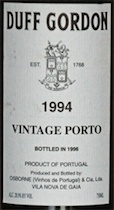 Despite its time under less than optimal conditions and the odd jelly-like "mother of vinegar" that had developed in the bottle, here was absolutely no sign of vinegar and none of Sherry-like aromas or browning. It seems thin and rather light for a mature VP, though, clear dark garnet in color, with good Port scents of black plums and licorice. Aromas carry over on the palate, sweet but acidic, medium-bodied and not overly "sticky" sweet. Its 20.5% alcohol is standard for Port, and the wine carries it well. Tannins seem largely resolved, although there's still some astringency joining the fresh-fruit acidity in the finish. U.S. importer: Palm Bay Imports, Boca Raton, Fla. (Dec. 6, 2013)
FOOD MATCH: Personally, I like to drink Port and other sweet fortified wines as dessert rather than with dessert, so I need no accompaniment. That said, however, such traditional accompaniments as cracked walnuts or pecans (or nuts in general) and cheeses will serve just fine. Blue Stilton cheese is a British tradition, and blue cheeses will certainly work, but a sharp, aged Cheddar does the job very well for me.
WHEN TO DRINK: As discussed, while Vintage Port is considered a great candidate for aging, both high-quality storage conditions and some discernment of producer and vintage in the original purchase are important factors, too.
VALUE: The original $25 price tag was a good deal even at the original purchase. There's apparently little left in the marketplace, based on limited Wine-Searcher.com "hits," which offer it in the $30 to $50 range.
WEB LINK: Palm Bay Imports no longer has Duff Gordon in its portfolio. For an interesting company biography, see this article on the Jerez-Xeres-Sherry blog.
FIND THIS WINE ONLINE:
If you really want it at this late date, Wine-Searcher.com offers limited U.S. listings. Wine-Searcher Pro adds a half-dozen European vendors but no more in the U.S.
To learn more about Vintage Port and to find an extended list of VPs and vendors, browse this link at Wine-Searcher.com.
Port and more in our December Wine Focus
Our WineLovers Discussion Group's monthly Wine Focus is looking at Port along with all the world's dessert, fortified and sparkling wines this month.
You're warmly invited to join our wine enthustiasts as we feature "Sweet, Fortified and Bubbly." Bring your wine notes, and bring your comments and questions, as we feature Port, Sherry, late-harvest Rieslings and Chenins and, of course, Champagne, to all the other national and regional wines made in these styles.
The discussion topic begins here. Registration is required to post in the forum, but it is free and easy. We ask only that you join following our Real Names Real Format system, using your real name as your public user name. To join the forum, drop me a note at wine@wineloverspage.com with your real name, preferred format and a temporary password, and I'll take care of the rest.
Wine map posters make great gifts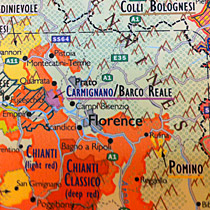 My friends Steve and Deborah De Long, creators of the innovative Wine Grape Varietal Table,proudly include a stunning Wine Map of Italy in their beautiful collection of quality, poster-size wine maps (all $29.95).
The Wine Map of Italy includes all the country's wine regions as well as adjacent wine regions in France, Switzerland, Slovenia, Croatia and Tunisia. (The image detail shows the regions around Florence in Tuscany.)
To order any of the De Long wine maps, click DeLongWine.com/wine-maps.php?PARTNER=WLP. Click this link for the fun and informative Wine Grape Varietal Table.
Talk About Wine Online
If you have questions, comments or ideas to share about today's article or wine in general, you're always welcome to drop by our online WineLovers Discussion Group, the Internet's first and still the most civil online community. To find our forums, click:
http://www.wineloverspage.com/forum/village
Discussions are open for public viewing, but you must register to post. Registration is free and easy; we ask only that you join following our Real Names Real Format system, using your real name in the format "John Doe" or "John D". Anonymous, cryptic or first-name-only registrations are discarded without notice.
Once your registration has been approved, which usually happens quickly, you'll be able to participate in all our online wine, food and travel forums.
To contact me by E-mail, write wine@wineloverspage.com. I'll respond personally to the extent that time and volume permit.
Subscriptions and Administrivia
Unsubscribe:
We're sorry if you must leave us, but simply click the "unsubscribe"
link at the bottom of your Email edition to be instantly removed from the mailing list.
Change address:
The quickest and easiest way to change your Email address is simply to register anew, using the link below. If you are keeping your old address but no longer wish to get the Wine Advisor there, click the unsubscribe link below to take it off our list; if you are closing the mailbox, you needn't take any action, as our system will delete your old address as soon as the mail to your old address starts to "bounce."
Subscribe to this weekly E-letter (free):
http://www.wineloverspage.com/wineadvisor
WineLoversPage.com RSS Feed (free):
http://feeds.feedburner.com/wineloverspage/tzva
Wine Advisor Archives:
http://www.wineloverspage.com/wineadvisor2/archives.php
Sponsorship Opportunities:
For information, E-mail wine@wineloverspage.com