Good $5 wine. Really?
Hey, everybody! I found a really, really good cheap wine at Trader Joe's!
Right! Mention "Really cheap wine" and "Trader Joe's" in the same breath, and most everyone will assume you're talking about "Two Buck Chuck," the famous bulk-wine bargain that made waves when it came to market bearing a $2 price tag in the grocery chain's California shops in 2002.
Even though the wine sold for a still rock-bottom $3 or more at "TJ" stores in other states, and actually went up to $2.50 even in California this year, the "Two Buck" moniker has stuck. And it sparked rumors that wine-bargain seekers repeated with delight, even though none of them were true. In fact, as I wrote in a January 2003 report, contrary to rumor, it was not fine wine dumped by an airline no longer able to use corkscrews aloft after 9/11. Nor was the fire-sale price the result of a revenge sale following an ugly divorce in the Shaw family.
The real story was, and remains, more prosaic: "Chuck" is anonymous, bulk-produced wine bottled by Bronco Wine Corp., a major California-based marketer of extremely, um, "modest" wines, recycling the brand name of a 1970's-era winery that had gone out of business a generation ago.
Charles "Two Buck Chuck" remains a signature wine for Trader Joe's. At my local store, I have to pass by a wall of it before I get to the more interesting goods. And as it was then, so it is now: If you want to talk to Chuck, you'll never know for sure which Chuck you'll be meeting on any given day.
As a bulk wine, bottled, labeled and sold in vast quantities (an estimated 600 million bottles since 2002), you can be sure that no two batches are alike, even though they bear identical labels. One day you could conceivably get wine made from excess grapes from a well-known property; another day (and, frankly, much more likely) you'll get grapes grown factory-style in anonymous Central Valley vineyards.
So that's my take on Two Buck Chuck. If you like it, great! But most of the time, it's not a go-to wine for me. But when you push past the Wall Of Chuck and into the TJ's store, chances are you can find some noteworthy bargains, if you look around and use your wine consumer's savvy.
So it was that I came to today's wine, a delicious, food-friendly and frankly nostalgic dry Italian red table wine, Villa Cerrina 2012 Montepulciano d'Abruzzo, that took me right back to happy days of my youth gulping similar reds at Italian-American eateries and loving it.
Montepulciano d'Abruzzo, which has only a coincidental connection with Tuscany's higher-end Vino Nobile di Montepulciano, is made from Montepulciano grapes grown in a large swath of Italy's Abruzzo region, which runs down from the Apennines to the Adriatic coast, just across the "boot" from Rome. Although it's a completely different grape from Tuscany's Sangiovese, which is the core grape of Chianti and Super Tuscans, I find that it makes a somewhat similar wine: Crisp and fresh, dry and acidic, redolent of plums and cherries and very, very good with food.
Montepulciano rarely turns up as a trophy wine. It's made for simple pleasure and everyday enjoyment, and to my mind that is a very good thing. If you like dry, tart Italian reds and have access to a Trader Joe's, I recommend backing a pickup truck up to the wine-shop door and loading up on Villa Cerrina Montepulciano d'Abruzzo for everyday table use, while it lasts.
And if you can't get Villa Cerrina, no worries, just about any Montepulciano d'Abruzzo will do, and you should be able to find plenty of it in that bargain-sweet $5 to $10 range. You can use this link to find vendors and compare prices for more than 400 Montepulciano d'Abruzzo bottlings on Wine-Searcher.com.
Today's Sponsor
Last Chance for $1 Shipping!
The California Wine Club's $1 Shipping Fall Wine Sale is ending soon. Act fast to save on award-winning, handcrafted wines priced as low as $7.99!
No membership is required to take advantage of savings of up to 57 percent off normal retail prices. Plus, with $1 Shipping, you'll save up to $36 in shipping on every case.
There are 200+ artisan wines to choose from. Every bottle is handcrafted and guaranteed to be delicious.
Don't wait! The $1 Shipping Fall Wine Sale ends on Sept. 30, 2013.
1-800-777-4443 www.cawineclub.com
Today's Tasting Report
Villa Cerrina 2012 Montepulciano d'Abruzzo ($4.99)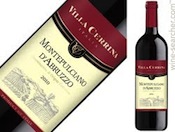 Clear dark garnet. Good, typical aromas for a modest Italian table red: Fresh plums, a touch of dried cherry, a whiff of something like cranberry, and just a little dash of brown spice. Light-bodied on the palate but good flavor, plum and black-cherry fruit and mouth-watering acidity. Sure, it's on the light side, but it's surprisingly balanced, with a solid 13% alcohol ... and as one expects in an Italian red, fine with food. It's sealed with an agglomerate cork, a cheap and unreliable stopper, but happily, there's no stench of spoiled cork in this bottle. U.S. importer: Americal Beverage Group Inc., San Clemente, Calif. (Sept. 23, 2013)
FOOD MATCH: The back label suggests stereotypical Italian red-wine matches: hearty pastas, pizzas and basic red-meat dishes, all of which sound like good advice. We thought it went equally well with a somewhat more offbeat match, a tangy beef stroganoff made with Gardein "Beefless Tips," lots of mushrooms and onions and creme fraiche.
WHEN TO DRINK: Like modest Chianti, Montepulciano d'Abruzzo is rarely much better than when it's young, and this year-old value is drinking very well, and it actually improved, adding an interesting chocolatey note, with time in the glass. I wouldn't hesitate to keep it around another year or so, but looking for more recent vintages is generally a good idea with Montepulciano d'Abruzzo.
VALUE: As noted, this simple, tart but well-balanced Italian table red is as good as you're going to get for $5. If you can't find it, or don't have a Trader Joe's nearby, check out any of the hundreds of Montepulciano d'Abruzzo listed on Wine-Searcher.com, many of them tagged as low as $3.
PRONUNCIATION:
Montepulciano d'Abruzzo = "Mawn-tee-pool-CHAH-no dah-BROOT-zo"
WEB LINK:
Wine-Searcher.com offers this simple fact sheet and buying guide for Montepulciano d'Abruzzo.
FIND THIS WINE ONLINE:
Locate a Trader Joe's in your community.
Check prices and vendors for more than 400 Montepulciano d'Abruzzo bottlings on Wine-Searcher.com.
Talk About Wine Online
If you have questions, comments or ideas to share about today's article or wine in general, you're always welcome to drop by our online WineLovers Discussion Group, the Internet's first and still the most civil online community. To find our forums, click:
http://www.wineloverspage.com/forum/village
Discussions are open for public viewing, but you must register to post. Registration is free and easy; we ask only that you join following our Real Names Real Format system, using your real name in the format "John Doe" or "John D". Anonymous, cryptic or first-name-only registrations are discarded without notice.
Once your registration has been approved, which usually happens quickly, you'll be able to participate in all our online wine, food and travel forums.
To contact me by E-mail, write wine@wineloverspage.com. I'll respond personally to the extent that time and volume permit.
Subscriptions and Administrivia
Unsubscribe:
We're sorry if you must leave us, but simply click the "unsubscribe"
link at the bottom of your Email edition to be instantly removed from the mailing list.
Change address:
The quickest and easiest way to change your Email address is simply to register anew, using the link below. If you are keeping your old address but no longer wish to get the Wine Advisor there, click the unsubscribe link below to take it off our list; if you are closing the mailbox, you needn't take any action, as our system will delete your old address as soon as the mail to your old address starts to "bounce."
Subscribe to this weekly E-letter (free):
http://www.wineloverspage.com/wineadvisor
WineLoversPage.com RSS Feed (free):
http://feeds.feedburner.com/wineloverspage/tzva
Wine Advisor Archives:
http://www.wineloverspage.com/wineadvisor2/archives.php
Sponsorship Opportunities:
For information, E-mail wine@wineloverspage.com