Chianti, meet Rhone, meet food
Wine enthusiasts spend a lot of time contemplating which wine-and-food combinations go together well, which pairings don't work and play together well, and why it's not always easy to find the perfect match.
But sometimes one would just as soon push past the angst and the drama and just get right down to pulling a cork and breaking bread.
That's when we start looking for the basic rules, the simple principles that make picking a good wine for dinner an easy chore. Here are a few tips that go beyond the basic, too-simple, "red wine with red meat, white wine with white meat."
1. Cultivate a friendly advisor. Get to know the nice people at your neighborhood wine shops, and once they've demonstrated their worth with good advice, rely on what they recommend. The mega-stores may seem impersonal and inclined to push the wines they want to move this week, but I've rarely found a local shop where you can't get honest, helpful advice from an expert who's selling wine because she or he loves wine.
2. Stash two or three food-friendly grape varieties in your memory. In my experience, Pinot Noir is one of the most versatile reds with food; Riesling or the less familiar Chenin Blanc will span a similar range of foods that ask for a white. (Take care with some of the more sought-after New World Pinots, though. Check the alcohol content, and if it's more than 13.5%, be wary. It is possible to ruin a Pinot for food.)
3. Finally, getting to the core of today's discussion and tasting reports, take note of two food-friendly regional red blends: In my opinion, the inhabitants of two Mediterranean wine regions - Tuscany and the Southern Rhône - have spent so many centuries enjoying the great Mediterranean cuisines of "Northern" Italy and Provence, respectively, that they have evolved some of the most delicious, simply enjoyable wines to go with food.
I'm talking specifically about Chianti and Côtes du Rhône, two categories where I'll head immediately when my mission in the wine shop is simply to find something good to go with dinner.
Check out the two wines I discuss below - the Chianti is widely available; the Rhôe, regrettably, not so much - or many other similar wines from the same regions, and try them with pizza, pasta, dinner salads, red meat, poultry, pork or tuna, and let me know if you don't agree that these are "go-to" wines for the dinner table.
Buon' appetito ... Bon appetit!
Today's Sponsor
Discover the Wines of the Pacific Northwest!
The California Wine Club is on a new and exciting adventure - discovering the best handcrafted wines of Oregon and Washington and sharing them through their new Pacific Northwest Series.
They've been doing some scouting (and tasting) and are really enjoying the excellent wines they are finding - they are as unique as the region itself. The soils, climate and passion of the Pacific Northwest artisan winemakers all come together to create great wines worth sharing.
Each shipment will introduce you to a new small family winery in Washington or Oregon and two of their best award-winning wines. Six shipments a year will average $85 each (including shipping and handling).
Try the Pacific Northwest Series!
"There are so many fabulous small, artisan wineries to explore in Washington and Oregon--this will be quite an adventure!" --Bruce and Pam Boring
1-800-777-4443 www.cawineclub.com
Today's Tasting Reports
Caposaldo 2011 Chianti ($8.99)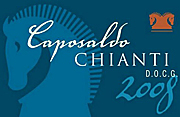 Dark reddish-purple with a clear garnet edge. Even with the modern addition of French varieties, the Sangiovese carries the blend in a simple but appealing characteristic Chianti aroma and flavor profile. Black cherries and light spice on the nose and palate, shaped by zippy, food-friendly acidity and rational 12% alcohol to make it a fine food wine. A modern Tuscan blend of 75% Sangiovese, 10% Cabernet Sauvignon, 10% Merlot, 5% Malvasia. U.S. importer: Kobrand Corp., NYC. (Aug. 14, 2013)
FOOD MATCH: Fine with a classic match for Chianti, a pizza! Specifically, a veggie-topped "Primavera" delivered from Louisville's Tony Boombozz. Try it, too, with other iconic pairs from tomato-sauced pasta to a rare steak.
WHEN TO DRINK: There's no real rush with simple Chianti, but I'd enjoy it over the next two or three years and then look for younger vintages.
VALUE: My local price is right on the $9 U.S. median shown at Wine-Searcher.com, which makes it a "back-up-the-truck-to-the-wine-shop-door" bargain in my book.
PRONUNCIATION:
Chianti = "Kee-AHN-tee"
WEB LINK:
Here's a fact sheet on Caposaldo Chianti from the importer Kobrand.
FIND THIS WINE ONLINE:
Check prices and track down providers for Caposaldo Chianti on Wine-Searcher.com.
Foncalieu 2010 "Bastide de Beauvert" Côtes du Rhône ($10.99)
Ruby, dark at the center, a hint of bronze at the edge. Appealing red-fruit aroma evocative of pie cherries. Tart, juicy red and black cherries on the palate as well, very appetizing aroma and flavor presentation, shaped by fresh, palate-cleansing acidity and a soft buzz of tannins. A basic Rhône blend of 70% Grenache and 30% Syrah, robust but not over-the-top at 13.5% alcohol. U.S. importer: Scoperta Imoorting Co., Inc., Cleveland Heights, Ohio. (Sept. 6, 2013)
FOOD MATCH: The simple answer is red meat, poultry or pork, cheese dishes or even tuna; I'd risk it with a Salade Niçoise, too. Despite the erroneous (in my opinion) notion that egg dishes war with wine, though, this one went very well with a summer frittata of free-range eggs filled with garden green beans pan-roasted with browned onions and garlic.
WHEN TO DRINK: As with simple Chianti, the conventional wisdom for Côtes du Rhône holds that it's better drunk up within a few years than held for cellaring. This 2010 is drinking beautifully now, but I'd advise using up any stash over the coming winter.
VALUE: A very good value indeed at the $10 point.
PRONUNCIATION:
Foncalieu = "Fawn-ca-l'yoo"
Bastide de Beauvert = "Bah-steed duh Bo-vair"
WEB LINK:
Click to visit the winery's home page in English.
FIND THIS WINE ONLINE:
I'm disappointed that Wine-Searcher.com turns up only one supplier for Bastide de Beauvert. If this vendor can't help you, best bet may be to check with local wine shops or contact the U.S. distributor, Scoperta, for information on retail sources near you.
Talk About Wine Online
If you have questions, comments or ideas to share about today's article or wine in general, you're always welcome to drop by our online WineLovers Discussion Group, the Internet's first and still the most civil online community. To find our forums, click:
http://www.wineloverspage.com/forum/village
Discussions are open for public viewing, but you must register to post. Registration is free and easy; we ask only that you join following our Real Names Real Format system, using your real name in the format "John Doe" or "John D". Anonymous, cryptic or first-name-only registrations are discarded without notice.
Once your registration has been approved, which usually happens quickly, you'll be able to participate in all our online wine, food and travel forums.
To contact me by E-mail, write wine@wineloverspage.com. I'll respond personally to the extent that time and volume permit.
Subscriptions and Administrivia
Unsubscribe:
We're sorry if you must leave us, but simply click the "unsubscribe"
link at the bottom of your Email edition to be instantly removed from the mailing list.
Change address:
The quickest and easiest way to change your Email address is simply to register anew, using the link below. If you are keeping your old address but no longer wish to get the Wine Advisor there, click the unsubscribe link below to take it off our list; if you are closing the mailbox, you needn't take any action, as our system will delete your old address as soon as the mail to your old address starts to "bounce."
Subscribe to this weekly E-letter (free):
http://www.wineloverspage.com/wineadvisor
WineLoversPage.com RSS Feed (free):
http://feeds.feedburner.com/wineloverspage/tzva
Wine Advisor Archives:
http://www.wineloverspage.com/wineadvisor2/archives.php
Sponsorship Opportunities:
For information, E-mail wine@wineloverspage.com