Chill with the last rose of summer
It's the dog days of summer here. August is about to segue into September, but a hot and humid summer that was slow in coming now seems loath to give up its grip. This is the kind of weather when I am quite willing to pop a red wine in the refrigerator for 30 to 60 minutes before dinner to approximate "cellar temperature," a point at which it seems more refreshing than it would at summer "room temperature" in the Northern Hemisphere, even when indoor air-conditioning is in play.
I'm a little reluctant to take the next step, though, the desperate measure of dropping an ice cube into my glass.
Several years ago, in a column titled Wine on ice, I actually questioned this conventional wisdom by testing a couple of simple, robust table wines (a cheap Spanish red and a cheaper Hungarian red) on a searing July evening. The results? In a word, "Meh." Cooling those simple wines seemed to diminish their perhaps limited flavor, throwing the fluid into an unpleasant flavor mix of tart acidity and astringent tannins.
Mark that down as a bad idea, I thought. Until last night.
Looking forward to a glass of a fresh young rosé with a simple summer pasta dinner, I opened a bottle from a reliable larger producer, E. Guigal 2012 Côtes du Rhône Rosé.
It looked like a rosé, an attractive transparent rosy pink. And it smelled like a good Southern French rosé, too, all about raspberries and strawberries and just a whiff of Provence herbs.
But doggone global warming or major-critic taste influence, it sure didn't taste like a good Southern French rosé. It was hot, with a distinct afterburn that reminded me of sipping neat Bourbon or Scotch. The tiny print on the label claimed 14% alcohol, more than I want or need in a Euro-style rosé that should be all about simple, fresh subtlety.
This made me irritable, and I was just about to dump the wine, but my wife - unencumbered by anti-ice prejudice - told me to hang on. "Try this," she said, dropping a couple of ice cubes in.
Huh.
My Inner Snob resisted, but as it turned out the result was fine. In this case, the slight dilution didn't unbalance the wine but brought its alcoholic level down just enough to tamp down the heat, and the slight chill yielded a fresh drink that was much more appealing. Or, in other words, tasted like a good rosé should have done in the first place.
Today's Tasting Report
E. Guigal 2012 Côtes du Rhône Rosé ($14.99)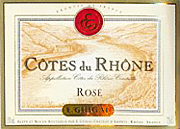 Clear rosy pink, classic hue for a rosé. Fresh, light red-berry aromas, raspberries and strawberries and just a hint of fresh herbs. Bright, fresh and dry on the palate, red-fruit flavors follow the nose, but its 14% alcohol shows as a flaw, adding an unpleasant edge of heat to a wine that needs to show as fresh and light. Dropping in an ice cube or two to chill the wine and dilute the alcohol just a bit actually improves it a bit, particularly assuming that you have refreshing summer table use or aperitif sipping in mind. U.S. importer: Vintus LLC, Pleasantville, N.Y. (Aug. 29, 2013)
FOOD MATCH: Like all good Provence, Rhône and Languedoc rosés, and subject to the caveat about tamping down its alcoholic heat with a bit of ice, this would go well as an aperitif, with cheeses, or with a variety of Mediterranean cuisine. It was fine with a dish of orzo pasta with green beans, tomatoes and my substitute for feta, a local Sapori d'Italia Italian-style goat cheese. (Recipe modified from a 1998 Gourmet magazine recipe on Epicurious.com.
WHEN TO DRINK: As with rosés in general, enjoy it young and fresh. I'm happiest with rosé from the previous year's vintage.
VALUE: Realistically, the middle teens has become the going rate for quality French rosé. I'm not wild about this, but I'll pay it for a good one. If your locality permits direct-to-consumer shipping, you might check in with Wine-Searcher.com, where many vendors list it in the lower teens.
PRONUNCIATION:
Guigal = "Ghee-gahl"
Côtes du Rhône Rosé = "Coat doo roan"
WEB LINK:
Here is E. Guigal's fact sheet on this wine in French.
FIND THIS WINE ONLINE:
Find vendors and compare prices for E. Guigal 2012 Côtes du Rhône Rosé on Wine-Searcher.com.
Talk About Wine Online
If you have questions, comments or ideas to share about today's article or wine in general, you're always welcome to drop by our online WineLovers Discussion Group, the Internet's first and still the most civil online community. To find our forums, click:
http://www.wineloverspage.com/forum/village
Discussions are open for public viewing, but you must register to post. Registration is free and easy; we ask only that you join following our Real Names Real Format system, using your real name in the format "John Doe" or "John D". Anonymous, cryptic or first-name-only registrations are discarded without notice.
Once your registration has been approved, which usually happens quickly, you'll be able to participate in all our online wine, food and travel forums.
To contact me by E-mail, write wine@wineloverspage.com. I'll respond personally to the extent that time and volume permit.
Subscriptions and Administrivia
Unsubscribe:
We're sorry if you must leave us, but simply click the "unsubscribe"
link at the bottom of your Email edition to be instantly removed from the mailing list.
Change address:
The quickest and easiest way to change your Email address is simply to register anew, using the link below. If you are keeping your old address but no longer wish to get the Wine Advisor there, click the unsubscribe link below to take it off our list; if you are closing the mailbox, you needn't take any action, as our system will delete your old address as soon as the mail to your old address starts to "bounce."
Subscribe to this weekly E-letter (free):
http://www.wineloverspage.com/wineadvisor
WineLoversPage.com RSS Feed (free):
http://feeds.feedburner.com/wineloverspage/tzva
Wine Advisor Archives:
http://www.wineloverspage.com/wineadvisor2/archives.php
Sponsorship Opportunities:
For information, E-mail wine@wineloverspage.com

We're sorry if you must leave us, though.
If you choose to leave our list, I'd appreciate it if you'd take a moment or two to tell us
how we could have better served you. Email Robin Garr at wine@wineloverspage.com.