Wine access: How does your state score?
Eighty years after passage of the 21st Amendment repealing Prohibition in 1933, many of the stringent alcohol and wine-related laws enacted during the Great Depression remain in place in most states of the U.S., even though the nation's cultural, economic and commercial realities have significantly evolved since our great-grandparents' generation.
So says the Washington, D.C.-based American Wine Consumer Coalition (AWCC), which calls itself "a national advocacy organization for wine consumers." AWCC this week unveiled a fascinating report, Consuming Concerns: The 2013 State-by-State Report Card on Consumer Access To Wine, which ranks all 50 states plus the District of Columbia on the basis of their citizens' easy access to wine.
The organization based its rankings on a half-dozen criteria: Banning winery-to-consumer shipping; banning retailer-to-consumer shipping; banning wine sales in grocery stores; banning "BYO" in restaurants; banning Sunday sales of wine, and limiting retail sales to state-controlled stores. Based on laws and regulations in each state, AWCc's analyists assigned each state up to 100 points based on performance in each of these areas, then calculated the totals, granting an "A" to those states earning 90 points or more; an "F" to those scoring 60 or fewer.
To my shame but not my surprise, my home state, Kentucky (46th), and nearby Indiana (41st), both received failing grades. If I didn't live in the state's largest and exceptionally "wet" city, Louisville, I doubt that I'd be able to find enough interesting wine to write a column about. It's only our somewhat surprising freedom to buy alcoholic beverages on Sundays (and, in the city, pretty much around-the-clock) and the absence of a state-store system that spared us the ignominy of Pennsylvania (48th), Mississipi (49th), Oklahoma (50th) and the cellar-dweller (not wine cellar), Utah (51st).
Here's a quick look at the rankings. For more details, check out the AWCC report card.
A+
California, District of Columbia, Missouri, Nebraska, New Hampshire, Oregon, Virginia
A
Louisiana, Nevada
B
Alaska, Wyoming, Idaho, New Mexico, West Virginia
B-
Connecticut, Florida, Georgia, Hawaii, Iowa, North Carolina, South Carolina, Texas, Washington
C
Arizona, Illinois, Maine, Minnesota, Vermont, North Dakota
D+
Kansas, Maryland, New Jersey, New York, Tennessee
D
Michigan, Montana, Ohio, Wisconsin
D-
Arkansas
F
Alabama, Colorado, Indiana, South Dakota, Massachusetts, Rhode Island, Delaware, Kentucky, Pennsylvania, Mississippi, Oklahoma, Utah

The premise of this report is simple, AWCC concluded: "Wine consumers benefit and are well served when the laws of their state allow for easy access to wine products and provides for convenience in using and accessing wine products."
Want more information, or to get involved? Here's contact information:
Address: 300 Kentucky Ave, SE, Washington DC 20003
Phone: (707) 294-2376
E-mail: info@wineconsumers.org
Website: www.wineconsumers.org
Facebook: facebook.com/americanwineconsumercoalition
Twitter: @wineconsumers
Today's Sponsor
12 Reds Under $12, Plus $1 Shipping!
You are invited to save during The California Wine Club's $1 Shipping Fall Wine Sale. See award-winning Cabernets, Merlots and Syrahs for under $12 each! Every bottle is handcrafted and guaranteed to be delicious. Inventory is limited, so shop early and get the best selection.
No membership is required to take advantage of savings of up to 57 percent off normal retail prices. There are 200-plus artisan wines to choose from, with prices as low as $9.99. Plus, with $1 shipping, you'll save up to $36 in shipping on every case.
Bruce and Pam Boring, proprietors of The California Wine Club, explore the dusty back roads of California's wine country seeking out small family wineries handcrafting award-winning wines. Enjoy the delicious wines they discover.  
1-800-777-4443 www.cawineclub.com
$1 Shipping Fall Wine Sale ends on Sept. 30, 2013. Prices listed online are per bottle. Half, full and mixed cases are okay. Final order must be in increments of 6 or 12 bottles. Sale prices cannot be applied to previously placed orders and cannot be combined with other discounts. Some restrictions apply. Must be 21+ to order.
Today's Tasting Report
As I mentioned last week, we're enjoying cool, crisp and refreshing Muscadet as our Wine Focus topic in the WineLovers Discussion Group for August: The Dog Days of Muscadet.
Here's a typical example, which keen-eyed readers may note comes not from the familiar Muscadet Sevre et Maine but its less familiar neighbor, Muscadet Cotes de Grandlieu, which, Wine-Searcher.com reports, "is one of the four Muscadet appellations which dominate wine production in the Loire Valley's Pays Nantais district, on the central western coast of France. Introduced in 1994, the title covers exclusively white wines from vineyards around the Lac de Grand Lieu, one of France's larger natural lakes. The wines are made from Melon de Bourgogne, a grape variety brought to the western Loire Valley from Burgundy, as the name suggests. The similarity between the name Muscadet and that of the Muscat grape family is sometimes the cause of confusion. However, crisp, dry Muscadet is quite distinct from the sweet wines into which Muscat grapes are so often made."
Like many Muscadets, this wine is made sur lie, leaving the wine for months before bottling on its lees, the yeast sediment from fermentation, a procedure that enhances both flavor and texture.
Domaine de Haut Bourg 2011 Muscadet Côtes de Grandlieu Sur Lie ($14.99)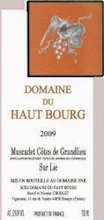 Pale gold, clear as water. Fresh citric scent, subtle lemon-lime, with a prickly petillance on the nose and tongue. Bone-dry and tartly acidic, white citrus and a touch of Muscadet's chalky oyster-shell minerality coming in on the long finish. Simple but clean, with ample acidity and food-friendly alcohol at 12%. Bracing acidity makes it a fine food wine, although some might find it a bit tart for sipping aperitif-style. U.S. importer: Vanguard Wines LLC, Columbus, Ohio. (July 7, 2013)
FOOD MATCH: Muscadet is a natural with oysters on the halfshell or mild fish. It's excellent, too, with rich, creamy cheeses.
WHEN TO DRINK: Conventional wisdom suggests drinking up Muscadet while it's young and fresh, and this 2011 certainly qualifies. I'd enjoy it soon, though, rather than putting it away in a cellar.
VALUE:There's a lot of competition in this mid-teens niche, so while I don't begrudge this price, I probably won't stock up with it as a summer house wine.
PRONUNCIATION:
Muscadet = "Moos-cah-day"
Haut Bourg = "O Boorgh"
WEB LINK:
The English-language pages on the winery website seem to be broken, but if you read French - or even if you don't - you might enjoy a look at its promotional sheet on the Muscadet Cotes de Grandlieu Sur Lie.
FIND THIS WINE ONLINE:
Look for vendors and check prices for Gerard Bertrand Gris Blanc Rosé on Wine-Searcher.com.
Talk About Wine Online
If you have questions, comments or ideas to share about today's article or wine in general, you're always welcome to drop by our online WineLovers Discussion Group, the Internet's first and still the most civil online community. To find our forums, click:
http://www.wineloverspage.com/forum/village
Discussions are open for public viewing, but you must register to post. Registration is free and easy; we ask only that you join following our Real Names Real Format system, using your real name in the format "John Doe" or "John D". Anonymous, cryptic or first-name-only registrations are discarded without notice.
Once your registration has been approved, which usually happens quickly, you'll be able to participate in all our online wine, food and travel forums.
To contact me by E-mail, write wine@wineloverspage.com. I'll respond personally to the extent that time and volume permit.
Subscriptions and Administrivia
Unsubscribe:
We're sorry if you must leave us, but simply click the "unsubscribe"
link at the bottom of your Email edition to be instantly removed from the mailing list.
Change address:
The quickest and easiest way to change your Email address is simply to register anew, using the link below. If you are keeping your old address but no longer wish to get the Wine Advisor there, click the unsubscribe link below to take it off our list; if you are closing the mailbox, you needn't take any action, as our system will delete your old address as soon as the mail to your old address starts to "bounce."
Subscribe to this weekly E-letter (free):
http://www.wineloverspage.com/wineadvisor
WineLoversPage.com RSS Feed (free):
http://feeds.feedburner.com/wineloverspage/tzva
Wine Advisor Archives:
http://www.wineloverspage.com/wineadvisor2/archives.php
Sponsorship Opportunities:
For information, E-mail wine@wineloverspage.com