All the Pinots in one
Pinot Noir? Sure! Pinot Gris? Who doesn't like it? Pinot Blanc makes an interesting variation, and who (other than a few wine geeks, Pinot Noir? Sure! Pinot Gris? Who doesn't like it? Pinot Blanc makes an interesting variation, but who (other than a few wine geeks, maybe) ever heard of Pinot Auxerrois? We can taste the entire Pinot family in one glass of the fine Alsatian white blend called Pinot d'Alsace."
Domaine Bott-Geyl's 2010 "Métiss" Pinot d'Alsace - a very fine value indeed at $15 in my local wine shop - is a rich, aromatic and well-balanced white made up of 35 percent each Pinot Blanc and Pinot Auxerrois, and 15 percent each Pinot Gris and Pinot Noir. That last, a red grape of course, is used in the traditional "blanc de noirs" ("white from blacks") method in which the color-carrying grape skins are removed from the fermenting wine before any tinge of red appears.
While I'm wary of "non-traditional" blends of grape varieties, which don't always work out well - I would approach a Pinot-Zinfandel blend with caution, for instance - the regional blends that have stood the test of time certainly rank with, or even surpass, the great single-varietal wines.
Chateauneuf-du-Pape, for example, makes great wines from blended grapes. No one disses Bordeaux for bringing together Cabernet Sauvignon, Cab Franc, Merlot and more; and I'm a huge fan of the 800-year-old blended tradition in Chianti. Pinot d'Alsace might not have the historic weight of those other blended wines, but based on the testimony of the Bott-Geyl, I'm more than willing to list it among the reliables.
Bott-Geyl Pinot d'Alsace would make a splendid wine to consider in Wine Focus in our WineLovers Discussion Group this month.
You're welcome to join our wine enthustiasts as we feature "Pinot Blanc, Gris, Grigio" all month. The discussion topic begins here.
Possible geographical starting points might include the Collio hills of Northeastern Italy's Friuli, for one, and from bordering Slovenia; from Alpine Northern Italy, from Austria and Alsace; Oregon, selected California vineyards; New York's Finger Lakes and Ontario's Niagara Peninsula; New Zealand and, well ... you try 'em, taste 'em, and check in to the forum to let us know what you find!
All forum discussions are open for public viewing, but you must register to post your comments and participate actively in the conversation. Registration is free and easy; we ask only that you join following our Real Names Real Format system, using your real name as your public user name. To join the forum, drop me a note at wine@wineloverspage.com with your real name, preferred format and a temporary password, and I'll take care of the rest.
Today's Tasting Report
Domaine Bott-Geyl 2010 "Métiss" Pinot d'Alsace ($14.99)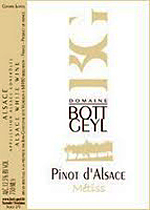 Clear gold. Ripe peach and tropical fruit aromas, mango and maybe a hint of pineapple carry over in a rich, juicy fruit flavor that seems sweet on first taste but adds tart grapefruit and slight peach-pit bitterness on the palate and finishes long and dry. Interesting white, a delight for summer sipping at its full but not overboard 13.5% alcohol. The green "Certifié Agriculture Biologique" logo on the back label identifies wine made with "ecologically grown" grapes certified by Ecocert. U.S. importer: Vanguard Wines LLC, Columbus, Ohio. (July 9. 2013)
FOOD MATCH: It would serve well with a variety of white-wine fare from poultry and pork to richer fish and seafood, but also it also boasts plenty of complexity to make an exceptional aperitif.
WHEN TO DRINK: It's drinking beautifully now, and its richness and balance suggest good potential for holding under good conditions for two or three years. No promises for evolution over the longer term, but at this attractive price, "losing" a couple in a quality cellar could make for an interesting experiment in cellar evolution.
VALUE: This rich, aromatic white is a very good buy in the middle to upper teens. Wine-Searcher.com reveals a $15 average price for all vintages, $17 for the 2010. I'd buy it gladly anywhere in the range of $20 or less.
PRONUNCIATION:
d'Asace = "Dahl-zahss
WEB LINK:
Here is the producer's fact sheet on Bott-Geyl Pinot d'Alsace.
FIND THIS WINE ONLINE:
Compare prices and find vendors for Bott-Geyl "Métiss" Pinot d'Alsace on Wine-Searcher.com.
Today's Sponsor
Discover California's Small Wineries!
The California Wine Club explores the dusty back roads of California's wine country seeking out tiny wineries handcrafting award-winning wines.  The best of these limited-production gems are then shared with their members, along with Uncorked®, an insider's guide to the winery.
Each month features a different winery, two award-winning wines and a new wine adventure.
Get your first 3 months for $26* Per Month!
No membership fee and no commitment.  If you are not happy, you are not stuck. After the first three months, monthly shipments will be $38.95 plus $13 shipping and handling. Tax extra where applicable.
1-800-777-4443 www.cawineclub.com
*Includes shipping and handling. Offer cannot be combined with other promotions nor applied to previously placed orders.  
Talk About Wine Online
If you have questions, comments or ideas to share about today's article or wine in general, you're always welcome to drop by our online WineLovers Discussion Group, the Internet's first and still the most civil online community. To find our forums, click:
http://www.wineloverspage.com/forum/village
Discussions are open for public viewing, but you must register to post. Registration is free and easy; we ask only that you join following our Real Names Real Format system, using your real name in the format "John Doe" or "John D". Anonymous, cryptic or first-name-only registrations are discarded without notice.
Once your registration has been approved, which usually happens quickly, you'll be able to participate in all our online wine, food and travel forums.
To contact me by E-mail, write wine@wineloverspage.com. I'll respond personally to the extent that time and volume permit.
Subscriptions and Administrivia
Unsubscribe:
We're sorry if you must leave us, but simply click the "unsubscribe"
link at the bottom of your Email edition to be instantly removed from the mailing list.
Change address:
The quickest and easiest way to change your Email address is simply to register anew, using the link below. If you are keeping your old address but no longer wish to get the Wine Advisor there, click the unsubscribe link below to take it off our list; if you are closing the mailbox, you needn't take any action, as our system will delete your old address as soon as the mail to your old address starts to "bounce."
Subscribe to this weekly E-letter (free):
http://www.wineloverspage.com/wineadvisor
WineLoversPage.com RSS Feed (free):
http://feeds.feedburner.com/wineloverspage/tzva
Wine Advisor Archives:
http://www.wineloverspage.com/wineadvisor2/archives.php
Sponsorship Opportunities:
For information, E-mail wine@wineloverspage.com