Pinot Gris, Grigio, Blanc
Pinot Gris and its Italian twin, Pinot Grigio, are still mighty popular. This trend line hasn't changed since I wrote three years ago that Pinot Gris plantings in California had jumped almost 300 percent over the preceding decade, approaching Sauvignon Blanc as second-most-grown white wine grape after Chardonnay in the Golden State.
As I said then, so it is now: Pinot Gris (and Grigio) is easy to find on the wine list or in the wine shop. But sadly, commercial pressure and the pursuit of profits has turned what was once a fairly reliable artisanal product with a sense of place into a mass-market commodity.
The good news is that there is still some very good Pinot Gris and Pinot Grigio out there, but it takes careful shopping to sort it out from the industrial-style stuff that seems to serves primarily as an alcohol-delivery system.
This week's featured wine, a rich, aromatic Pinot Grigio from Pietra Santa in California's Cienega Valley, is one of the winners. We know there are plenty more, and we hope you'll join us in an up-close look at the "gray" Pinots - and Pinot Blanc ("white"), too, in our WineLovers Discussion Group for July.
You're welcome to join our wine enthustiasts in as we feature "Pinot Blanc, Gris, Grigio" in our monthly Wine Focus feature this month. The discussion topic begins here.
Possible geographical starting points might include the Collio hills of Northeastern Italy's Friuli, for one, and from bordering Slovenia; from Alpine Northern Italy, from Austria and from Alsace; from Oregon, from selected California vineyards like Pietra Santa and Au Bon Climat; from New York's Finger Lakes and Ontario's Niagara Peninsula, from New Zealand and, well ... you try 'em, taste 'em, and check in to the forum to let us know what you find!
All forum discussions are open for public viewing, but you must register to post your comments and participate actively in the conversation. Registration is free and easy; we ask only that you join following our Real Names Real Format system, using your real name as your public user name. To join the forum, drop me a note at wine@wineloverspage.com with your real name, preferred format and a temporary password, and I'll take care of the rest.
Today's Tasting Report
Pietra Santa 2010 Cienega Valley Pinot Grigio ($10.99)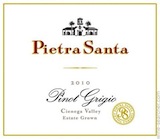 Clear pale gold. Fresh, delicate but distinct scents of mango, peach and melon carry over in the flavor where they join snappy citrus flavors, lemon-lime and grapefruit; juicy but dry and tart, with a touch of pleasing peach-pit bitterness in the finish. Good balance and a lot of character in a Southern California Pinot Grigio. (July 1, 2013)
FOOD MATCH: With its aromatics, it will stand up to full-flavored presentations of poultry, pork or richer seafood. It was fine with a summer meal of fried chicken fingers and a salad of green beans and white beans in olive oil infused with fresh sage, thyme and rosemary.
WHEN TO DRINK: The aromatics, body and balance still present in this 2010 suggest no real need to drink it up in the short term, and it may even gain a little richness with a year or three more under good cellar conditions.
VALUE: The wine is fairily priced for its quality level at the winery's recommended $18 retail price. For $10.99 on The California Wine Club's Reds, Whites and YOU Sale, it's an exceptional value.
PRONUNCIATION:
Cienega = "See-EHN-uh-guh"
Pinot Gris, Grigio = "Pee-noe Gree, Gree-joe
WEB LINK:
This link goes to the producer's fact page on the 2011 Pinot Grigio, which appears to be similar in flavor profile to the featured 2010. For producer info on the 2010, click here.
FIND THIS WINE ONLINE:
This wine is currently available to California Wine Club members for $11.99 on the Club's Reds, Whites and YOU Sale, which continues until July 7.
You can also find it on this link at Wine-Searcher.com.
Today's Sponsor
$1 Shipping plus Award-Winning Wines on Sale!
Shop The California Wine Club's Reds, Whites and YOU Sale to get award-winning wines for as low as $8.99. Plus, with $1 Shipping, you save up to $36 in shipping on every case!
This is your chance to stock up on handcrafted wines from California's best small, family-run wineries with great savings!
Shop Now
Don't wait, sale ends July 7, 2013.
www.cawineclub.com 1-800-777-4443
Talk About Wine Online
If you have questions, comments or ideas to share about today's article or wine in general, you're always welcome to drop by our online WineLovers Discussion Group, the Internet's first and still the most civil online community. To find our forums, click:
http://www.wineloverspage.com/forum/village
Discussions are open for public viewing, but you must register to post. Registration is free and easy; we ask only that you join following our Real Names Real Format system, using your real name in the format "John Doe" or "John D". Anonymous, cryptic or first-name-only registrations are discarded without notice.
Once your registration has been approved, which usually happens quickly, you'll be able to participate in all our online wine, food and travel forums.
To contact me by E-mail, write wine@wineloverspage.com. I'll respond personally to the extent that time and volume permit.
Subscriptions and Administrivia
Unsubscribe:
We're sorry if you must leave us, but simply click the "unsubscribe"
link at the bottom of your Email edition to be instantly removed from the mailing list.
Change address:
The quickest and easiest way to change your Email address is simply to register anew, using the link below. If you are keeping your old address but no longer wish to get the Wine Advisor there, click the unsubscribe link below to take it off our list; if you are closing the mailbox, you needn't take any action, as our system will delete your old address as soon as the mail to your old address starts to "bounce."
Subscribe to this weekly E-letter (free):
http://www.wineloverspage.com/wineadvisor
WineLoversPage.com RSS Feed (free):
http://feeds.feedburner.com/wineloverspage/tzva
Wine Advisor Archives:
http://www.wineloverspage.com/wineadvisor2/archives.php
Sponsorship Opportunities:
For information, E-mail wine@wineloverspage.com