Cellar Clearance Wine Sale!
Save up to 71% on handcrafted California wines! The California Wine Club is making room for new arrivals and giving you the chance to stock up on the award-winning wines they feature at fantastic savings. Their most popular selections are priced as low as $6.99 per bottle.
www.cawineclub.com
Fun pink bubbly
Pink Champagne doesn't exactly have the best reputation. Mention the name, and visualize starlets and their boyfriends bibulously sipping cheap sparkling wine out of a high-heeled shoe. Or something.
But this bad rap isn't exactly fair. First, focusing on real Champagne, the pricey, hand-made stuff from the French region of the same name, the relatively rare rosé style can be very good indeed, and high-budget to boot.
Blanc de Noirs Champagne - "white from blacks," which is generally closer to rosy pink than "white" - is usually made entirely from the great Pinot Noir grape, grown in Champagne's favorable conditions and made the old-fashioned way. It's a very special wine indeed. I'll never turn down a glass of Pol Roger Extra Cuvée de Reserve Brut Rosé Champagne, just to drop a name at random.
But a jug of Gallo's André California pink "Champagne"? Not so much. It's a bad example of a bad old practice, calling bubbly from other quarters "Champagne" in a marketing ploy to take improper advantage of the reputation that accompanies the fancy stuff.
This bad practice is gradually dying out, happily, although a few producers, mostly in California, won't give it up, and André and Korbel are among the persistent offenders. You'll see their pink wines widely advertised, especially around holiday time, but if you want my advice, I'd say steer well clear, unless you like the idea of a sweet, fizzy drink akin to a cheap "blush" wine with bubbles.
By and large, though, most modern producers properly declare themselves "sparkling" or "crémant" or "frizzante," or assert regional pride by emphasizing their own location (Italy's Franciacorta, for instance) or the grape variety (Prosecco) or both (Crémant de la Loire). If one of them offers a pink bubbly, chances are that it's well-made and enjoyable. Pinot Noir? Perhaps, or maybe a local grape. You can usually scope it out with an Internet search, or by simply asking a trusted wine merchant.
Today's featured wine is an offbeat pink bubbly indeed, a blend of Pinot Noir and the regional red grape Zweigelt from Austria's Niederösterreich. It's not made by the costly, hand-fashioned Champagne process. But it was delicious - clean, dry, crisp and fresh - and more than affordable in the middle teens. I liked it so much so that I ran back the day after my review tasting to buy another for my personal stash.
I think you'll enjoy it too. If you can't find the 2010 vintage around any more, look for the 2011 soon, or check the "Find this wine online" section in my tasting report, below.
Today's Sponsor
Cellar Clearance Wine Sale!
Save up to 71% on handcrafted California wines! The California Wine Club is making room for new arrivals and giving you the chance to stock up on the award-winning wines they feature at fantastic savings. Their most popular selections are priced as low as $6.99 per bottle.
These are artisan quality wines from California's best small family wineries - no "private labels" or bulk wine. The California Wine Club is your secret supplier of the hard-to-find labels that friends will envy and guests will love. You can be assured that each bottle they select comes from a dedicated, passionate, small family winery. The small wineries they feature craft some of the finest, award-winning vintages you'll ever taste--some of which are in such limited supply that they never make it outside their winery walls!
Every bottle is fully guaranteed. Don't wait! Cellar Clearance Sale ends June 14, 2013, and the most popular selections will sell out.
Today's Tasting Report
Markus Huber 2010 "Hugo" Niederösterreich Rosé Sparkling ($14.99)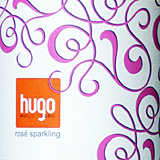 Clear, bright salmon color, pours up with a rich, creamy, pale-pink head that falls back gradually leaving "lace" to coat the glass. Light red-berry aromas lead into a bone-dry, fizzy and tart flavor with a hint of white grapefruit, refreshing and palate-cleansing. Gentle 11.5% alcohol and food-friendly acidity make it an excellent table wine; its appetizing fizz and crisp, clean flavor makes it a fine aperitif. An Austrian blend of Pinot Noir and Zweigelt. U.S. importer: Circo Vino, Bensenville, Ill. (May 14, 2013)
FOOD MATCH: With fiery Asian fare, it's hard to find a better wine match than a good, modestly priced dry and crisp bubbly like this. It was excellent with a moderately spicy Thai-style dish of Penang curry with turnip, cabbage and chunks of broccoli stem with coconut milk and red curry spice.
WHEN TO DRINK: No rush, but I'd drink it up while it's young and fresh. My retailer mentioned that suppliers are running low on this 2010 vintage; watch for fresher vintages coming soon.
VALUE: A very good value at this price, which is right on the $15 U.S. median price reported on Wine-Searcher.com.
PRONUNCIATION:
Niederösterreich = "NEE-dehr-EST-ehr-rike"
WEB LINK:
This English-language file on the producer's Web page offers detailed information about the Hugo sparkling rosé.
FIND THIS WINE ONLINE:
Find vendors and compare prices for Hugo Sparkling Rosé on Wine-Searcher.com. For a list of importer Circo Vino's distributors in many states of the U.S., click here.
Talk About Wine Online
If you have questions, comments or ideas to share about today's article or wine in general, you're always welcome to drop by our online WineLovers Discussion Group, the Internet's first and still the most civil online community. To find our forums, click:
http://www.wineloverspage.com/forum/village
Discussions are open for public viewing, but you must register to post. Registration is free and easy; we ask only that you join following our Real Names Real Format system, using your real name in the format "John Doe" or "John D". Anonymous, cryptic or first-name-only registrations are discarded without notice.
Once your registration has been approved, which usually happens quickly, you'll be able to participate in all our online wine, food and travel forums.
To contact me by E-mail, write wine@wineloverspage.com. I'll respond personally to the extent that time and volume permit.
Subscriptions and Administrivia
Unsubscribe:
We're sorry if you must leave us, but simply click the "unsubscribe"
link at the bottom of your Email edition to be instantly removed from the mailing list.
Change address:
The quickest and easiest way to change your Email address is simply to register anew, using the link below. If you are keeping your old address but no longer wish to get the Wine Advisor there, click the unsubscribe link below to take it off our list; if you are closing the mailbox, you needn't take any action, as our system will delete your old address as soon as the mail to your old address starts to "bounce."
Subscribe to this weekly E-letter (free):
http://www.wineloverspage.com/wineadvisor
WineLoversPage.com RSS Feed (free):
http://feeds.feedburner.com/wineloverspage/tzva
Wine Advisor Archives:
http://www.wineloverspage.com/wineadvisor2/archives.php
Sponsorship Opportunities:
For information, E-mail wine@wineloverspage.com