Doesn't Mom Deserve a Taste of the Good Life?

Give her a taste of California's wine country with a gift membership from The California Wine Club. Give Mom a 3-month gift membership and she'll get a fourth month on the house. Save $51.95!
www.cawineclub.com 1-800-777-4443

Aromatic whites: Scent plus!
Aromatic whites? What's that all about? Don't all wines have aromas? Well, yeah! But some wines - a random array of whites in particular - take "aromatic" up to the top. Or, in my opinion, sometimes over the top, but that's another story for another day.
Sniff a good Chardonnay, and you'll likely get a fresh scent of green apples, perhaps kicked up with notes of citrus, figs, pineapple. Maybe with butter or vanilla added if the wine maker likes his oak. Those are good smells, yes. But in the realm of aromatics, Chardonnay ranks on the "non-aromatic" side of the ledger. If you want it in an aromatic style, you need to look at oak and malolactic fermentation and other winery tricks.
Now open up one of the aromatics: Chenin Blanc, Gewürztraminer, Muscat, Sauvignon Blanc, Riesling and Viognier can fall into this category, just to list an alphabetical few. If the non-aromatic rewards sticking your nose into the glass, the aromatics will jump right out of the glass to yell "hello!"
Depending on the variety and its vinification, the aromatics may whomp you upside the head with emphatic whacks of fruit - peaches, grapefruit, musky melon, lichees, mangoes - or gardens of heady floral aromas from roses to gardenias to orange blossoms. Fresh-mown grass, dew-damp hay, pine needles, boxwood ... Honey and almonds, chestnuts ... And on it goes. They call these wines "aromatic" with good reason.
Wine Focus: Aromatic whites
You're welcome to join the wine enthustiasts in our WineLovers Discussion Group as we feature "Aromatic Whites" in our monthly Wine Focus feature for May. The subject is wide open, and the definition is up to you. Viognier and Muscat clearly make the cut as aromatics, and I think Gewurztraminer and its kin clearly qualify. Torrontes, Scheurebe, if it's "aromatic" to you, name it and bring it! The discussion topic begins here.
All forum discussions are open for public viewing, but you must register to post your comments and participate actively in the conversation. Registration is free and easy; we ask only that you join following our Real Names Real Format system, using your real name as your public user name. To join the forum, drop me a note at wine@wineloverspage.com with your real name, preferred format and a temporary password, and I'll take care of the rest.
Today's Sponsor
Doesn't Mom Deserve a Taste of the Good Life?

Give her a taste of California's wine country with a gift membership from The California Wine Club. They offer more than just great wine - they are a secret supplier of the hard-to-find labels that friends will envy and guests will love. Reds only, whites only, or a bottle of each, they customize each shipment to your liking and guarantee satisfaction.
Special Mother's Day offer: Give Mom a 3-month gift membership and she'll get a fourth month on the house. Save $51.95! If you give additional months, you'll save even more. See gift rates here.
You can be assured that each bottle they select comes from a dedicated, passionate, small family winery. The small wineries they feature craft some of the finest, award-winning vintages she'll ever taste--some of which are in such limited supply that they never make it outside their winery walls! They scour the state for exactly such finds, compare and taste each one, and bring only the best to members. And doesn't Mom deserve the very best?
www.cawineclub.com 1-800-777-4443
Today's Tasting Report
For today's tasting report I sampled a fun aromatic white from Southern Italy's Basilicata region, way down on the sole of the Italian boot. Kin to the Greco di Tufo of the Naples region, Greco gets its name from the tradition that its ancestors were brought over by the ancient Greeks more than 2,000 years ago.
This offbeat label, Poggio Anima "Gabriel," is one of six made for-the-U.S Italian wines made in a joint venture between wine maker Riccardo Campinoti of Le Ragnaie in Montalcino and U.S. importer Vine Street Imports.
"Looking for balance in all things (including wine) is a vital quest for many. The Eastern ideaolgy of Yin Yang is the core of this 'balance' in the Poggio Anima concept," according to the producer's website.
"Fusing this Eastern belief with Western philosophy is apparent when you look at the contradiction of red and white (wines), good vs evil (demons vs angels) and modern ideas with old world winemaking practices (catchy, fun packaging with classic old world wine).
Accordingly, each Poggio Anima is named after a familiar angel or demon of ancient scriptures. "Asmodeus," is a Sicilian Nero d'Avola; "Belial," a Tuscan Sangiovese; "Lilith," a Basilicata Primitivo; "Samael," a Montepulciano d'Abruzzo, and "Uriel," a Sicilian Grillo.
Today's wine, Poggio Anima 2011 Basilicata Greco, is named "Gabriel" after an archangel important in Jewish, Christian and Muslim tradition. Ripe and open scents of pears, figs and citrus qualify it as aromatic. Good, crisp acidity gives structure to its rich texture and yields a balanced, food friendly aromatic white that's a very good value in the middle teens.
Poggio Anima 2011 "Gabriel" Basilicata Greco ($13.99)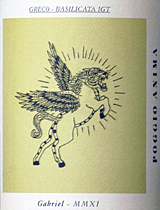 Transparent light gold, with a sprinkle of tiny bubbles on the glass. Fresh white-fruit aromatics, pears and green figs. Mouth-filling and textured, rich but dry and appropriately acidic with food-friendly 12.5@% alcohol. Ripe white fruit and a citric snap in a long, clean finish. U.S. importer: Vine Street Imports, Mt. Laurel, N.J. (April 30, 2013)
FOOD MATCH: I like aromatic whites with dishes kicked up to bold or spicy flavors. It made a fine match with crispy pan-fried tofu on a Thai-style red curry with green peppers, onions, garlic and ginger and just enough heat to get the endorphins working.
WHEN TO DRINK: Greco is generally thought of as a "drink-me-now" wine, and it will certainly reward opening while its white fruit aromatics are ripe and fresh. Its richness and balance, though, suggest that it might evolve in interesting directions with a few years' cellar time. If you like it, it wouldn't take a major investment to give it a try.
VALUE: Well worth a mid-teens retail price. My local price tag is a couple of dollars below the $16 U.S. median price reported on Wine-Searcher.com.
PRONUNCIATION:
Poggio Anima = "POHJ-joe Ah-nee-mah"
Basilicata = "Ba-SIHL-ee-CAH-tah"
Greco = "GREH-co"
WEB LINK:
Here's a link to the importer's page about the Poggio Anima line, with photo links to its six wines including the "Gabriel" Basilicata Greco.
FIND THIS WINE ONLINE:
Wine-Searcher.com shows only a few vendors for Poggio Anima "Gabriel" Basilicata Greco, but U.S. consumers can find distributors in most states on this interactive map from the importer.
Talk About Wine Online
If you have questions, comments or ideas to share about today's article or wine in general, you're always welcome to drop by our online WineLovers Discussion Group, the Internet's first and still the most civil online community. To find our forums, click:
http://www.wineloverspage.com/forum/village
Discussions are open for public viewing, but you must register to post. Registration is free and easy; we ask only that you join following our Real Names Real Format system, using your real name in the format "John Doe" or "John D". Anonymous, cryptic or first-name-only registrations are discarded without notice.
Once your registration has been approved, which usually happens quickly, you'll be able to participate in all our online wine, food and travel forums.
To contact me by E-mail, write wine@wineloverspage.com. I'll respond personally to the extent that time and volume permit.
Subscriptions and Administrivia
Unsubscribe:
We're sorry if you must leave us, but simply click the "unsubscribe"
link at the bottom of your Email edition to be instantly removed from the mailing list.
Change address:
The quickest and easiest way to change your Email address is simply to register anew, using the link below. If you are keeping your old address but no longer wish to get the Wine Advisor there, click the unsubscribe link below to take it off our list; if you are closing the mailbox, you needn't take any action, as our system will delete your old address as soon as the mail to your old address starts to "bounce."
Subscribe to this weekly E-letter (free):
http://www.wineloverspage.com/wineadvisor
WineLoversPage.com RSS Feed (free):
http://feeds.feedburner.com/wineloverspage/tzva
Wine Advisor Archives:
http://www.wineloverspage.com/wineadvisor2/archives.php
Sponsorship Opportunities:
For information, E-mail wine@wineloverspage.com