Trio in white
Let's get right to the point: I love red wine. It's got flavor, aroma, body, complexity and balance, and it goes great with food.
Yes, I can hear some of you saying, "Wait! White wine does those things, too!" And so it does. Still, as the late, great British wine writer Harry Waugh famously said, "It's a wine's duty to be red," and if I forget that, my wife, who loves red wine even more than I do, is quick to remind me.
So when I walk into a wine store, whether it's my friendly neighborhood shop or even one of the world's top wine-geek destinations, I'll generally gravitate toward the reds.
Every now and then, though, I need a whack upside the head to remind me that white wine is good. Not merely good, but better for those occasions when the weather, my mood, or what's for dinner make a white the obvious choice. Most wine lovers start thinking about cool, refreshing whites when summer arrives in all its torrid heat.
But white wine has its place amid the flowers and showers of spring, too. Even a cool spring like we've been having around here this year offers a sudden bounty of fresh veggies on the table, and the delights of seasonal asparagus, pea pods and tiny peas, spinach and lettuces and more open up all sorts of delightful possibilities.
A wine's duty to be red? Not necessarily. Think white! For this week's tasting reports I've assembled a trio of particularly interesting whites from three different regions: The Rhône valley of Southern France; Austria's beautiful blue Danube; and Italy's Alpine Northeast. You'll find my tasting reports below.
Today's Sponsor
You are invited ...
22 years ago Bruce and Pam Boring decided to bring their love and knowledge of boutique California wineries, and the fine wines they craft, to the world. They founded The California Wine Club.
You are invited to discover the hidden gems of California wine country, delivered right to your door.
Each month features a new winery and includes:
* Two award-winning, handcrafted California wines.
* A fun lesson in wine with Uncorked® magazine, including an up-close look at the featured winery, wine tips, recipes, and insight into California's wine scene.
* A 100% quality guarantee.
* Plus, the opportunity to reorder your favorite wine for up to 50% off retail.
"Every wine we feature comes from a real-working small family winery. We never feature private label, bulk or closeout wine."--Bruce and Pam Boring, CWC Proprietors
Get Your First 3 Months for $26/Month*.
No membership fees and no commitment - just pay as you go. Not happy? Not stuck.
1-800-777-4443
www.cawineclub.com
*Includes shipping and handling. Tax extra where applicable. Offer cannot be combined with other promotions nor applied to previously placed orders.
Today's Tasting Reports
M. Chapoutier 2011 "Belleruche" Côtes-du-Rhône Blanc ($13.99)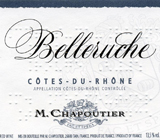 This white blend from France's Rhône valley is a clear light straw color. Delicious and complex, it brings everything I like in a white Rhône: The aromas start with subtle white fruit, pears mostly and a touch of apple, with an aromatic hint of beeswax. On the palate it's medium-bodied, clean and bright, juicy pear framed by bright acidity and a distinct back note of granite minerality, all shifting as you sip, swirl and contemplate; finishing with a palate-cleansing squirt of mixed citrus. U.S. importer: Terlato Imports, Lake Bluff, Ill. (April 11, 2013)
FOOD MATCH: A versatile food wine that would serve well with a range of fare from poultry or pork to freshwater fish, creamy cheeses or vegetable dishes. It was outstanding with a pasta course, fresh asparagus tips braised with browned onions and garlic tossed over spaghetti with a free-range egg and grated Parmigiano-Reggiano.
WHEN TO DRINK: Good now, and likely to remain fine over the next few years under good cellar conditions.
VALUE: This wine is an excellent bargain at this low-teens price, and an outstanding bargain in the $10-or-less range offered by some vendors on Wine-Searcher.com.
WEB LINK:
This link will take you to M. Chapoutier's English-language Belleruche blog.
FIND THIS WINE ONLINE:
Check prices and availability for M. Chapoutier "Belleruche" Côtes-du-Rhône Blanc on Wine-Searcher.com.
Huber 2011 "Terrassen" Traisental Riesling ($16.99)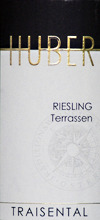 From Traisental, on the south bank of the Danube River downstream from Austria's fabled Wachau region, this is a transparent straw color. Good fresh scent of peach and melon, aromatic and appealing. Its white-fruit flavor seems soft for just a second, but then tart, zippy acidity clicks in, followed by a distinct peach-pit bitterness. Interesting and complex, it's a bit on the acidic side for aperitif sipping, but is very fine with food, its aromatics dancing with the flavors of versatile pairings while the sharp acidity cleans the palate and wakes up your taste buds. U.S. importer: Circo Vino, Evanston, Ill. (April 25, 2013)
FOOD MATCH: It would be fine with freshwater fish, veal, pork or poultry, and it's a natural with fresh spring vegetables. I took advantage of Riesling's versatility with spicy fare and served it with a Thai-style red curry with five-spice tofu, snow peas, onions, ginger and garlic, coconut milk and mild Thai spice.
WHEN TO DRINK: Riesling holds up well under cellaring, and I wouldn't anticipate any issues with drinking this over the next five years.
VALUE: Definitely a fair value in the middle teens.
PRONUNCIATION:
Traisental = "TRY-zehn-tahl"
WEB LINK:
Weingut Huber offers this detailed fact sheet on the Traisental Riesling, which is accessible from a tiny QR code on the wine's back label. The U.S. importer also offers this good bio and information page on Markus Huber
FIND THIS WINE ONLINE:
Find vendors and compare prices for Huber "Terrassen" Traisental Riesling on Wine-Searcher.com. Wine-Searcher finds relatively few vendors, but this page on the importer's Website can connect you with more.
Terlan 2011 Alto Adige Terlaner Classico ($16.99)
This rich white from Northeastern Italy's Alps is a transparent straw color. Attractive scents of white flowers and Meyer lemon lead into a textured, full flavor of pears and lemons and a whiff of pineapple, wrapped up in a rich but tart flavor with good fresh-fruit acidity perhaps cloaking a barely perceptible touch of sweetness. The very long finish is consistent with the initial flavor, adding just a touch of stony minerality as the flavors slowly fade. Wine evolves in the glass, ripe, juicy pears upstaging the floral and pineapple elements, and the minerality becoming more present. Complex and interesting, very nice, and well worth a mid to high teens price. U.S. importer: Banville & Jones Wine Merchants, North Bergen, N.J. (March 2, 2013)
FOOD MATCH: Good with poultry, pork or veal, hard cheeses and a range of spring veggies. It was excellent with a plant-based variation on spaghetti alla carbonara, pasta dressed in free-range eggs and Pecorino Romano, with crispy roasted skinny asparagus instead of the traditional pancetta or bacon.
WHEN TO DRINK: It's fine now, but the winery asserts a commitment to produce wines that will evolve well with cellaring. It should reward at least three or four years under good storage conditions.
VALUE: My local price is well in range for U.S. sources for Terlan Alto Adige Terlaner on Wine-Searcher.com It's a fine value for a rich white of this quality.
WEB LINK:
Click for a detailed spec sheet on Terlan Alto Adige Terlaner Available in English, Italian and German, this is a fine example of a well designed, info-rich winery website more focused on facts than advertising hype. Good work!
FIND THIS WINE ONLINE:
Compare prices and find international sources for Terlan Alto Adige Terlaner on Wine-Searcher.com
Talk About Wine Online
If you have questions, comments or ideas to share about today's article or wine in general, you're always welcome to drop by our online WineLovers Discussion Group, the Internet's first and still the most civil online community. To find our forums, click:
http://www.wineloverspage.com/forum/village
Discussions are open for public viewing, but you must register to post. Registration is free and easy; we ask only that you join following our Real Names Real Format system, using your real name in the format "John Doe" or "John D". Anonymous, cryptic or first-name-only registrations are discarded without notice.
Once your registration has been approved, which usually happens quickly, you'll be able to participate in all our online wine, food and travel forums.
To contact me by E-mail, write wine@wineloverspage.com. I'll respond personally to the extent that time and volume permit.
Subscriptions and Administrivia
Unsubscribe:
We're sorry if you must leave us, but simply click the "unsubscribe"
link at the bottom of your Email edition to be instantly removed from the mailing list.
Change address:
The quickest and easiest way to change your Email address is simply to register anew, using the link below. If you are keeping your old address but no longer wish to get the Wine Advisor there, click the unsubscribe link below to take it off our list; if you are closing the mailbox, you needn't take any action, as our system will delete your old address as soon as the mail to your old address starts to "bounce."
Subscribe to this weekly E-letter (free):
http://www.wineloverspage.com/wineadvisor
WineLoversPage.com RSS Feed (free):
http://feeds.feedburner.com/wineloverspage/tzva
Wine Advisor Archives:
http://www.wineloverspage.com/wineadvisor2/archives.php
Sponsorship Opportunities:
For information, E-mail wine@wineloverspage.com