Pinot Noir from everywhere
Once upon a time, not so very long ago, wine writers - even me - stuck to a conventional wisdom about Pinot Noir: Only in Burgundy, we wrote, as recently as the 1980s, does this historic but notably quirky grape achieve greatness in wine.
There was considerable evidence for this. Pinot from California simply didn't taste the same, and most U.S. wine shops didn't even carry Pinot-based wines from anywhere else. What's more, it didn't seem to matter much, as American consumers could still afford Burgundy.
What a difference a generation makes! California seems to have mastered the art of Pinot, and some might argue that Oregon at its best surpasses even the Golden State. New Zealand is making outstanding Pinot. New York's Finger Lakes region and Ontario's Niagara Peninsula come in with winners. Northern Italy scores with some remarkable Pinot Nero, and Germany has entered plenty of contenders, some labeled Pinot and others translating it as Spätburgunder ("Late Burgundy"). Fine Pinot may be found from Australia and South Africa; even Chile and Argentina represent with some budget models. And Pinot has spread across France from its original home in Burgundy to Languedoc, Alsace and the Loire.
Burgundy? Sure, it's still good. Sadly, though, its history and acclaim have moved most top-tier Burgundy Pinot into the can't-afford-it category for most of us, leaving the field open to wealthy collectors. What's left in the affordable niche, from generic Bourgogne Pinot Noir to villages wines, can be good to very good, but no longer stands above the competition. There is a world of Pinot now, and for savvy wine lovers who care about our budgets, there's no longer any reason to rule out any source for consideration.
You're welcome to join the wine enthustiasts in our WineLovers Discussion Group as we feature "Pinot Noir from everywhere" in this month's Wine Focus. Check in with your thoughts, questions or tasting notes about all things Pinot. The discussion topic begins here.
All forum discussions are open for public viewing, but you must register to post your comments and participate actively in the conversation. Registration is free and easy; we ask only that you join following our Real Names Real Format system, using your real name as your public user name. To join the forum, drop me a note at wine@wineloverspage.com with your real name, preferred format and a temporary password, and I'll take care of the rest.
For my quick tasting reports on four affordable Pinot Noirs from around the world, including one from Burgundy, two from elsewhere in France and one from Australia's Tasmania region, see below.
Today's Sponsor
$25 Wine Credit for You!
The California Wine Club is offering you a $25 Wine Credit. Use Promo Code: ADVISOR25 when you:
* Try one of their four fun wine clubs. Each is a fun wine adventure.
* Send a fun and unique wine gift to a friend or business associate.
* Order a case or half case of award-winning, limited production wines hand selected from California's best small family wineries.
Whatever you choose, you'll save $25. Click to use your credit now
For more than two decades, The California Wine Club's proprietors Bruce and Pam Boring have traveled California's wine country searching for limited-production wines from small, family-owned wineries dedicated to the art of making fine wine. They then share their adventures and bottled treasures with members.
www.cawineclub.com
1-800-777-4443
Wine Credit cannot be combined with any other promotion nor applied to previously placed orders. One per order, please.
Today's Tasting Reports
The Seeker 2011 Pinot Noir Vin de Pays du Puy de Dôme ($11.99)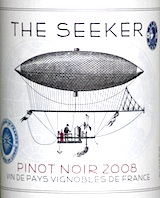 Clear ruby with a light edge. Dark cherries add a whiff of jammy berries on the nose. On the palate it's fresh black cherries, juicy and appealing, shaped by crisp, food-friendly acidity and an astringent edge of tannins. It's grown in the Auvergne, not an area known for "Burgundian" Pinot, but there is good varietal character here in a fresh, appetizing table wine at an attractive price. U.S. importer: Kobrand Corp., NYC. (Sept. 21, 2011)
FOOD MATCH: Excellent match with "The Forager," an 18-inch New York-style thin pizza from Louisville's Papalino's, topped with Capriole Farmstead Indiana goat cheese, Sheltowee Farm Kentucky mushrooms, caramelized onions, fresh thyme and white truffle oil.
WHEN TO DRINK: Fresh and clean under a Stelvin-style metal screw cap; it should fare well in the cellar or wine rack for a few years, but it's fine for drinking right now.
VALUE: This is about as good as Pinot Noir gets at the $12 price point. It's widely available, and worth checking Wine-Searcher.com, where pricing ranges from $10 to $17.
WEB LINK:
Here's the Pinot Noir page on The Seeker's Website. Frankly, it's more than a little promotional, but artful and entertaining nonetheless.
FIND THIS WINE ONLINE:
Check prices and find vendors for The Seeker Pinot Noir on Wine-Searcher.com
Joseph Drouhin 2011 "Laforet" Bourgogne Pinot Noir ($17.99)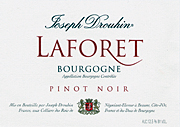 Garnet, with a clear edge. Simple but typical Pinot scent, ripe cherries, a whiff of roses, and a touch of tomato skin. Tart red fruit, zippy acidity and soft tannins. Food brings it around, but even at a traditional 12.5% alcohol, it's a bit rough-edged for sipping by itself. To be frank, when you're in the market for generic Burgundy for less than $20, you're not going to get a wine that makes you hear choirs of angels sing. Still, this one gives a sense of Burdundian Pinot and is certainly more than drinkable with dinner. U.S. importer: Dreyfus, Ashby & Co., NYC. (March 22, 2012)
FOOD MATCH: I fashioned a "Marco Polo" Italian-Asian fusion dish of snow peas, onions and green peppers in a lightly spicy roasted red pepper velouté over mezze rigatoni. It was decent, although its rough-hewn style might have found a better match with rare red meat or a fatty cheese. Indeed, it mellowed a bit with a taste of simple, buttery cheese.
WHEN TO DRINK: It will keep under good conditions for a year or three, but I wouldn't cellar it with any real hope for significant evolution over time.
VALUE: My local price is close to the median U.S. retail listed on Wine-Searcher.com, but comparison shopping may pay off, as some vintages in some locations go for considerably less. Frankly, although it's drinkable, the upper teens is pushing its quality-price ratio in a competitive market.
WEB LINK:
Here's the producer's fact sheet in English on the Laforet Pinot Noir.
FIND THIS WINE ONLINE:
Find vendors and compare prices for Drouhin Laforet Bourgogne Pinot on Wine-Searcher.com.
Pirie 2009 "South" Tasmania Pinot Noir ($29)
Dark purple with a clear garnet edge. Good black and red cherry aromas are joined by a hint of blackberries on the palate, very appealing balance of fresh but not overwhelming fruit with crisp and food-friendly acidity framed by soft tannins. Definitely a fruit-focused Pinot, but its cool weather origin keeps it from going down the blockbuster road, and that is a good thing. Stated alcohol content 13.5%. U.S. importer: American Estates Wines Inc., Philadelphia, for California Wine Club's International Selections
FOOD MATCH: Like all good Pinot Noir, this one is versatile with a range of fare, from red meat to grilled poultry, wild salmon, vegetarian bean and cheese dishes or even spicy Asian fare. It was fine with gently spicy Sichuan shredded beef with carrots and celery.
WHEN TO DRINK: It's delicious and ready to go right now, but I wouldn't have any qualms about cellaring it for up to five years, bearing in mind that Pinot frequently shows unpredictable ups and downs in the cellar.
WEB LINK AND FINDING THIS WINE ONLINE:
Here's California Wine Club's fact sheet and order page for the Pirie Tasmania Pinot.
Check prices and availability for Pirie Tasmania South Pinot in vintages from 2005 through 2012 on Wine-Searcher.com.
Le Grand (Pinot) Noir 2010 "Black Sheep" Pays d'Oc ($11.49)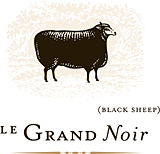 Some wine wits half-seriously advise, "Never buy a wine with an animal on the label," although this counsel, taken to the extreme, would bar the world-class Chateau Cheval Blanc ("White Horse") from our cellars, not to mention the outstanding Northern Italian wines of La Spinetta with their rhinoceros label. Seriously, though, this modestly priced Pinot is almost secretive, with limited front-label info, the wine's Languedoc origin almost buried in tiny type, and the bottler, "11N129 at F11160" (Rieux-Minervois), encoded into anonymity. And yet ... the wine is pretty good for a Languedoc Pinot. Dark garnet almost all the way to the edge, it offers cherry compote, cooked sweet dark cherries and a hint of brown spices, on the nose and palate. Food-friendly fresh-fruit acidity, 12.5% acidity and a soft touch of tannins come together in a wine that's on the simple side but clearly recognizable as Pinot and good with food. U.S. importer: Prestige Wine Group, Pronceton, Minn. (April 4, 2013)
FOOD MATCH: Just fine with an Asian-accented teriyaki chik'n, onion and green pepper stir-fry.
WHEN TO DRINK: Drink up and enjoy within the next year while the flavors are fresh.
VALUE: I have no complaints about value at this price, but canny shoppers will check Wine-Searcher.com, where some vendors offer it as low as $8.
WEB LINK:
Click here for the producer's English-language fact sheet on Le Grand Black Sheep Pinot Noir.
FIND THIS WINE ONLINE:
Find vendors and compare prices for Le Grand Black Sheep Pinot Noir on Wine-Searcher.com.
Talk About Wine Online
If you have questions, comments or ideas to share about today's article or wine in general, you're always welcome to drop by our online WineLovers Discussion Group, the Internet's first and still the most civil online community. To find our forums, click:
http://www.wineloverspage.com/forum/village
Discussions are open for public viewing, but you must register to post. Registration is free and easy; we ask only that you join following our Real Names Real Format system, using your real name in the format "John Doe" or "John D". Anonymous, cryptic or first-name-only registrations are discarded without notice.
Once your registration has been approved, which usually happens quickly, you'll be able to participate in all our online wine, food and travel forums.
To contact me by E-mail, write wine@wineloverspage.com. I'll respond personally to the extent that time and volume permit.
Subscriptions and Administrivia
Unsubscribe:
We're sorry if you must leave us, but simply click the "unsubscribe"
link at the bottom of your Email edition to be instantly removed from the mailing list.
Change address:
The quickest and easiest way to change your Email address is simply to register anew, using the link below. If you are keeping your old address but no longer wish to get the Wine Advisor there, click the unsubscribe link below to take it off our list; if you are closing the mailbox, you needn't take any action, as our system will delete your old address as soon as the mail to your old address starts to "bounce."
Subscribe to this weekly E-letter (free):
http://www.wineloverspage.com/wineadvisor
WineLoversPage.com RSS Feed (free):
http://feeds.feedburner.com/wineloverspage/tzva
Wine Advisor Archives:
http://www.wineloverspage.com/wineadvisor2/archives.php
Sponsorship Opportunities:
For information, E-mail wine@wineloverspage.com