Rethinking high alcohol
Okay, I'm on the record as being no great fan of high-alcohol wines. Well, other than Port, Madeira, Sherry and other fortified wines that are meant to be that way, anyway.
But every rule has its exceptions, and a recent encounter with an Italian regional white prompted me to look at this issue from both sides. It all started when I picked up a Grechetto from my neighborhood wine shop. I wanted a simple, earthy, Euro-style white to go with a pasta dinner, so when I got home and took a closer look at the label of Palazzone 2011 "Grek" Umbria Grechetto and realized that it was labeled as 14.5% alcohol, I got downright irritated.
This rubbed me the wrong way because it seemed to fit into everything that I don't like about the modern trend toward high-alcohol, forward-fruit, blockbuster-style wines. When even a red wine hits 14% or more it starts moving out of my happy place, and it's even worse for whites. Crabbily, I got online and posted rants here and here, titled "High-alcohol wines irritate me."
I got back lots of interesting responses. Some offered support. Others gently disagreed. But just about every comment made me think. What exactly don't I like about high-alcohol wines? I can boil it down to two or three points:
* Alcohol in excess shows up, at least to me, as an aroma, taste and feel sensation all three. Some high-alcohol wines start with a whiff that resembles rubbing alcohol that carries over to the palate, then literally burns my tongue. I love the rush of fire that comes with spicy ethnic cuisines; but the burn of a high-alcohol wine, not so much.
* As a wine hobbyist, I enjoy recognizing regional and varietal characteristics in wines from regions of great tradition, particularly the wines of Europe. I've traveled in Italian and French vineyards for years and have many happy memories of discovering wines there. I want today's Grechetto to taste like the Grechetto I remember from touring Umbria in 1982, doggone it!
* Finally and perhaps most important, if a wine is good, I'd like to be able to enjoy a second glass with a clear conscience, and not have to worry about being capable of driving home or navigating the stairs. I don't like a wine that makes me feel I'd like to say "yes" but had better say "no."
But all that being said, there's a final test: Taste the wine! And so I did, and I've got to admit that this Grechetto is pretty good, powerful alcohol and all. Yes, it started off with a hint of alcoholic burn on the nose and palate. But happily, those effects blew off to reveal a wine of surprising depth and complexity, a wine that didn't war with a bold-flavored pasta dinner designed to accompany it. And yeah, I had a second glass. A smaller pour, but it didn't make me put a lampshade on my head and dance on the table.
It's fine to have strong opinions about wine. A wine writer who doesn't have them would be mighty boring. But the most important principle remains, "Taste the wine."
Today's Sponsor
Discover the Difference Handcrafting Makes!
For 23 years Bruce and Pam Boring, proprietors of The California Wine Club, have explored California's less-traveled roads seeking the hidden gems of wine country. Their search is unique, in that they are only looking for the limited-production, award-winning wines handcrafted by California's small family wineries.
They taste, select and then share their very best discoveries along with the personal stories behind each and every wine. Savvy wine consumers trust them to introduce these artisan vintners, the fine wines they craft and the rich histories that only few ever know.
Receive two of Bruce and Pam's personally selected wines delivered to your doorstep, along with their members-only publication. Experience the adventure!
Monthly deliveries featuring two award-winning artisan wines start at $51.95. Get 50% off your first three shipments with our invitation for 30 Second Wine Advisor Readers.
Every wine is guaranteed. Price includes shipping and handling, plus tax where applicable. Offer cannot be combined with any other promotion, nor be used on a previously placed order.
www.cawinelcub.com 1-800-777-4443
Today's Tasting Report
Palazzone 2011 "Grek" Umbria Grechetto ($14.99)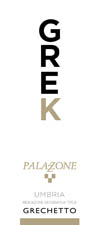 Transparent straw color. Simple aromas, white fruit, undifferentiated citrus and a whiff of alcohol. Much more interesting on the palate, the heat of 14.5% alcohol blows off as it warms in the glass (don't serve it too cold), unveiling rich and complex flavors, pear and mixed citrus, lemon-lime and just a hint of tangerine, good body and texture, with light black-walnut bitterness joining a citric snap in the long finish. U.S. importer: De Grazia Imports LLC, Winston-Salem, N.C. (March 8, 2013)
FOOD MATCH: A shrimp linguine dish with plenty of garlic, lemon and black pepper stood up well to this robust wine. It would be good with ocean fish and shellfish in general, but choose a dish with bold flavors to keep pace with this powerful white.
WHEN TO DRINK: The idiosyncratic style of this wine make it difficult to predict aging capability. Based on its early release - the 2012 is already in the marketplace - I'd guess that it's best to drink up the fresher vintages and move on. Still, its alcohol and body and complex flavors might make it an interesting experiment to sock away a bottle or two for a few years, just to see what happens.
VALUE: Wine-Searcher.com's single U.S. listing asks $20. My mid-teens price is certainly fair for its quality level.
PRONUNCIATION:
Grechetto = "Greh-KET-toe"
WEB LINK:
Here's the importer's fact sheet in English on Giovanni and Lodovico Dubini's Palazzone winery and its products. Click here for more specifics on the 2011 "Grek" Grechetto. Importer Vintner Select offers another fact sheet on Palazzone here.
FIND THIS WINE ONLINE:
Wine-Searcher.com finds few vendors specifically for Pallazzone Grechetto If you're eager to track it down, try this Wine-Searcher link to find vendors for all Palazzone wines, and ask if they've acquired the Grek. For more information on Marc De Grazia's distributors in U.S. states and around the world, visit the De Grazia website.
Talk About Wine Online
If you have questions, comments or ideas to share about today's article or wine in general, you're always welcome to drop by our online WineLovers Discussion Group, the Internet's first and still the most civil online community. To find our forums, click:
http://www.wineloverspage.com/forum/village
Discussions are open for public viewing, but you must register to post. Registration is free and easy; we ask only that you join following our Real Names Real Format system, using your real name in the format "John Doe" or "John D". Anonymous, cryptic or first-name-only registrations are discarded without notice.
Once your registration has been approved, which usually happens quickly, you'll be able to participate in all our online wine, food and travel forums.
To contact me by E-mail, write wine@wineloverspage.com. I'll respond personally to the extent that time and volume permit.
Subscriptions and Administrivia
Unsubscribe:
We're sorry if you must leave us, but simply click the "unsubscribe"
link at the bottom of your Email edition to be instantly removed from the mailing list.
Change address:
The quickest and easiest way to change your Email address is simply to register anew, using the link below. If you are keeping your old address but no longer wish to get the Wine Advisor there, click the unsubscribe link below to take it off our list; if you are closing the mailbox, you needn't take any action, as our system will delete your old address as soon as the mail to your old address starts to "bounce."
Subscribe to this weekly E-letter (free):
http://www.wineloverspage.com/wineadvisor
WineLoversPage.com RSS Feed (free):
http://feeds.feedburner.com/wineloverspage/tzva
Wine Advisor Archives:
http://www.wineloverspage.com/wineadvisor2/archives.php
Sponsorship Opportunities:
For information, E-mail wine@wineloverspage.com