Mountain grown
"It's mountain grown!" If you're of a certain age, you'll instantly recognize this as the slogan of Folgers Coffee that bombarded Baby Boomers' eyes and ears in television commercials over a generation from the '60s into the '80s and that remains a registered Folgers trademark to this day.
From 1965 to 1986, actress Virginia Christine, as "Mrs. Olson," was a constant presence on network television, assuring viewers that Folgers was "Mountain grown, the richest kind of coffee."
Sadly but perhaps not surprisingly, Mrs. Olson was running a sort of coffee sting. As it happens, most coffee - and all beans of the quality Arabica variety - is grown at mountainous altitudes; and there's no real connection between mountain growing and coffee quality.
So much for that sweet old lady with the Scandinavian accent!
But how about wine? It's well-known that quality grapevines tend to thrive on hillsides, from the "Côtes" ("slopes" or "hillsides") of most French wine regions and the precipitous valleys of Germany's Rhein and Mosel valleys to the Andean heights of Argentina's Mendoza and the mountainous slopes that define the Napa and Sonoma valleys, just to name a few.
Visit Burgundy, for example, and you'll find the most sought-after wines come almost invariably from the hillsides. Vineyards along the flat ground at the foot of the Côte d'Or are mostly used in generic Bourgogne; you'll rarely find these properties singled out for attention.
Growing wine grapes at altitude does have benefits, say the gurus at the Wine-Searcher Technical Wine Terms pages.
"Altitude often has a marked effect on a wine's quality," Wine-Searcher points out. "First, the higher a vineyard location is, the cooler the air temperature will be. (With every 330 ft/100m of height, the temperature generally drops by about 1.1F/0.6C.) This will delay the ripening or, conversely, lengthen the growing period. This ensures that the grapes can benefit from a longer hang time, which helps the accumulation of those vital chemical compounds (acids, sugar, color compounds) that define a grape's profile.
"However, lower temperatures can hinder ripening so these regions are generally suitable for cool climate viticulture. Altitude also affects the intensity of sunlight, so on a clear sunny day the vines on a higher site will enjoy more intense sunlight than those down on the plain."
Today's featured wine, Domaine Labbé 2011 "Abymes" Vin de Savoie, is a crisp, fresh white made by Marc and Roger Labbé in the historic Savoie region of eastern France, in the Alpine territory where France meets Switzerland and Northwestern Italy. It comes in an old-fashioned looking green bottle embossed with "Vin de Savoie" and the Cross of Savoie, an ancient coat of arms awarded the region's rulers during the Crusades.
Savoie's Abymes region lies at the foot of the towering cliffs of Mont Granier in the Massif de la Chartreuse, a rocky landscape left when a nearby hillside collapsed catastrophically in the 13th century. Vineyards occupy its most sunny clay and limestone slopes, with almost every south and eastward slope in vines. The name "Abymes" comes from the French word for the broken stones that still sometimes fall from the mountain during avalanches.
Labbé Abymes is made entirely from the local from the Jacquere grape, and is fermented in stainless steel only, with no presence of oak, ensuring a crisp, fresh character. You'll find my tasting notes below.
Wine Focus: (mostly) French mountain wines
We're featuring (mostly) French mountain wines in this month's Wine Focus discussion in our WineLovers Discussion Group.
The topic emerged from a discussion about wines from Savoie and the Jura, but please feel free to post on wines from other French mountain regions - the Pyrenees come to mind - as well as other mountain wines of Europe, from Switzerland or Italy's Alto Adige, Trentino and Val d'Aosta regions for example.
There are no rules on minimum vineyard elevation to qualify as "mountain" wine, so don't be concerned if your mountain wine comes from a mountain valley! Please check in and join our conversations about
"(mostly) French mountain wines."
All forum discussions are open for public viewing, but you must register to post your comments and participate actively in the conversation. Registration is free and easy; we ask only that you join following our Real Names Real Format system, using your real name as your public user name. To join the forum, drop me a note at wine@wineloverspage.com with your real name, preferred format and a temporary password, and I'll take care of the rest.
Today's Tasting Report
Domaine Labbé 2011 "Abymes" Vin de Savoie ($12.99)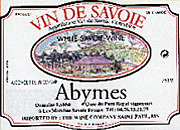 Clear, pale gold in color, its fresh, subtle pear and lemon aromas lead into a crisp white-fruit flavor with a citric snap. Light-bodied, but mouth-watering acidity and perhaps just a touch of prickly petillance give it a mouth-filling presence nonetheless. Combined with light 11% alcohol, it's fine with food or for aperitif service. U.S. importer: Vintner Select, Mason, Ohio. (Feb. 20, 2013)
FOOD MATCH: Well suited with lighter-style poultry or mild white fish, it was very good with with a lightly spicy Sichuan-style stir-fry of shredded tofu, snow peas and onions, ginger and garlic.
WHEN TO DRINK: It's a drink-me-soon wine style, and the slick-sleeve, foam-interior synthetic stopper doesn't inspire confidence in its cellar-worthiness. Although they're free from cork "taint," I've found these plastic plugs less than trustworthy for keeping light whites more than a year or two after bottling. This 2011, however, was fine.
VALUE: The $13 I paid locally is not far off the $12 U.S. median reported by Wine-Searcher.com. It's a good value.
PRONUNCIATION:
Abymes = "Ah-beem"
Savoie = "Sah-v'wah"
WEB LINK:
Here's an info sheet on Marc and Roger Labbé and their Abymes Vin de Savoie.
FIND THIS WINE ONLINE:
Find vendors and check prices for Domaine Labbé 2011 "Abymes" Vin de Savoie on Wine-Searcher.com.
Talk About Wine Online
If you have questions, comments or ideas to share about today's article or wine in general, you're always welcome to drop by our online WineLovers Discussion Group, the Internet's first and still the most civil online community. To find our forums, click:
http://www.wineloverspage.com/forum/village
Discussions are open for public viewing, but you must register to post. Registration is free and easy; we ask only that you join following our Real Names Real Format system, using your real name in the format "John Doe" or "John D". Anonymous, cryptic or first-name-only registrations are discarded without notice.
Once your registration has been approved, which usually happens quickly, you'll be able to participate in all our online wine, food and travel forums.
To contact me by E-mail, write wine@wineloverspage.com. I'll respond personally to the extent that time and volume permit.
Subscriptions and Administrivia
Unsubscribe:
We're sorry if you must leave us, but simply click the "unsubscribe"
link at the bottom of your Email edition to be instantly removed from the mailing list.
Change address:
The quickest and easiest way to change your Email address is simply to register anew, using the link below. If you are keeping your old address but no longer wish to get the Wine Advisor there, click the unsubscribe link below to take it off our list; if you are closing the mailbox, you needn't take any action, as our system will delete your old address as soon as the mail to your old address starts to "bounce."
Subscribe to this weekly E-letter (free):
http://www.wineloverspage.com/wineadvisor
WineLoversPage.com RSS Feed (free):
http://feeds.feedburner.com/wineloverspage/tzva
Wine Advisor Archives:
http://www.wineloverspage.com/wineadvisor2/archives.php
Sponsorship Opportunities:
For information, E-mail wine@wineloverspage.com