The fun begins at Other
Pop into any wine shop and scan the shelves. If the merchant sorts wines by grape variety, as many do, you'll likely see shelves full of Cabernet Sauvignon, Pinot Noir, Merlot and Syrah/Shiraz among the reds; Chardonnay, Sauvignon Blanc, Riesling and maybe Pinot Gris for the whites. Everything else probably clusters under "Other."
Once we get past the "Big Eight" (or maybe even 10 or 12) grape varieties that make up the lion's share of the marketplace, the real fun begins. Around the world, more than 500 grape varieties are made into commercial wine, and that's not even counting the delicious blended wines that range from Bordeaux through Chianti to Chateauneuf-du-Pape, which with other Southern Rhone reds may carry up to 13 varieties in one delicious bottle.
As a card-carrying member of Wine Century Club, I've sampled a few hundred, perhaps none more inclusive than a rare Northeastern Italian wine that contains more than 500 varieties! (It's made in tiny quantities in Cividale, Friuli, in a charitable fund-raising venture.)

Today, though, I'm focused on a favorite single-varietal wine from Italy's other upper corner, Dolcetto from the Langhe hills of Piemonte in the Northwest. The Dolcetto region is centered on the villages of Alba and Asti, and smaller villages such as Dogliani, all of which may have their name appended to "Dolcetto" on the label of wines made from grapes grown within their boundaries.
You'll occasionally run across a reference to Dolcetto as a light, fruity wine, and I've even seen it likened to Beaujolais. I don't see that at all in a wine that's built on dark fruit flavors with solid acidity and perceptible tannic astringency. I've long suspected that the confusion stems from the name of the grape, which translates loosely as "Little sweetie." But that's a vine-grower's moniker, not a wine-maker's. It refers to the sweet taste of the ripe, black Dolcetto grapes at harvest.
Dolcetto's regional map overlaps the zones of the more sought-after (and pricey) Barolo and Barbaresco. With its neighbor Barbera, Dolcetto is favored by the savvy locals, who drink it up while those more age-worthy (and expensive) bigger brothers take their time to mature.
While Barbera is usually sharply acidic, Dolcetto is relatively lower in acid but perceptibly tannic, an earthy flavor profile that shows best in company with food. And in its one aspect that does bear some comparison with Beaujolais, Dolcetto - in spite of its tannins - is best drunk up within a few years of harvest, before the fruit fades and leaves the astringent tannins on their own.
Want to know more about Dolcetto and locate vendors who have good ones? This fact sheet on Wine-Searcher.com offers information about Dolcetto, followed by links to 282 specific bottlings and retail sources.
Today's Sponsor
Save up to 60% plus get $1 Shipping on Award-Winning California Wines!
The California Wine Club's $1 Shipping Spring Wine Sale is going on now. Stock up and save on award-winning, limited-production artisan California wines priced as low as $9.99. Shop Now!
Shop early for best selection! Choose from:
• Award-winning, limited-production wines from California's best "mom & pop" wineries. These wines typically cannot be found outside their wineries.
• Limited-production wines from small artisan wineries around the world that have been imported directly by CWC and cannot be found anywhere else in the U.S.
• Premium Napa Valley Cabernets aged 8-12 years under stringent, temperature-controlled conditions.
• Collectors and Connoisseurs: stock up on California's most coveted 90+ rated wines.
To shop now, click here or call 1-800-777-4443.
Today's Tasting Report
Mauro Veglio 2011 Dolcetto d'Alba ($14.99)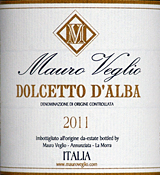 Purple with a clear, bright garnet edge. A scent of blueberry cordial and a fresh, tart blackberry and blueberry flavor with soft but perceptible tannins and 13.5% alcohol providing structure. Good benchmark example of fresh Dolcetto, good with food. U.S. importer: Vanguard Wines LLC, Columbus, Ohio. (Feb. 14, 2013)
FOOD MATCH: Dolcetto is an easy match with red meats, roast poultry and sturdy Northern Italian cheeses. Roasted veggies also work very well. It was spectacular with a winter dinner of fennel, onions, potatoes and carrots, cut in chunks, tossed in olive oil with salt and pepper, and roasted at high heat until the veggies were tender and their surfaces caramelized golden brown.
WHEN TO DRINK: Although the tannins suggest some cellar-worthiness, it's my experience that Dolcetto doesn't evolve well with cellaring. Its fruit character, best when the wine is young and fresh, doesn't usually gain with cellar time. It should be safe to keep it through 2014, but in general, it's a good practice to drink up your Dolcetto and then buy the new vintage.
VALUE: My local price is right on the median retail tag reported by Wine-Searcher.com, an appropriate price point for a table wine of this quality.
PRONUNCIATION:
Mauro Veglio = "Mau-roe Vehl'yo"
Dolcetto = "Dohl-CHET-toe"
WEB LINK:
The Mauro Veglio Web page is available in Italian and English. Here's an English-language fact sheet on the Dolcetto d'Alba.
FIND THIS WINE ONLINE:
Locate vendors and compare prices for Mario Veglio Dolcetto d'Alba on Wine-Searcher.com.
Talk About Wine Online
If you have questions, comments or ideas to share about today's article or wine in general, you're always welcome to drop by our online WineLovers Discussion Group, the Internet's first and still the most civil online community. To find our forums, click:
http://www.wineloverspage.com/forum/village
Discussions are open for public viewing, but you must register to post. Registration is free and easy; we ask only that you join following our Real Names Real Format system, using your real name in the format "John Doe" or "John D". Anonymous, cryptic or first-name-only registrations are discarded without notice.
Once your registration has been approved, which usually happens quickly, you'll be able to participate in all our online wine, food and travel forums.
To contact me by E-mail, write wine@wineloverspage.com. I'll respond personally to the extent that time and volume permit.
Subscriptions and Administrivia
Unsubscribe:
We're sorry if you must leave us, but simply click the "unsubscribe"
link at the bottom of your Email edition to be instantly removed from the mailing list.
Change address:
The quickest and easiest way to change your Email address is simply to register anew, using the link below. If you are keeping your old address but no longer wish to get the Wine Advisor there, click the unsubscribe link below to take it off our list; if you are closing the mailbox, you needn't take any action, as our system will delete your old address as soon as the mail to your old address starts to "bounce."
Subscribe to this weekly E-letter (free):
http://www.wineloverspage.com/wineadvisor
WineLoversPage.com RSS Feed (free):
http://feeds.feedburner.com/wineloverspage/tzva
Wine Advisor Archives:
http://www.wineloverspage.com/wineadvisor2/archives.php
Sponsorship Opportunities:
For information, E-mail wine@wineloverspage.com