Easy Riesling
I've said this before: There's a lot to like about Riesling. It's a noble grape with roots in Germany that go back a dozen centuries or more, to the time of Charlemagne and beyond.
Riesling makes a white wine of classic proportions, a wine that can be dry or sweet or in-between and that may range from feather-light to rich and dense. It is known for a "transparency" that can show off fruit, minerality and the complexity of great age, and it can be a magical companion with a broad range of food.
In some of its most popular styles, it can be light, fresh, even gently fizzy, with an appetizing sweet touch that ought to appeal to the American sweet tooth, with bone-dry options for those who prefer it like that.
And yet Riesling remains almost a niche grape for many wine lovers. It doesn't claim much shelf space in the typical wine shop; and if you're like me, you're more likely to speak well of Riesling (as I'm doing right now) than you are to pick up a bottle and bring it home for dinner.
Why the cognitive dissonance? Speaking for myself, I suspect a couple of issues nudge some wine lovers away from Riesling. First, its unusually aromatic character and the fact that it often (no, not always) carries a touch of sugar places it in an entirely different category than almost all the other popular varietal wines. If you've been thinking about a Cabernet or Merlot or even a Chardonnay for dinner, turning to a Riesling requires you to slam on the brakes and do a quick shift of your mental gears.
Second, German Riesling labels look hard. I am not kidding about this. While the complexities of German wine-label language, nuanced regulations and ancient property distinctions may make Riesling exciting for a certain sub-set of wine geeks, they look so unfamiliar - and in many cases so old-fashioned - that they send quite a few wine lovers back to more familiar territory.
Today, in my continuing effort to warm up a little more to Riesling myself - and to share the experiences in case you'd like to do the same - I've brought reports on two really good, modestly priced (mid-teens) German Rieslings that break the mold.
For starters, Von Schleinitz 2008 "VS" Estate Mosel Riesling and J. & H.A. Strub 2011 "Soil to Soul" Rheinhessen Riesling Kabinett upend the traditional German marketing approach. Both come with simple, artful front labels that provide the bare essentials, reserving most of the multi-syllabic German language for the back label where it's available to those who want it. They also translate part of the label into English - "Estate" and "Soil to Soul," strongly suggesting an intentional outreach to markets in the U.S. and Canada and perhaps in Britain.
Second, both wines show off the character of Riesling in a way that I can only describe as "delicious," offering characteristic Riesling fruit, transparency that reveals complex aromas and subtle minerality, and just a touch of appetizing fresh-fruit sweetness that's gentle enough to be utterly food friendly and in no way cloying.
Give them a try, or ask a trusted merchant for similar recommendations. You'll find my tasting reports below.
Wine Focus: German(ic) Riesling
We're zeroing in on German Riesling in this month's Wine Focus discussion in our WineLovers Discussion Group.
You're invited to check in with your tasting reports, comments and conversation as we spend February discussing "German(ic) Riesling." As the parenthetical ending hints, Alsatian and Austrian Rieslings are also on the table for discussion, but the real focus this month remains on the classic Riesling styles of Germany.
All forum discussions are open for public viewing, but you must register to post your comments and participate actively in the conversation. Registration is free and easy; we ask only that you join following our Real Names Real Format system, using your real name as your public user name. To join the forum, drop me a note at wine@wineloverspage.com with your real name, preferred format and a temporary password, and I'll take care of the rest.
Today's Sponsor
Shh ...You're invited to a Secret Wine Sale!
The California Wine Club's Spring Wine Sale starts next week, but YOU can order now! Click here.
Get $1 shipping and save up to 60% off retail prices on hundreds of award-winning wines. Shop Now!
Choose from limited-production California wines including smooth Cabernets, buttery Chardonnays, silky Pinot Noirs and more at prices as low as $9.99 per bottle.
Every wine has been hand-selected from a small family winery by Bruce and Pam Boring, proprietors of The California Wine Club, and is backed by their 100% satisfaction guarantee!
Hurry - inventory is limited!
To shop the full selection of wines on sale, click here or call 1-800-777-4443.
Today's Tasting Report
Von Schleinitz 2008 "VS" Estate Mosel Riesling ($14.99)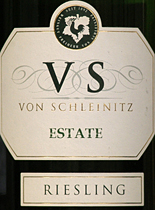 Clear, pale gold. Attractive, elusive aromatics come across on the nose and palate as sweet citrus, tangerine, and a hint of peach and mango. It's not in-your-face fruit, though, but subtle, shifting in the glass to add a gentle floral note of honeysuckle, and after time in the glass, a mineral note of wet stones. It has an edge of sweetness, but zippy fresh-fruit acidity protects it from cloying: think fresh tangerine juice with a squirt of lime, not a sugary soda. Its light 9.5% alcohol makes it a fine aperitif, and it's a versatile companion with food. It may lack the complexity and balance of a high-end Mosel, but it's an easy introduction to the Mosel style and a good value at this price. U.S. importer: Coperta Importing Co., Inc., Cleveland Heights, Ohio. (Jan. 30, 2013)
FOOD MATCH: Riesling is to whites as Pinot Noir to reds: An extremely versatile food companion that will work well with almost any savory dish with the possible exception of red meat, and I'm sure someone will be in touch to testify to that. This one was spectacular with a winter dinner of roasted veggies, a mix of crusty, caramelized fennel, onions, green peppers and red-skinned potatoes.
WHEN TO DRINK: While Riesling is a keeper, this wine's beautiful, simple balance of fruit, sugar and acid make it almost impossible to resist. I'd say that if you can find this vintage, drink it up and enjoy it.
VALUE: This delightful Riesling is well worth my local mid-teens price, which appears to be consistent with hits on Wine-Searcher.com.
PRONUNCIATION:
Riesling = "Reese-ling"
Von Schleinitz = "Fon Schly-nitz"
WEB LINK:
Here is a winery fact sheet in English on the 2008 Estate Riesling.
FIND THIS WINE ONLINE:
Find sources and check prices for Von Schleinitz "VS" Estate Mosel Riesling on Wine-Searcher.com.
J. & H.A. Strub 2011 "Soil to Soul" Rheinhessen Riesling Kabinett ($14.99)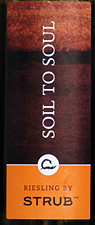 Clear, light straw color. Intriguing Riesling scents of honey and lime lead into a bright white-fruit flavor, fruit sweetness held to a perception of just off-dry by snappy, food-friendly acidity. Subtle slatey minerality and a squirt of lime persist in a long finish, with the light (10.5%) alcohol that's typical of German Rieslings. U.S. importer: Michael Skurnik Wines, Syosset, N.Y.; A Terry Theise Estate Selection. (Feb. 8, 2013)
FOOD MATCH: A natural for poultry or pork, strong cheeses or vegetable-based dishes like our choice, a creamy broccoli and onion risotto with plenty of Parmigiano-Reggiano.
WHEN TO DRINK: It's drinking beautifully now, but even relatively modest Rieslings - especially now that most bottlings come under a clean metal screw cap - can last and evolve for years under good cellar conditions.
VALUE: Wine-Searcher.com locates vendors offering this wine from $12 to $16. It's a good value throughout that range, and a must-buy if you can find it at the lower end.
PRONUNCIATION:
Strub = "Shtroob"
WEB LINK:
U.S. importer Michael Skurnik offers this brief fact sheet on the "Soil to Soul." The producer's Website is available in German and English. Here is a link to the English home page.
FIND THIS WINE ONLINE:
Check prices and locate vendors for Strub "Soil to Soul" Riesling on Wine-Searcher.com. I found it in my local Whole Foods Wine Shop.
Talk About Wine Online
If you have questions, comments or ideas to share about today's article or wine in general, you're always welcome to drop by our online WineLovers Discussion Group, the Internet's first and still the most civil online community. To find our forums, click:
http://www.wineloverspage.com/forum/village
Discussions are open for public viewing, but you must register to post. Registration is free and easy; we ask only that you join following our Real Names Real Format system, using your real name in the format "John Doe" or "John D". Anonymous, cryptic or first-name-only registrations are discarded without notice.
Once your registration has been approved, which usually happens quickly, you'll be able to participate in all our online wine, food and travel forums.
To contact me by E-mail, write wine@wineloverspage.com. I'll respond personally to the extent that time and volume permit.
Subscriptions and Administrivia
Unsubscribe:
We're sorry if you must leave us, but simply click the "unsubscribe"
link at the bottom of your Email edition to be instantly removed from the mailing list.
Change address:
The quickest and easiest way to change your Email address is simply to register anew, using the link below. If you are keeping your old address but no longer wish to get the Wine Advisor there, click the unsubscribe link below to take it off our list; if you are closing the mailbox, you needn't take any action, as our system will delete your old address as soon as the mail to your old address starts to "bounce."
Subscribe to this weekly E-letter (free):
http://www.wineloverspage.com/wineadvisor
WineLoversPage.com RSS Feed (free):
http://feeds.feedburner.com/wineloverspage/tzva
Wine Advisor Archives:
http://www.wineloverspage.com/wineadvisor2/archives.php
Sponsorship Opportunities:
For information, E-mail wine@wineloverspage.com